U of A shaves heads to fight cancer, raise money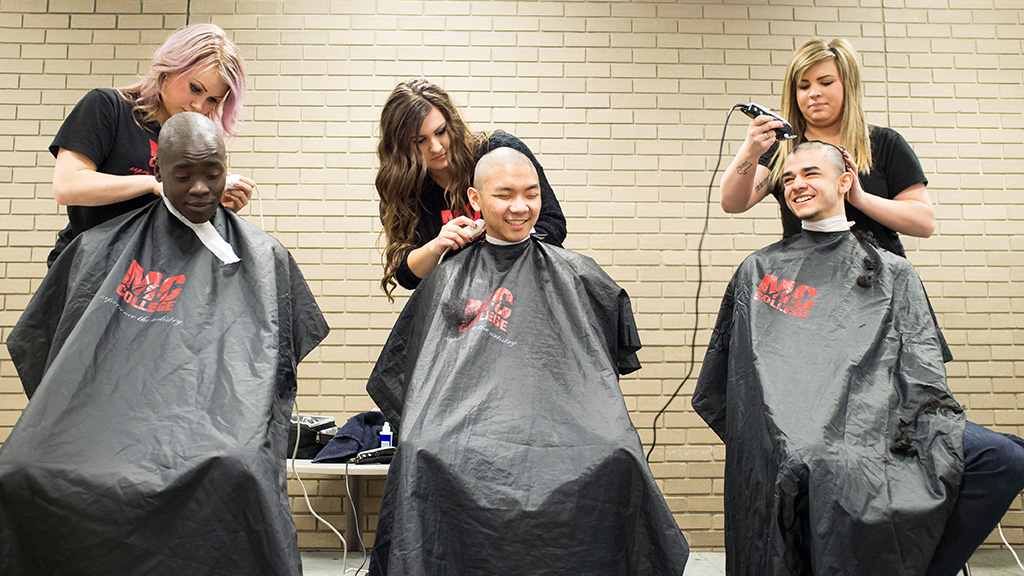 Morgan Redmond hated her hair.
She was tired of her 17-inch brunette locks constantly getting in her face. She's chopped off significant amounts of her hair before, but she finally had enough.
After narrowly missing the deadline to sign up for last year's annual University of Alberta Engineering Head Shave, Redmond couldn't wait for this year's rendition of the popular fundraiser. Her mother tried to talk her out of it, but once Redmond officially registered, her mom gave up telling her not to do it and focused on helping her raise money.
$893 and several months later, Redmond finally got her wish.
More than 40 participants had their heads shaved on Nov. 27 at the Maier Learning Centre in an effort to raise money and awareness for the Alberta Cancer Foundation. The 11th Annual U of A Engineering Head Shave was a partnership between the U of A's Engineering Students' Society and the Alberta Cancer Foundation, with all proceeds benefiting Alberta's Cross Cancer Institute. Prior to this year's event, the annual head shave raised more than $270,000. Most participants at the head shave are male, but this year saw three females — including Redmond — contribute to the charity event.
Although Redmond always imagined what she would look like without hair, she never thought about the actual process.
"It feels weird," a teary-eyed Redmond said, as she ran her trembling hands through her new buzz cut. "One of the (clippers) was metal, so it was cold.
"I always wanted to shave my head, and this was a good cause to do it for."
Redmond was one of the top fundraisers at this year's event, which raised a grand total of $12,559.97.
Alberta Cancer Foundation Development Officer Nana Thaver, who graduated from the U of A in 2008, said it's impressive to come back to campus and see passionate supporters from the campus community "blow it out of the water."
Thaver remembers her grandfather having lung cancer when she was growing up. Seeing the changes in cancer prevention, screening, research and treatments from the mid-1990s to now is "amazing," she said.
"I think we're all inspired by somebody whether you're shaving your head or choosing your profession," Thaver said of her involvement with the Alberta Cancer Foundation. "You're always really inspired by someone who has dealt with cancer."
For Engineering Head Shave Coordinator Bill Tran, that inspiration was a close family friend who passed away due to the disease. He said he's shaving his head for his friend, and everybody else affected.
"Just knowing how many people are affected by cancer themselves and being able to partake in the commitment to a better future is some I want to do," Tran said. "Just being able to help here in Alberta … I think that's our main goal and just being able to contribute to so many lives."
Tran, who shaved his head for the first time last year, said he enjoys "the flow" of long hair. But he added that once it's gone, he doesn't miss it and welcomes the "liberating feeling" of having a freshly shaved head.
Students' Union President William Lau, who raised $1,875 for the charity event this year, will be stashing his "strong hold" hair putty and "mega hold" hair spray and instead be looking for a new toque to hide his new, bald head. While Lau said he'll miss running his hands through his thick black hair and "looking an inch taller," he embraces the long-lasting effect donations can make on cancer and cancer research.
"Hair will grow back," Lau said. "But those we lose to cancer, those we loved so much, won't."