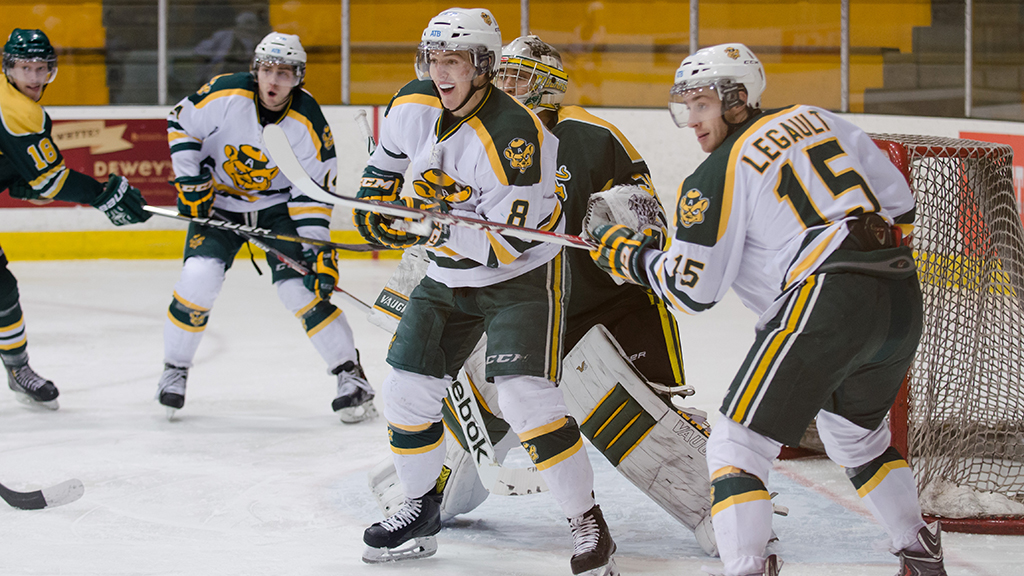 Most head coaches would be thrilled with 6-1 and 7-2 victories on the road. But the Bears' Ian Herbers isn't one of them.
Although the Bears hockey dominated the Lethbridge Pronghorns on the scoreboard most of the weekend, Herbers said his hockey squad played "OK" on the second night, despite trailing for just 31 seconds all game.
The puck Bears netted five straight goals, including two short-handed, en route to a 6-1 win over the 'Horns on Jan. 16 and three third period power-play goals the next night, cruising to a 7-2 win.
"We were trying to get too pretty and looking for the highlight reel goals and not getting enough net presence," Herbers said. "We just have a team where guys are unselfish and they're trying to create opportunities for their linemates and defencemen instead of taking that shot."
Not a bad problem to have, especially since the Bears reeled off eight straight since being swept by provincial rival Calgary Dinos back in November. Since then, the Bears have outscored their opponents 40-16 over that span.
The Bears' dynamic duo of T.J. Foster and Jordan Hickmott continue their torrid pace atop the Canada West scoring charts, as Foster registered two goals and two assists while Hickmott posted one goal and three assists in their weekend sweep of the 'Horns. After 24 games this season, Foster and Hickmott remain first and second in CanWest scoring with 39 and 38 points, respectively.
The back-to-back wins catapult the Bears to a Canada West best 21-3, while the 'Horns drop to a league worst 4-20.
Even if the Bears lose their remaining four games to close out the season, they will remain the number one seed in CanWest to close out the season.
But being first overall and with a first-round bye in the CanWest playoffs isn't good enough for Herbers.
"We can always get better and there's things we can do individually and as a team to keep adjusting," Herbers said.
Standing in their way of that this weekend are the 15-8-1 Mount Royal Cougars, who currently sit in third place, just one point back of the second place Calgary Dinos.
"It'll be a very tough struggle with (the Cougars) trying to earn second place so they get that first-round bye, so they have a lot on the table," Herbers said.
In their first meeting this season, the Bears walloped the Cougars 7-1, but were tested in the second game, just edging their opponent by a score of 4-3.
Leading the Cougars' charge are forwards Cody Cartier and Tyler Fiddler, who find themselves third and fifth in CanWest scoring with 34 points and 26 points, respectively. The potent scoring pair will look to solve the Bears' top ranked, efficient defence, who lead the conference in goal differential (+61) and goals against (49).
Standing in Cartier and Fiddler's way are Bears netminders Kurtis Mucha and Luke Siemens. Mucha leads the CanWest in wins (13) and is second in goals-against-average (1.88), while Siemens has backstopped his way to fourth in wins (eight) in just 10 starts this campaign.
Herbers acknowledged the Cougars as a challenge this weekend, as the two could meet again in the post-season, and potentially in the CanWest finals.
While the Bears have clinched first place and three weeks rest with a first-round bye, Herbers said its important to peak at the right time during the playoffs, and not during the regular season.
"We still got a long ways to go here for what we want to accomplish," he said. "For us, its just a weekend at a time and keep improving our game.
"We still got lots to prove here. We don't have the mindset of defending a national title, we want to earn one."