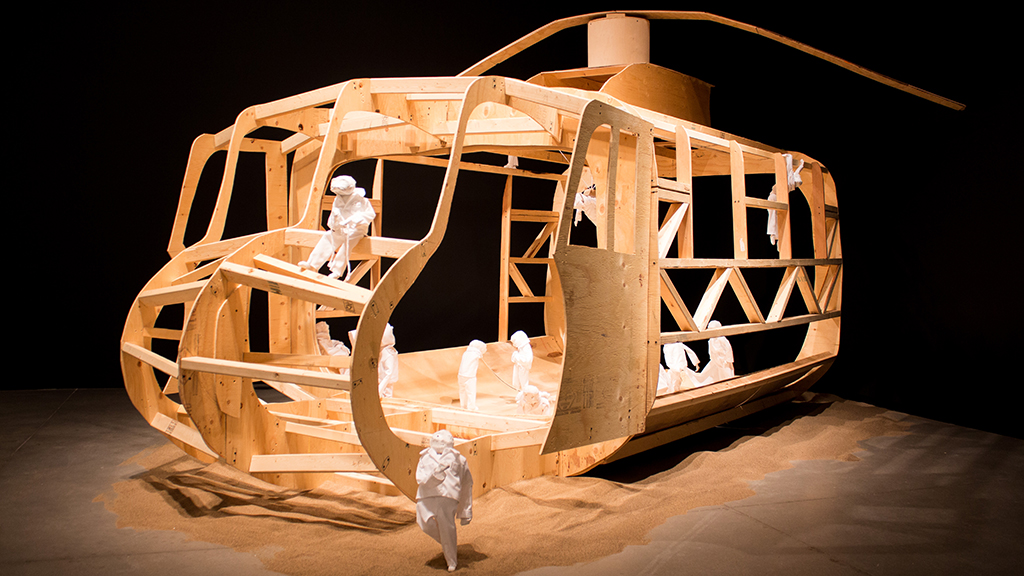 Future Station: 2015 Alberta Biennial of Contemporary Art
Until Sunday, May 3
The Art Gallery Of Alberta (2 Sir Winston Churchill Square and Enterprise Square Galleries 10230 Jasper Avenue)
$12.50 (adult price)
The Art Gallery of Alberta asked artists to portray working in our province and their unified response ranges from awe to discomfort.
Future Station is the ninth biennial exhibit at the AGA and features the contemporary works of 42 artists from Alberta, all selected to portray the experience of being an artist in Alberta. Out of the 42 artists, 38 of them have never been part of the AGA's biennial.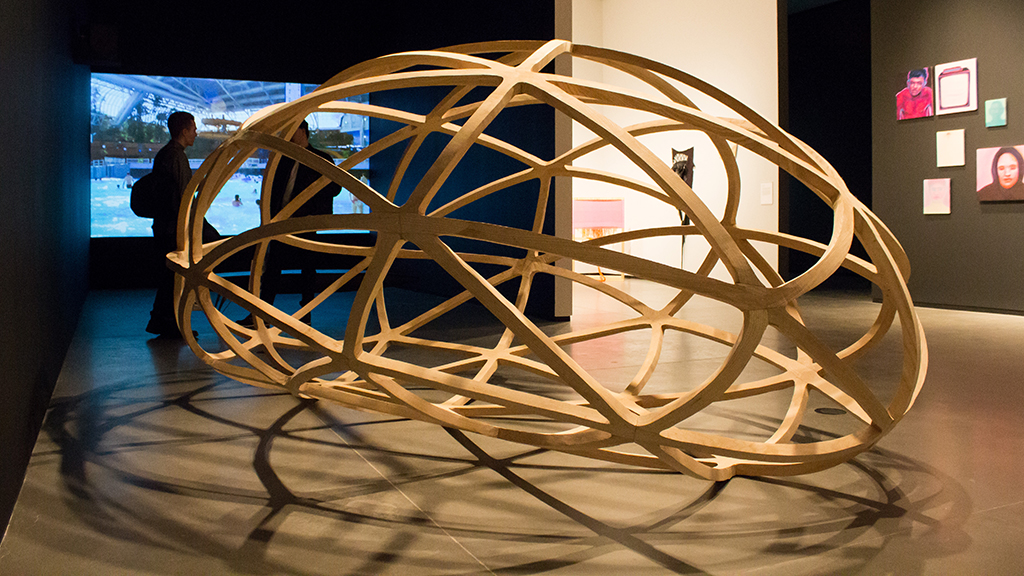 Curator Kristy Trinier says her method of selecting artists for the exhibit, which includes several artworks incorporating thrift store items and recycled materials, was influenced by an image of a half-constructed LRT station. It was meant to symbolize the stripped-down materials used in many of the pieces.
"The theme was developed as this unfinished LRT station, as a metaphor for seeing contemporary art in the province in a new way," Trinier says.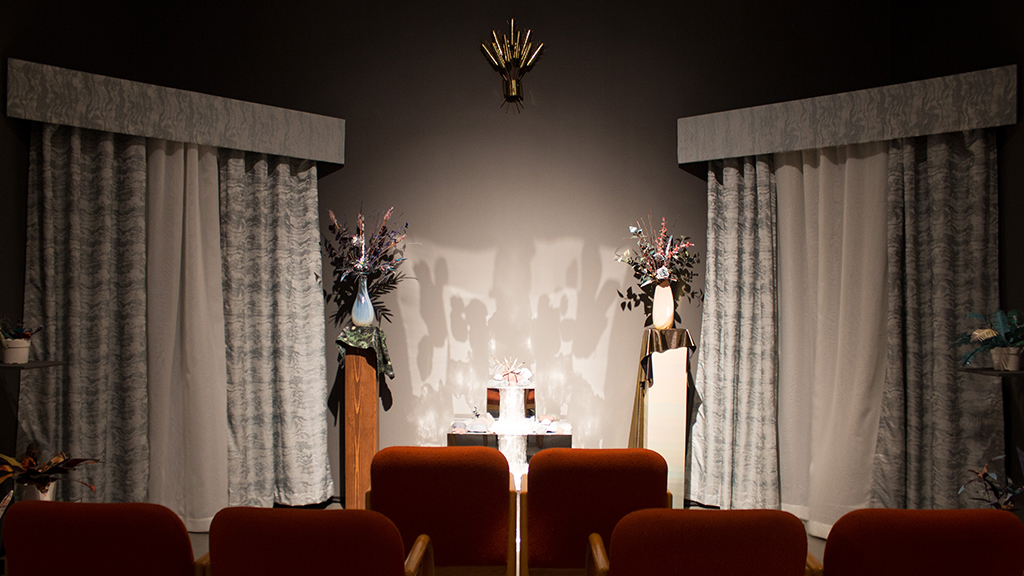 The thrifty nature of the materials used in the gallery personify the bleakness and anxiety permeating the artworks. Trinier says these cheaper materials symbolize how artists are adapting to a changing and uncertain Alberta economy.
"Alberta has a big swing in its economy, even in the last year," Trinier says. "Rather than making really shiny and expensive artworks like you would see artists in New York doing in the 1980s, some of the artists (in Future Station) are debriding or distressing materials and working with found materials."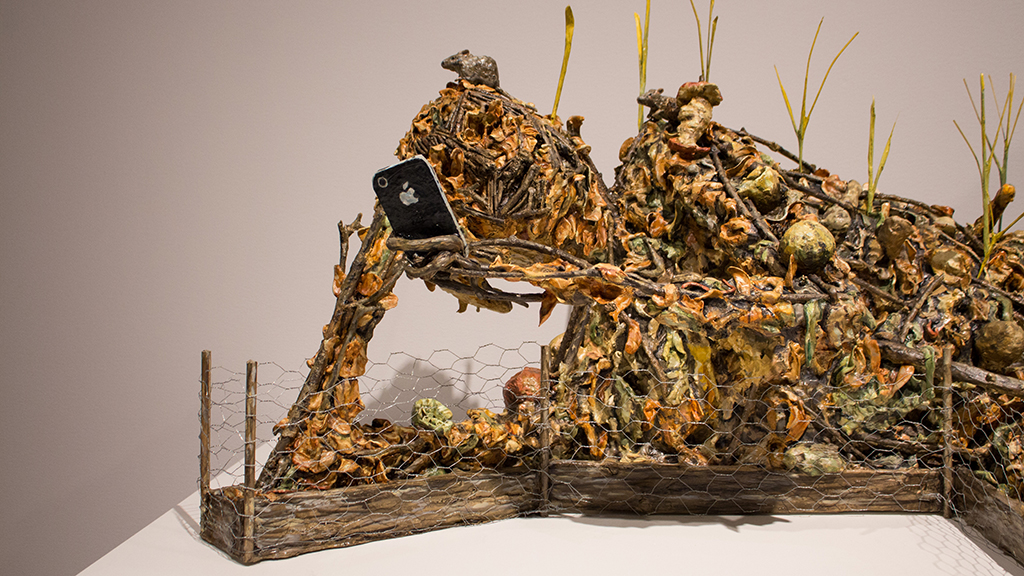 A feeling of anxiety and despair binds the artists' works together. Jude Griebel's papier-mâché sculptures, for example, stand apart from the rest of the gallery as the human shapes emerging from natural rural Alberta settings carry a mythic quality.
"What I sort of do is a psychological translation of qualities, by using states of growth and decay in the prairies as a metaphor," Griebel explains.
One of his pieces, titled "Accident Mouth," portrays social anxiety as a car exits a cave (a human mouth) onto an icy road and crashes into another car. He also submitted a human figure resembling a compost pile and holding a smartphone. Griebel's work displays the disheartening qualities of humans such as anxiety and laziness.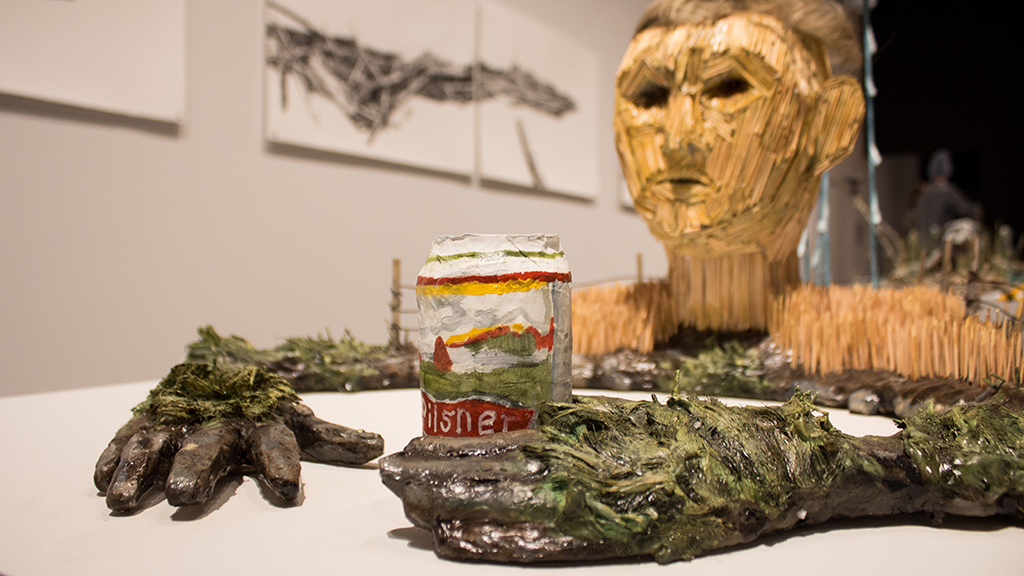 Another artist, Nika Blasser, submitted a piece meant to capture anxiety: a video of a woman eating hair with a fork and a knife. Blasser, originally from Portland, Oregon, says the idea for this work came to her during her first winter in Edmonton. She says it was a dark time that made her feel anxious and uncomfortable — as if she were eating hair. Trinier says she believes the province can relate to this sentiment.
"I feel it's supposed to be spring, and it's just not going to happen here, and I think the people from here kind of know that," Blasser says. "There's this sort of need to get away for a while, have a little bit of a break, through the monotony of winter."
Despite the anxious undertones of some of the works, Trinier is excited to bring this "very interesting" crop of new and seasoned artists together under Future Station.
"(The gallery) really is a new kind of brew of artists and bringing attention to some new work in the province," she says. "I was really happy to meet with the artists and learn about their work and have the opportunity to share with the province."