Pandas hockey team grabs sole possession of first place in conference
Zach Borutski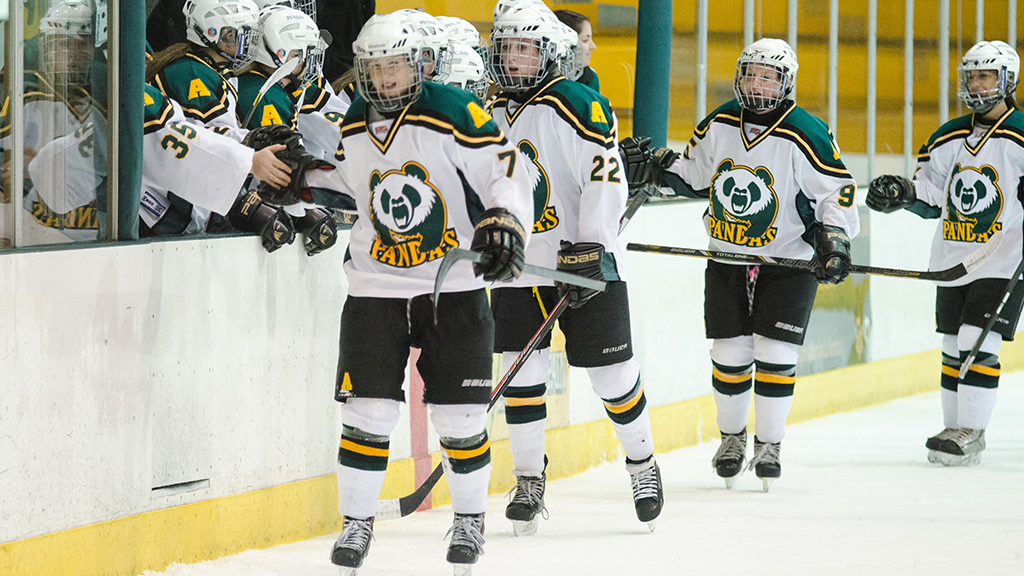 The Pandas hockey team is on a roll — a seven game roll, to be exact.
After winning both games against the Mount Royal Cougars this weekend, the Pandas managed to push their winning streak to seven games, giving them sole possession of first place in the Canada West standings with a 16-6 record.
The Pandas opened up the weekend on Friday with a commanding 5-0 over the Cougars in Calgary, which they followed up with another 6-0 win at home the next night. With back-to-back shutouts, goaltender Lindsey Post expanded on her incredible season. She now has a league-leading nine shutouts to go along with 16 wins and a 1.23 goals against average.
Despite the Pandas' recent success, they are still only two points ahead of the Manitoba Bisons for top spot in Canada West. Manitoba has a winning streak of their own, at six games.
"I'd be lying if I said we didn't think about what Manitoba's results were, and we usually check the scores for the games when we're not playing," head coach Howie Draper said. "In reality, you hope that your wins get you into a position with some breathing room, but unfortunately, they've been with us step for step lately."
Despite the fact that Mount Royal is on the bad side of the win-loss column, Draper emphasized the fact that the Pandas didn't underestimate them going into the weekend, accepting that any team can beat any other team on any given night.
"You're doing your due diligence as a coach in reminding your players that Mount Royal isn't a bad team," he said. "You really can't take any team lightly, especially in Canada West. We can't sit back despite our recent success, we have to try and be better every time we step on the ice."
The Pandas will host the Saskatchewan Huskies this weekend, who are dealing with a six game losing slide that has seen them drop to the bottom of the playoff picture in Canada West. Draper reiterated that just like with Mount Royal, it would be a mistake to underestimate the Huskies.
"We're prepared to deal with a really desperate team this weekend," he said. "Our higher level of consistency has been great, I hope we can continue to bring this level of play into the weekend against Saskatchewan."
The consistent excellent play over this seven game winning streak was a welcome addition in Draper's mind, and he credited the Pandas with upping their intensity, which he felt had been lacking for large portions of the first half of the season. He also pointed to an increase in offensive production as a key to the Pandas recent success.
"I really think the players are starting to buy into our philosophy," he said. "They're really starting to believe they can be a championship team."
Meanwhile, the Bears hockey team had an up and down weekend. After dropping the first game of their home-and-home to Mount Royal 3-2 in overtime, they managed to right the ship and beat them 7-1 on Saturday. Despite the loss, the Bears still have a comfortable lead in the Canada West standings, as their 22-3-1 record gives them a nine point cushion on the second place Calgary Dinos.
The Bears will hit the road to take on the Saskatchewan Huskies, their final tune-up before playoffs start.