Sustainability Summit gives delegates 'Food for Thought'
Mitch Sorensen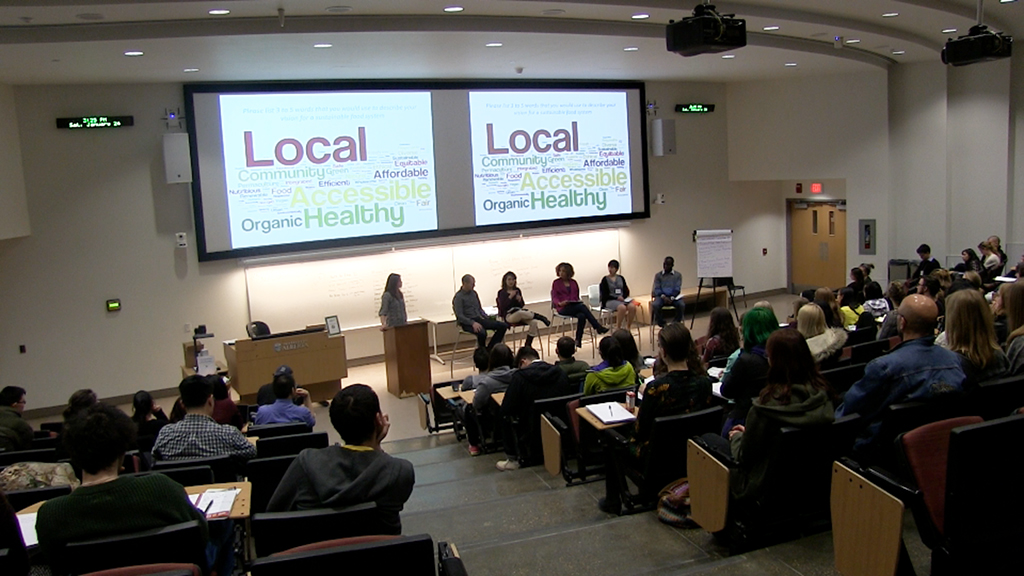 For many students, the only contact they make with the Office of Sustainability is in the Chemistry building hallway, where a volunteer might hand you a green, compostable pen.
But the Office of Sustainability, along with Sustain SU and student group Student Umbrella for Social Justice, hosted the fifth annual Student Sustainability Summit on Jan. 24 and 25. More than 150 student delegates attended seminars, talks, and networking events.
This year's theme was "Food for Thought: Pathways to Sustainable Food Systems," which looked at the impact food systems have on people, the planet and profit.
Director of the Office of Sustainability Trina Innes said one of the goals of the two-day long event was to further develop the knowledge and skills needed to engage in personal actions and initiatives related to sustainability on campus.
"(The summit) provides students a high impact opportunity," Innes said.
Speakers included city councillors, university professors, community members and charity workers. Ward 10 city councillor Michael Walters and Department of Renewable Resources professor Debra Davidson headlined keynote presentations. Walters presentation, called "The Way We Eat," looked at food and its relationship to the world, region, community, family and the self. Davidson's keynote, titled "Climate Change and the Future of Agriculture and Food Security," examined how sea level rise, ocean acidification and extreme storms affect food security.
Sustainability Summit Organizing Committee Co-Chair Lisa Dockman said they were been "blown away" by the interest for the theme because it was "broadly appealing." This year's edition of the annual summit sold out for the first time since its inception in 2011.
Specific program topics at this year's summit also included indigenous perspectives on how food systems, vegetarianism and veganism, organic food and municipal politics are involved in food.
The summit's structure allowed delegates to network with peers and gain insight from food professionals to discuss various aspects of food sustainability. Feedback from past summits indicated that participants wanted to spend more time with each other, so additional time spent in small-group discussion was added as well as optional social events, Dockman said.
While the Office of Sustainability hosts Sustainability Awareness Week (SAW) and an annual speaker series, Dockman said they provide more of a "light touch" in comparison to the summit. The "community building" aspect of the Student Sustainability Summit and becoming actively involved with the topics is the biggest difference between the two day summit and events during SAW in October.
"I think that the summit is special because it's much more of deep-dive," Dockman said.
"We learn a lot more, we get more involved with a topic. They get a bit more of an in depth experience here."
But all events hosted by the Office of Sustainability and their affiliates, keep a main goal in mind, Innes said.
"We want to inspire students to embrace sustainability values and model them in their personal, professional lives, and the communities they join," Innes said.