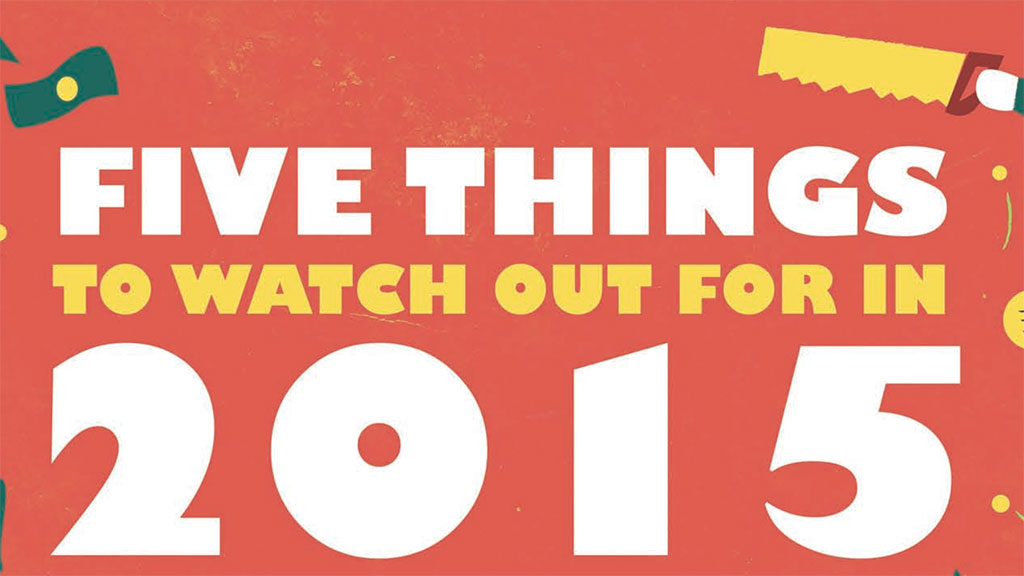 When a university's been around for 107 years, things are bound to get messy. From budget stresses to the endowment fund surpassing the $1 billion mark, 2014 was a year of challenges and triumphs for the University of Alberta, and 2015 promises to be no different. Here are the five top ideas and events to watch out for in the year to come.
Fall Reading Week comes to fruition
It's been a long time coming. Finally, following a 2011 plebiscite and years of deliberation, the U of A is slated to get its first fall reading week during the week of Remembrance Day. The week off, which will be called "Green and Gold Week," is the first of its kind in Western Canada, and has been cited as a solution to remedying mental health and retention issues during those stressful first few months of school. If you're graduating this summer, it might even be worth re-enrolling for a semester just to experience seven days of sweet, sweet academia-free bliss.
Staff Shuffle
David Turpin's appointment as university's President was one of the U of A's biggest stories of 2014. But, it was just one of many staff changes from the university's administration over the past few months, making 2015 a year of green staff members assuming their new posts at the U of A.
Vice-President (Advancement) O'Neil Outar left his post in August to become the senior associate dean and director of development for the Faculty of Arts and Sciences at Harvard University, while Provost and Vice-President (Academic) Carl Amrhein resigned in November. In a bulletin posted on the Colloquy Blog on Dec.19, Samarasekera wrote that the U of A plans on hiring a new provost and a new Vice-President (Advancement) this summer. In the meantime, former Deputy Provost Olive Yonge has been appointed Interim Provost and Vice-President (Academic).
Considering the university's rocky past couple of years in the shadows of provincial budget cuts, the number of new staff members in top positions could go both ways: perhaps negatively, as they get used to their new positions, or positively, bringing a new vigour to these roles.
Student mental health initiatives
Mental health became an ever hotter topic on campus in the Fall 2014 semester following the university's announcements of two student deaths in October and November. The university's acknowledgement of these deaths was an unexpected move, but sparked a more frank conversation surrounding student suicide and mental health on campus. According to Students' Union President William Lau's Mid-term Goals Update, the SU will be taking a proactive approach to tackling these issues in the coming semester, as part of its "Vibrant Campus Strategy."
The SU will be hosting an "Open Conversation on Student (Mental) Health" on Jan. 23 to update students on upcoming SU mental health initiatives and brainstorm new projects. A campus-wide mental health strategy is currently in the works between the SU, the Graduate Students' Association, the Dean of Students and University Wellness Services, which is planning to kick off with a "World Cafe"-style session in March.
In his goals update, Lau also noted that the SU is currently exploring options of creating "satellite" Peer Support Centre offices in Lister and Campus St. Jean and expanding the student services' outreach efforts. Fun additions to the Vibrant Campus Strategy include public "street pianos," which will be installed in the pedway between HUB and Humanities, as well as the pedway above the Health Sciences LRT station in February.
Students' Union Building (SUB) renos completed
The hammering, buzzing and sawing of SUB renovations have been unpleasant, but the end is in sight.
The renos are slated to finally wrap up in March, a few months shy of the initial September 2014 end goal. Builders are currently on the third and final stage of the exterior construction of SUB, which will create a two-storey, 33 metre-long glazed glass atrium facing the new PAW centre. Landscaping for the atrium is set to commence in the spring along with laying down its foundation in structural steel. The end result: a brighter, more spacious study space and less construction clutter between SUB and the Van Vliet Building.
So far, the renos — albeit noisy — have blessed the lower level of SUB with a new coffee shop and more space (increases of 144 square metres to student services, 458 square metres to study and social space, 146 square metres to event and meeting space, and 46 square metres to Student Groups Services, if you're counting). As well, The Landing, the SU's centre for gender and sexual diversity, was able to open in the lower level thanks to the increased space.
Alberta 2015 Budget
While students may be grateful they're paying less at the pump in 2015, they may see the post-secondary budget slashed as well.
The declining price per barrel of oil and market modifier — or tuition increase — approvals leave Students' Union Vice-President (External) Navneet Khinda concerned about the 2015 provincial budget, and what that could mean for post-secondary institutions.
"I'm not very positive or optimistic about the upcoming provincial budget, especially given the rhetoric from the government," Khinda says. "We're probably going to get another budget cut."
Khinda adds that she doesn't expect for an increase to the Campus Alberta Operating Grant for the U of A. In 2013, Alberta universities and colleges faced a $2 billion — or 6.8 per cent — cut in operating grants compared to the previous year.
When Premier Jim Prentice was running for leadership of the Progressive Conservative party of Alberta, he promised to restore post-secondary funding axed from 2013 if elected.
But with tumbling oil prices, Khinda says she should "not bet on" Alberta post-secondary institutions getting a 2015 base grant increase. The "best possible scenario" would be a zero per cent grant increase with no deficit.
"In 2013, we saw those budget cuts because the base grant was cut," she says, recalling courses getting cut and professors being laid off.
Khinda hopes that putting pressure on the government in 2015 could help avoid a similar fiscal situation the U of A faced in 2013.
"Institutions really had to change direction fast, which is really hard for a big ship."