Pair vie for VP (Student Life)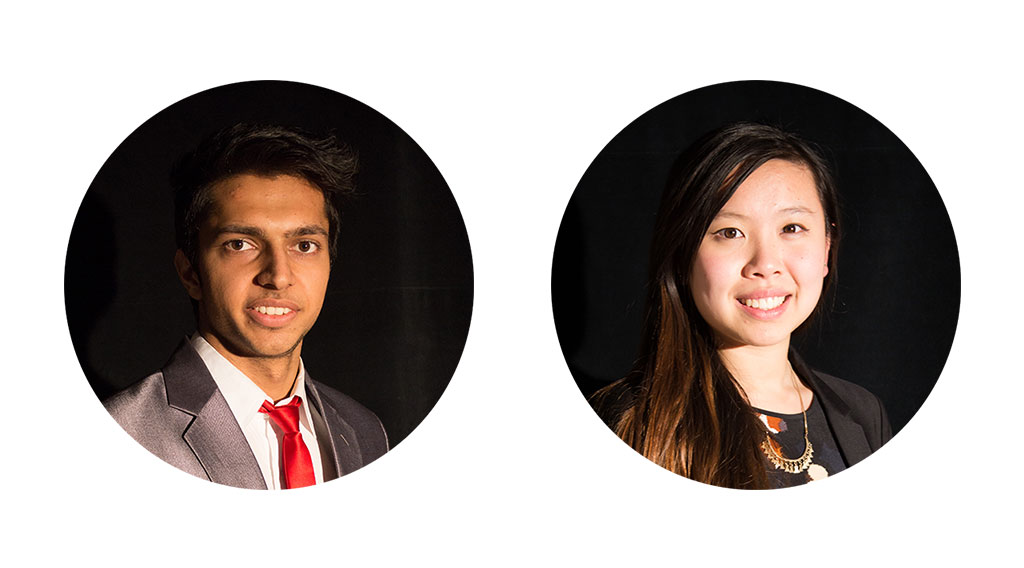 The Vice-President (Student Life) is responsible for university-related, non-academic issues including campus programming, university non-academic advocacy, the U-Pass, the Health & Dental Plan and SU Student Services.
1. What are some of the goals you have for next year as VP (Student Life)?
Vivian Kwan: For enhancing campus health, I'm talking about how we're currently working to develop a provincial, mental health and addiction strategy. We're planning to strengthen conversation with the provincial government, because in 2016 our funding for mental health initiatives will end. And due to the unfortunate events in HUB and Lister, it's pretty evident that mental health initiatives are clearly needed on this campus.
In the past, we focused on boosting services and promoting services, and a lot of students see these services and they want to use them — hence wait times increase. I am currently working with Counselling and Clinical Services psychologists for the Positive You campaign, which is focused on boosting resiliency on campus.
Param Singh: My main goal is to empower the students. I'll be doing that by conducting online surveys every month so that I can know about the real problems that students face on campus and act accordingly.
My second goal will be to boost mental health services so that I can make it more approachable for students to go there.
Third is to diversify social events to make student life enjoyable.
2. How do you plan on working with international students and advocating for their concerns?
Kwan: Right now, we're working with the International Students' Association. We have a blueprint for a campaign we want to set up for next year for breaking stereotypes with international students. A lot of them don't know how to cope with stress.
We hope to profile international students and start an awareness campaign talking about their story and how they feel about mental health.
Singh: I'm an international student, so I know the problems international students face. It's hard to get used to the culture, so I want to diversify the events and work with the VP (OpsFi) about the international fees thing too so I can work on that too.
3. How do you plan on working with residence services to address their concerns in residence?
Kwan: I heard the there's been random attacks in the parking lot at Campus Saint-Jean, so I think that's an important discussion to be had at the Residence Hall Association.
In terms of Lister and HUB, there's been issues of removing property without proper consent or informing them, so that would be an ongoing communication as well.
I also hope students use the resident complaint form that (current Vice-President (Student Life) Nicholas Diaz) drafted last year and circulate it more.
Singh: I think residences are pretty good. My friends are staying in residences, but there are some food problems sometimes. So I think I'll try to figure those out and otherwise I think it's pretty good.
4. What's one issue that came up this year that you would have tackled differently from the current VP(SL)?
Kwan: I felt like (VP (Student Life) Diaz) could have done more with advocacy, like Break the Record. I would of still considered Break the Record an option and I would have done more investigative.
In the last three years, the VP (Student Life) wasn't able to carry out the event. There might have been internal issues we had to evaluate. We can discuss if students are willing to fundraise or pay a participation fee or plan ahead of time. Next year, I want to make it more transparent
Singh: Students have not really been asked when it comes to decisions, so I think we should conduct online surveys every month so we can know about the real problems that they face and focus on the things they want us to focus on.
5. What are some fun activities, programming or events you plan to bring on campus?
Kwan: I want to do more inclusive events. For example, for Week of Welcome, a lot of events are 18 or older. First-year students are getting younger and younger as they enter university. I feel like the first week of the university campus is the most crucial. Our community should be more inclusive and promote events without alcohol, like promoting events that utilize local talent.
Singh: I want to bring multicultural events so anyone from any country can come. I want to do normal parties and stuff, because everyone wants to have fun. You need to make a balance between studies and extracurricular activities. If you just study, it's pretty hard. In my first year, I was just focused towards studies.
6. This year the Tunnel Ball Guinness World Record and the Hide-and-Seek Guinness World Record were attempted on campus. If you could break ANY world record on campus with unlimited funding, what would it be?
Kwan: I would want to do a break the record-eating contest and see how many students can eat how many pizzas in one sitting. That would be awesome. I'd like Famoso.
Singh: I would do the biggest party. Like all the university students from all campuses should be invited, and just do a really big party.