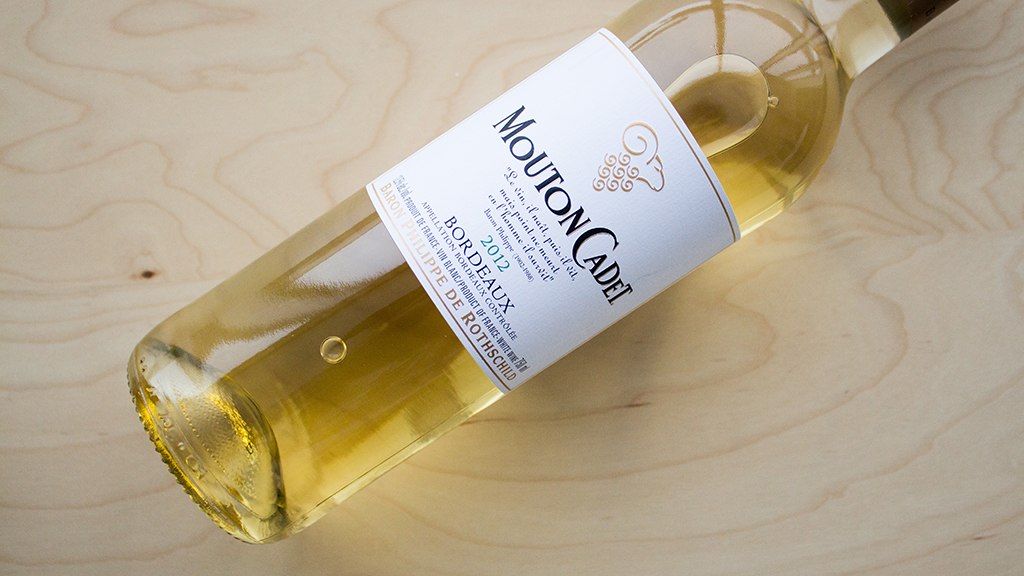 Mouton Cadet's Bordeaux
Available at Liquor Merchants
$14.99
Still feeling sore over the last red wine I tasted (Read: Sonora Ranch, the wine blander than tap water), I decided to break out and try a white blend from Mouton Cadet. Normally, I find whites pungently fruity and far too sweet, but this bottle surprised me. Bold and playful, Cadet's Bordeaux proves to be a top candidate for Valentine's Day.
This is the first time I selected a bottle from the French aisle. For some reason, most of the labels were very simplistic and white, so finding Mouton Cadet may be a challenge. The bottle blends in with a plain white label and gold accents. Its logo and font is classy, but understated. I picked Mouton Cadet's Bordeaux more for its colour. In the store, I thought it resembled gold honey, but now that I have it open, it more resembles apple juice. There's a noticeable layer of oil on top and its legs indicate that there is not too much sugar.
I was so relieved to find how light this wine is. Instead of the overpowering perfume I come across too often in white blends, there is just a pleasing combination of pears, white blossoms, and a mere hint of lemon that does not assault the nose in the slightest.
Drinking is a surprising experience. In addition to the floral flavour, which is so light and smooth, there are notes of grass and mineral deposits resembling wet concrete — which is neither as unusual or as unpleasant as it sounds. A slight buttery flavour trails after it all. It's a complex concoction that is like spring in a bottle.
Even during this frigid weather, Mouton Cadet is a worthy blend for Valentine's Day. Imagine planning an indoor picnic with your significant other or your pet cat, with this bottle chilling nearby. If you find the 2012 Bordeaux, you're best pairing it with something light: angel hair pasta with pesto, or cod fillet. If your weekend plans are more relaxed, I think some fresh chili-lime popcorn and Netflix would be just as good.