Faculty of Phys Ed unveils Alberta Bear at PAW Centre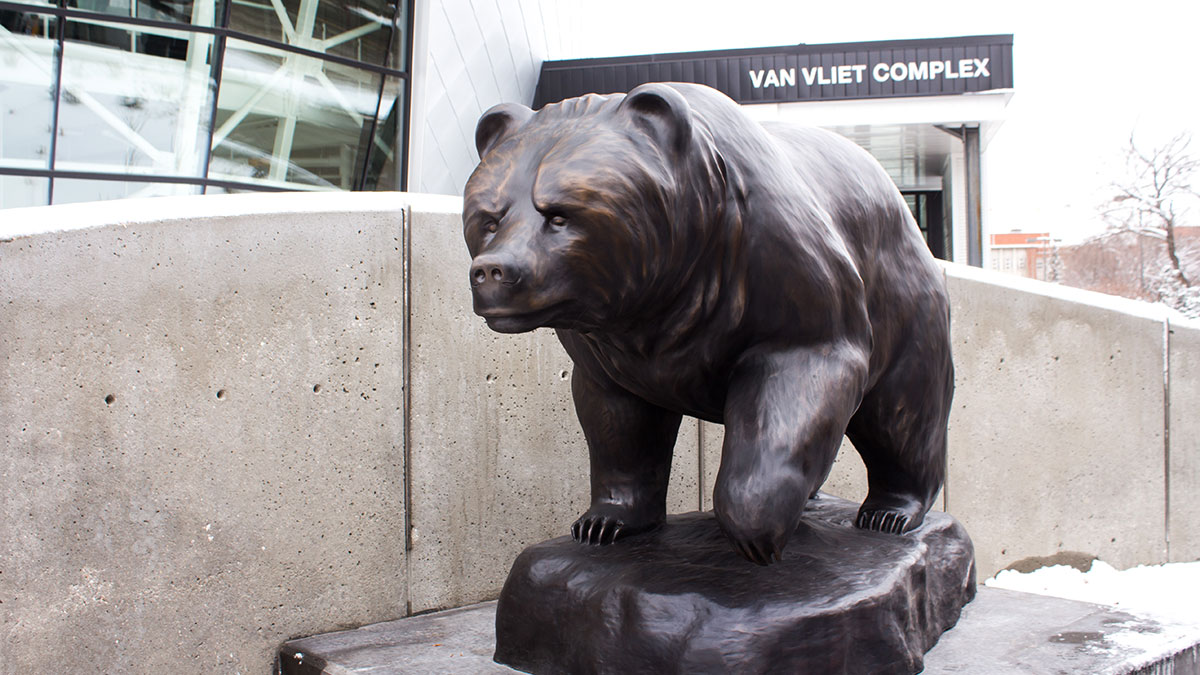 Students walking past the Physical Activity and Wellness (PAW) Centre's glass windows may recognize the silhouette of the familiar Beartracks bear, now in life-sized statue form.
The Faculty of Physical Education and Recreation unveiled the Alberta Bear, a bronze 1,100-pound 3D rendition of the Beartracks bear on March 20 to commemorate the grand opening of the 17,000-square-metre facility, the faculty's 50th anniversary and a $10 million donation from Board of Governors Vice-Chair Dick Wilson. Dean of the Faculty of Physical Education and Recreation Kerry Mummery said the "iconic" Alberta Bear is symbolic of the University of Alberta, the Golden Bears and Pandas varsity teams and is "everything Alberta."
"We think it's prominent to put a piece of public art out there with such great symbolism of strength, pride and university heritage," Mummery said at the unveiling of the university's new grizzly statue.
Wildlife sculptor Cathryn Jenkins was tasked by the U of A and Mummery to sculpt a rugged 3D bear that reflected the university's and province's heritage of mountains and prairies. Jenkins, who has been sculpting professionally with serpentine stone and clay for more than 40 years, utilized her "signature style" of "smooth line-form" sculpting, which focuses on roundness and smoothness of her pieces as opposed to detailed modeling.
Seeing the Alberta Bear "standing guard" at one of campus' busiest corners for the first time last Friday was "incredible," she said.
"I just wanted to carry out that feeling of the bear … it's a big, beautiful powerful animal," Jenkins said of the beast. "I wanted something that was easily recognizable, but not so detailed that there was too much to explore in the piece."
The unveiling of the Alberta Bear marks the final phase of the PAW Centre's construction, which began after its concept was approved with a student referendum in March 2010. The PAW Centre's cost is estimated at $58 million, with $30 million supplied by a non-instructional student levy of $29 in fall and winter terms and $14.50 in spring and summer terms. Students will pay the levy for 20 years, which began in the 2014–15 academic year.
The PAW Centre's Social Street, or main concourse, opened in September 2014, the 2,554-square-metre Hanson Fitness and Lifestyle Centre opened in November 2014, and the 780-square-metre Wilson Climbing Centre opened in January this year.
With their $10 million donation, the Wilson Climbing Centre is named after Dick Wilson and his wife Carol, while the Hanson Fitness and Lifestyle Centre was named after Dick's father.
"We feel so fortunate to have the opportunity to help students for years to come … giving back to support others is the right thing to do," Dick said in the official announcement.
Students' Union President William Lau, who said he's halted regular physical activity ever since he stepped into office in 2013 as SU Vice-President (Student Life), said he hopes the grand opening of the PAW Centre ensures that student life extends beyond the classroom.
"Sometimes the demand from schoolwork can cause us to overlook our own mental and physical health," Lau said. "It's time to get back into shape."
Mummery agreed with Lau. He added that the faculty is working on a twin-pad arena at South Campus and an inflateable dome for Foote Field. As a "fitness and recreation kind-of-guy," Mummery said, "if they build it, (students) will come."
"I hope (the PAW Centre) is life-changing for students," he said. "University is more than just studying. It's going to be the people you meet, the activities you're going to do.
"I think (the PAW Centre) will leave a lasting legacy for years to come."