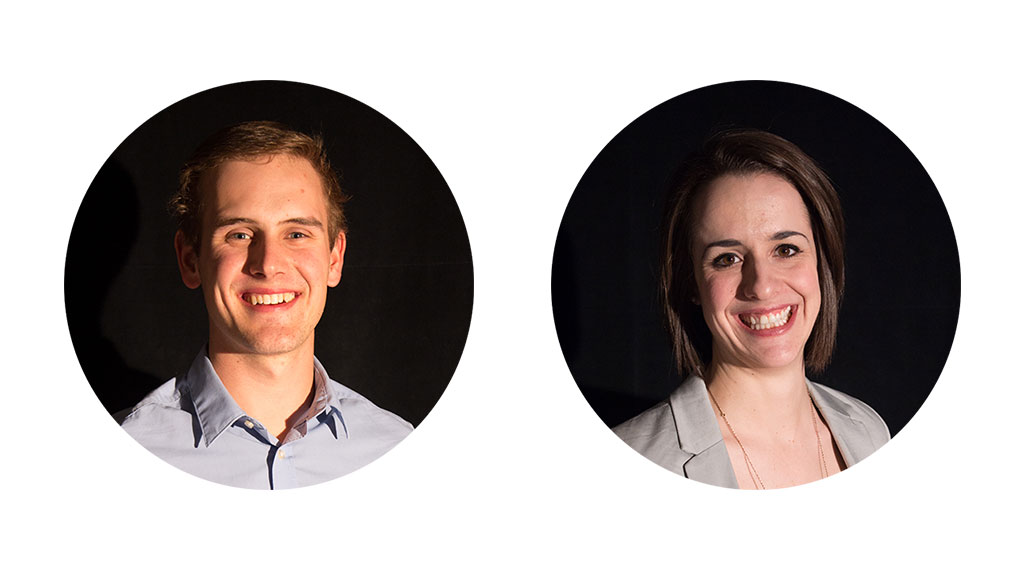 It's a lacklustre election year for the Students' Union, but thank goodness for the VP (External) contest.
This year's race see two very different, yet fiercely competitive and qualified, candidates going head-to-head for the position. Blue Knox and Dylan Hanwell are both capable of undertaking the postion, but when thinking about who to vote for this year, students need to consider who, as Hanwell put it in Monday's Myer Horowitz forum, students would rather have "sit across from Jim Prentice" next year.
In short, U of A students need a focused and strong lobbyist to sit across from the Premier in 2015, and Hanwell's campaign suggests that he will fulfill this role better.
There will likely be two elections (one provincial and one federal) during the elected candidate's tenure, therefore giving this year's executive the opportunity to make relationships and set precedents that will affect Albertan post-secondary institutions not just for the duration of this year, but for the next four years. With that being said, students need a candidate who can hit the ground running and push back hard against the all-too-familiar threats to students' financial well-being — the facet of post-secondary education that the federal and provincial government is always most willing to slash.
Segments of this race have turned into a "battle of experiences" which has done little to benefit Knox's case but marginally makes Hanwell the better contender. Knox frequently touts that she has studied in France and worked in D.C. as a "policy and advocacy intern," organized a case competition and is currently the Editor-in-Chief of the Wanderer. Yes, Blue is teeming with cool experiences, but they don't necessarily make her a better candidate than Hanwell — they make her an engaged student.
Hanwell, boasts an impressive resume better aligned with external policy experience, including being an intern in the Deputy Premier and Minister of Advanced Education's office. It's frustrating, however, that he hasn't really capitalized on his employment as an External Policy Information Officer for the SU. For the past year, Hanwell has been researching the effect of Alberta's post-secondary education policy (the same policies he will be lobbying against if elected) on U of A students. This seems to be the one experience that should set Hanwell apart from Knox's loosely defined "advocacy efforts" south of the border. By not flaunting this aspect to its full potential, he suggests that the job merely seems more impressive on paper than it does in action.
What ultimately matters in this race, though, is not necessarily experience, but focus. As described above, this is a high-stakes year for the position, and students deserve a candidate who can advocate efficiently and appropriately on the issues that can only be handled externally. That is, well-intentioned yet lofty goals that can be accomplished by other VP positions need not apply.
Knox's platform is incredibly detailed, but seems to be a misstep from the requirements of the position in the coming year. Mental health is a topic touted by nearly every single candidate for every single race this year but it's not one that we need our VP (External) candidate to campaign for — not in 2015 at least, and not when that base is being covered by the rest of the executive.
The need for mental health support, especially the provincial-wide mental health strategy suggested by Knox, is obviously pertinent to post-secondary education. Realistically in Alberta, though, it's much harder to make the case for affordable education over the need for mental health support.
A significant portion of Knox's platform, being a "voice for community," would be better suited for a VP (Academic) or (Student Life) portfolio. Hosting "executive community nights," mentorship events for students and bringing Student Council meetings to different campuses (which already happens) are all neat ideas, but could also be achieved by more internally focused positions. Her proposed advocacy efforts are often mentioned as subsidiary to these other goals. In some respects, it feels as if Knox doesn't truly understand the scope of the position.
In contrast, Hanwell's platform is more intimately focused on issues that can be best achieved externally, therefore optimizing the efficiency of the position. Of course, his goals aren't perfect. Knox has criticized his goals to develop external "quality assurance" guidelines by further involving the government in post-secondary education. Although this could open doors for the legislature to make inappropriate decisions about education, at least it puts it on the agendas (and hopefully takes it off the cutting board) of Alberta's policymakers.
It should also be noted that Hanwell was talking about tuition cap before rumours that the provincial government was considering scrapping it hit mainstream media on Feb. 25. If anything, this demonstrates Hanwell's foresight into education policy, as well as his admirable principle coming into the position. Knox may criticize Hanwell's stance on pushing the tuition cap as a lost cause, but she failed to present concrete, principled plans of her own to tackle affordable education when she released her platform on the first day of campaigning.
In many respects, Knox would have been a top contender at virtually any other vice-presidential race this year, and undoubtedly would have had a lot to contribute to any of them with her bright ideas and solid work ethic. Unfortunately, these past years have not rewarded creativity for the VP (External).
Whether you buy his "nice guy" campaign style or not, Hanwell has shown that he will be the most appropriate advocate for U of A students in the coming year. Knox has proved to be hardworking and forward-thinking, but in this political climate, Hanwell is the VP (External) that the U of A needs.