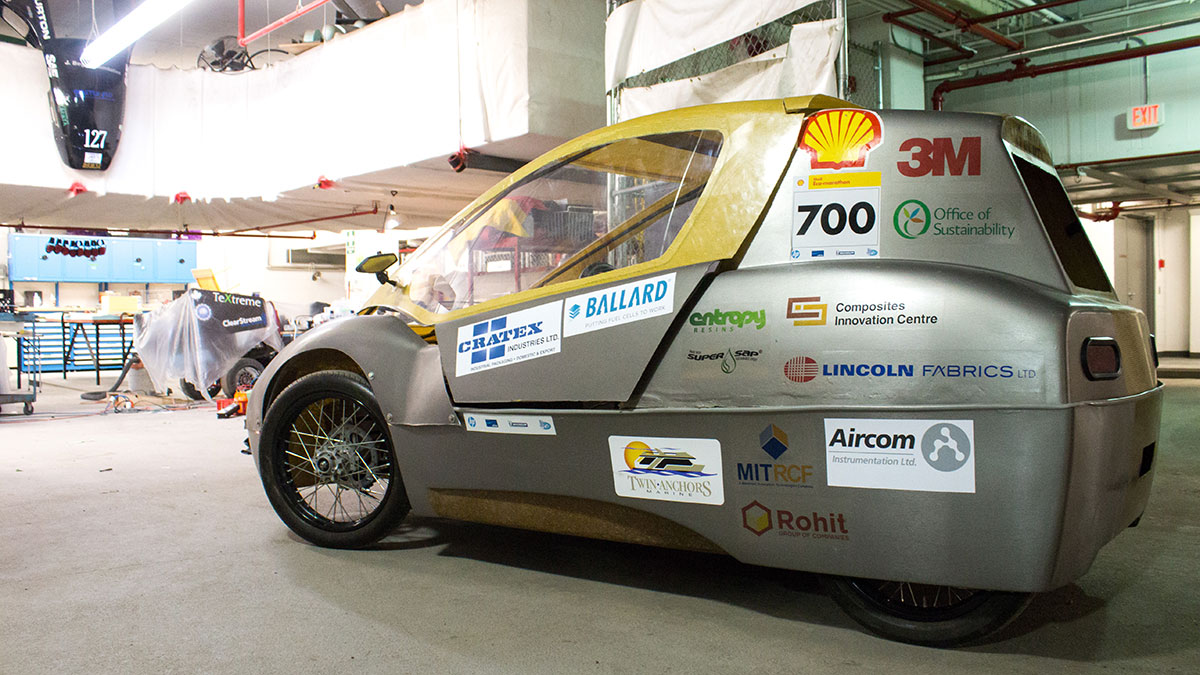 Balasz Gyenes was "overjoyed" when he motored the University of Alberta's hydrogen fuel cell EcoCar to victory at the Shell Eco-Marathon Americas last year.
"Steve," the U of A's student-designed, single seat, one-Kilowatt hydrogen fuel cell vehicle, tore through the Indy-like street track at 35 km/h en route to being declared 2014's champion in the UrbanConcept FuelCell category.
Project lead Gyenes, who has been involved with the EcoCar project since 2011, his team of 20 engineering students and their EcoCar will have that opportunity once more, as they travel to Detroit, MI to defend their title on April 9.
But with so many variables in the hydrogen fuel cell category, Gyenes said he "can't really hope for a win."
"You have to just try and do as well as you can and improve from where you were last year," Gyenes said, looking forward to this year's competition. "But we will learn a lot, win or lose. Every year we try to improve a little bit, and that's kind of where we are right now."
While Gyenes and his team were waiting for the EcoCar's Indy-like run last year, no hydrogen fuel-cell competitor completed the required 10 laps. There were far too many variables that were out of the team's control such as weather and track conditions, which "terrified" Gyenes. So when the EcoCar finished 10 laps en route to a win, he couldn't describe his relief.
To improve on last year's first-place finish, the EcoCar's power train has been revamped entirely with a new one-kilowatt Horizon hydrogen fuel cell and a new Ballard engine controller, built entirely from scratch. Last year's motor system is largely intact, so Gyenes and the EcoCar team had to interface the new fuel cell with the old system to ensure the car emits zero emissions while converting hydrogen into water at the most efficient rate possible.
As project manager, Gyenes had little input on the design and structure of "Steve," which as an engineering student, disappointed him. His role the last two years involved recruitment, team organizing, praying that the EcoCar arrives at the track in one piece, and when it does, praying that it it won't fall apart while on the track.
But with graduation looming, Gyenes said he hopes to use the experiences and knowledge he's learned with the EcoCar team when he moves on into the electric automobile industry.
"(EcoCar) was just so fundamental to my experience at school," Gyenes said. "I've been on this team the entire time I've been here. I've learned so much more doing this than in class."
After graduating in the winter term, Gyenes will be moving to Germany with his girlfriend, Roberta Hunt, who he met on the EcoCar team a year and a half ago. He's spoken with representatives from German automobile manufacturers Mercedes-Benz and BMW with hopes of eventually being employed in their electric car divisions.
While Gyenes is moving on from the EcoCar after this year, he said he looks forward to seeing the project further develop as a vehicle, and as a team despite being overseas.
"I think it's rewarding just to see someone change and grow in their many years on the team," he said. "It's been really cool watching them develop and watching everyone come together when they need it. That's the experience as a manager where you don't know where your work has paid off until the very end."