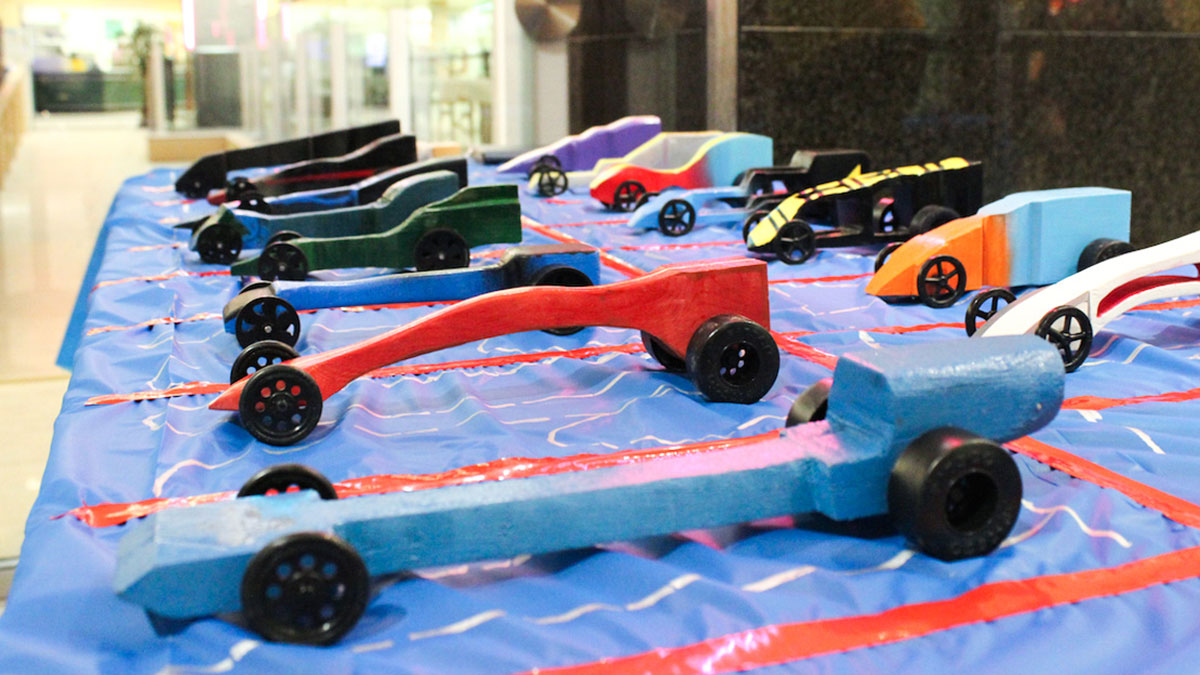 Drag racing and junior high students sounds like a bad mix, until you factor in engineering, science and an innovative university program.
The CO2 Powered Drag Races — which took place on March 20 in West Edmonton Mall (WEM) — is an annual competition organized by the University of Alberta's DiscoverE program aimed to engage junior high school students in hands-on learning through real-world challenges. The competition partnered with career and technology studies (CTS) courses offered through Edmonton Public and Edmonton Catholic Schools, and provided an environment for students to demonstrate their skills and build their knowledge about engineering and science.
The CO2 Powered Drag Races began in 2008 in celebration of National Engineering and Geosciences Month. According to DiscoverE Director and Outreach Coordinator Alissa Boyle, the event has grown since its inception and is well-received by participants, their families and the public.
"(The students) are very excited to see their cars race down the track and you can feel the anticipation grow as we get further and further into the competition," Boyle said.
"While the students racing their cars have phenomenal reactions, it's also amazing to see the number of (WEM) patrons who will stop by and comment on the fact that they, now adults, still remember when they got to race their first CO2 cars."
Students build their cars over the course of the school year and must adhere to strict regulations concerning car weight, dimensions and material. The competition gives students the chance to participate in one of three categories: sprint, muscle and show. An open category is also available for university staff and junior high school teachers.
This year, first-place winners in the sprint and muscle categories won a trophy, a medal, a team set of hoodies, a tour of the U of A, a DiscoverE workshop and a pizza party. First and second place show category winners, as well as second place sprint and muscle winners, were awarded medals.
In addition to the races, several U of A engineering undergraduate student groups were on site to engage participants in events that sought to educate and motivate. This year, the Department of Mechanical Engineering's Formula SAE (FSAE) race car team and students from the Autonomous Robotic Vehicle Project (ARVP) shared their passion for engineering with the crowd by curating demonstrations.
"For the last few years, the team has been happy to display our work at the DiscoverE CO2 races," the FSAE team said on their website. "It's such a great chance to meet many bright, young minds and get them excited about science and engineering."
DiscoverE is a student initiative offered by the Faculty of Engineering that delivers classroom workshops, events and summer camps to over 26,000 youth annually. In addition to the CO2 races, DiscoverE offers a number of interactive programs, including Coding for Kids and Aboriginal Outreach.
Boyle said she believes outreach programs help reiterate that many memorable learning experiences happen outside the classroom, and noted that experiences like the CO2 Powered Drag Races are specifically designed to supplement in-school learning and support youth to become innovators.
"DiscoverE empowers youth to explore, adventure and discover in an environment which encourages creativity," Boyle said. "Failure is seen as a necessary positive step in the learning process.
"Outreach is a necessity for the university, for Edmonton (and) for the global community, because outreach strives to educate and empower youth — two key ingredients for a recipe to success."