The Landing integrates itself with Pride Week festivities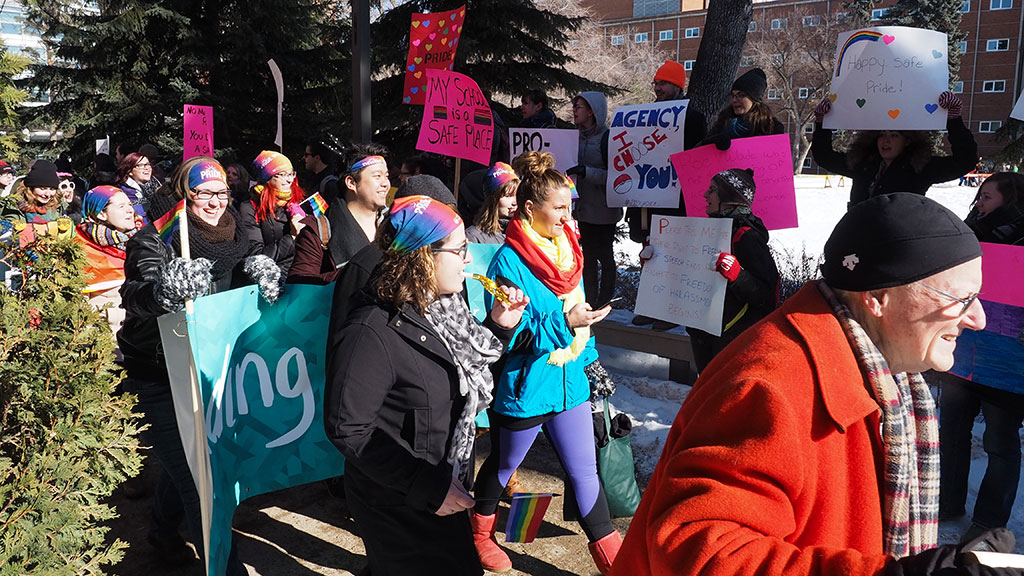 Although The Landing is relatively new to campus, it's already making an impact on the University of Alberta's third-annual Pride Week festivities.
Also helping plan the annual festivities during Pride Week include Campus OUTreach, the U of A's queer social group, and the Institute for Sexual Minorities Studies and Services (iSMSS).
"It's really exciting being a part of something where the entire purpose is purely celebratory," The Landing's Program Manager Parker Leflar said. "It's about looking at the community we have and the diversity of it, and putting that front and centre on campus for everyone to see."
iSMISS Program and Services Director Kristopher Wells agreed with Leflar's statements. Students make up the majority of the U of A, so it's important their voices, ideas and concerns are heard, he said.
"This is a moment for us to pause, celebrate and reflect, as well as build towards the future," Wells said.
"Students are often the ones that are the most impacted by these issues, so we value our partnership, because it signifies a coming together of the community, with each of us having a role to play."
Wells and Leflar highlighted several events taking place throughout the week, including the LGBTQ2 homelessness workshop, and Two Spirit People: Then and Now, which outlines the history of Two-Spirit First Nations people and how they work to restore their health, wellness and balance.
The Landing itself will host the Intersections of Queer symposium, a series of workshops and discussions based on issues of race, class, ability, gender, age and spirituality in relation to queerness, on Thursday and Friday.
Leflar said the symposium should provide a way for people to understand the complexities of these communities by looking at diversity within queerness.
"People usually just think of Pride Week as being about queer people and queer communities, although it's also much broader than that in terms of the whole LGBTQ spectrum," Leflar said.
"It's important to look at all different aspects of the community and how they intersect to create a unique experience."
On Tuesday, a rainbow made of hundreds of students, faculty and staff marched throughout campus with colourful signage. Alicia Naundorf was among them.
"It helps raise the question of why people are different, and why we should celebrate that fact," Naundorf said.
"Having everyone together and seeing why we should celebrate is definitely a good thing."
Pride Week wraps up on March 7 with the 10th-annual Camp fYrefly Gala Wine Tasting and Silent Auction, which spotlights Camp fYrefly, a national leadership retreat for sexual and gender minority youth — the only one of its kind in Canada.
Both Wells and Leflar said they are are pleased with how Pride Week currently operates, but both also believe it can be improved.
Wells referenced 2013's iSMSS Safe Spaces Report, which contains 26 criteria for making campus a more welcoming and safer environment for students.
"It's important that we continue to work collectively to make this a welcoming, inclusive and respectful campus for everyone," Wells said.
Leflar said he wanted The Landing to be more actively involved in upcoming Pride Weeks, as well as to promote more events similar to Pride Week year round.
"As a result of us being so new, we couldn't contribute as much as we'd like to this year, but I definitely see that growing in the future."
"I'm also really interested in doing more to promote events throughout the year that have the same feel as Pride Week."
Pride Week runs from Feb. 28 to March 7.