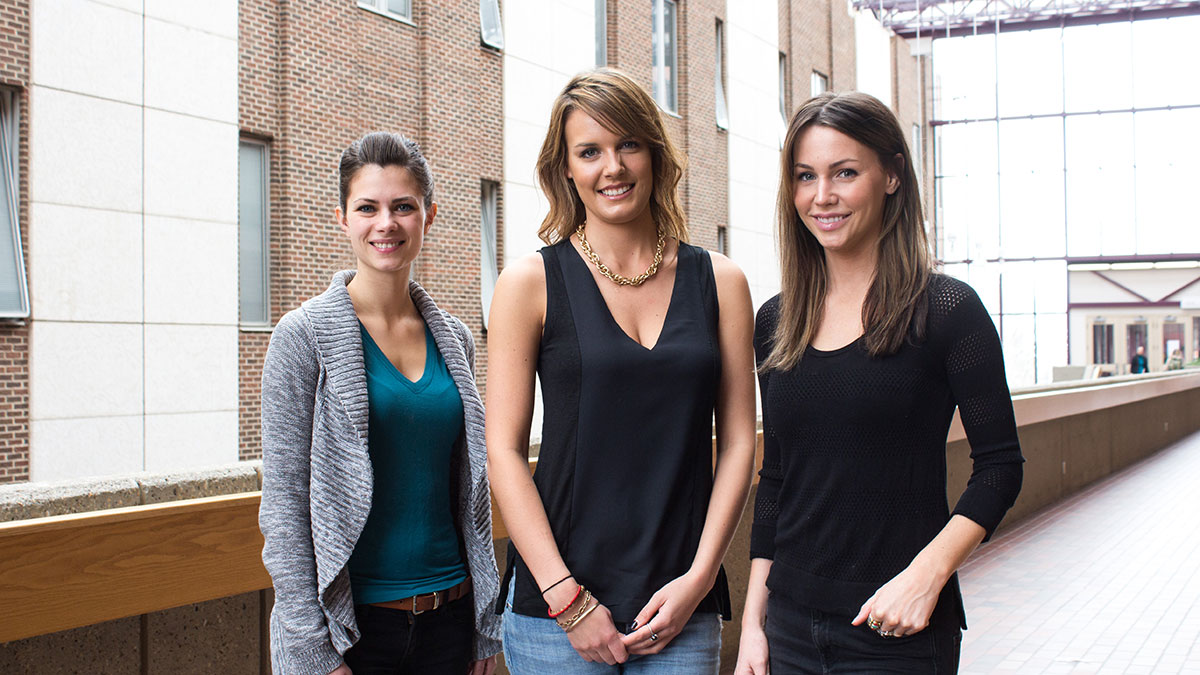 With the invention of user-friendly dating apps such as Tinder, people are starting to take a more digital approach to finding relationships — but ease of access isn't always for the better.
University of Alberta students Michelle Schultz, Brittany Heddle and Brooke Andrews have noticed the increasing problem of harassment on Tinder. They've responded by starting an awareness campaign called Tindergrrrls.
Tindergrrrls, stylized like the '90s feminist movement Riot Grrrl, is using social media to raise awareness about gender-based harassment on dating apps and gathering testimonials from women who have experienced abuse on Tinder. These cases aren't hard to find — just search "harassment" and "Tinder" on Google to find countless screenshots of "matches" turned sour. But since they're so normalized, they're often overlooked as abuse, Heddle said.
The trio chose to focus their project on Tinder because of its ever-increasing popularity since debuting on mobile phone app stores in 2012. While Tinder Inc. chooses not to reveal the number of downloads since then, its co-founder Sean Rad said the app grew from making 1 million matches monthly to 50 million matches in 2013. The app's appeal comes from its easy-to-use, playful interface ­­­— but according to the group, this can be problematic.
"It's a game mentality, but it's not a game. It's real life." Heddle said.
Tindergrrrls asks women to submit their experiences of abuse on Tinder, which remain anonymous. They are then tweeted on the campaign's Twitter account along with articles about feminism and online harassment.
The awareness campaign was started as a project for a Introduction to Women's Studies, taught by lecturer Cristina Stasia. Stasia introduced the project to accommodate the growing use of social media in both everyday and academic life.
"Many of our lives, especially my students' lives, are lived through social media," Stasia said. "It's increasingly impossible not to use social media in this world. I wanted to equip students with the skills to be able to navigate it … if you can teach your students complex gender theory, and then they can articulate that in a 140 character tweet, they really understand it and you've done your job."
While many exchanges on Tinder might not be toxic, harassment is still common. A 2006 study by the University of Maryland found female usernames in online chat rooms received about 100 sexually explicit or threatening messages daily. Masculine names received only four. Additionally, a volunteer organization called Working to Halt Online Abuse has reported that in over 4,000 cases between 2,000 and 2013, 70 per cent of victims were female.
"Those comments have consequences … having all that backlash coming back at (the victim) just because they're not 'DTF'… that's abuse," Schultz said.
This backlash often goes by without much intervention from the app, with the worst punishment for abuse being a temporary ban. Schultz said she would like to see stronger repercussions put in place for Tinder users who are being abusive.
Tindergrrrls has reached almost 500 followers on Twitter in a little more than a month. Heddle said raising awareness is important because it gives women background information about Tinder and skills to navigate its harmful situations and empowering them with how do deal with it.
"I think it's one step at a time," Heddle said. "Starting with the root problem with educating people. I would like to see women more empowered and standing up for themselves and working together."