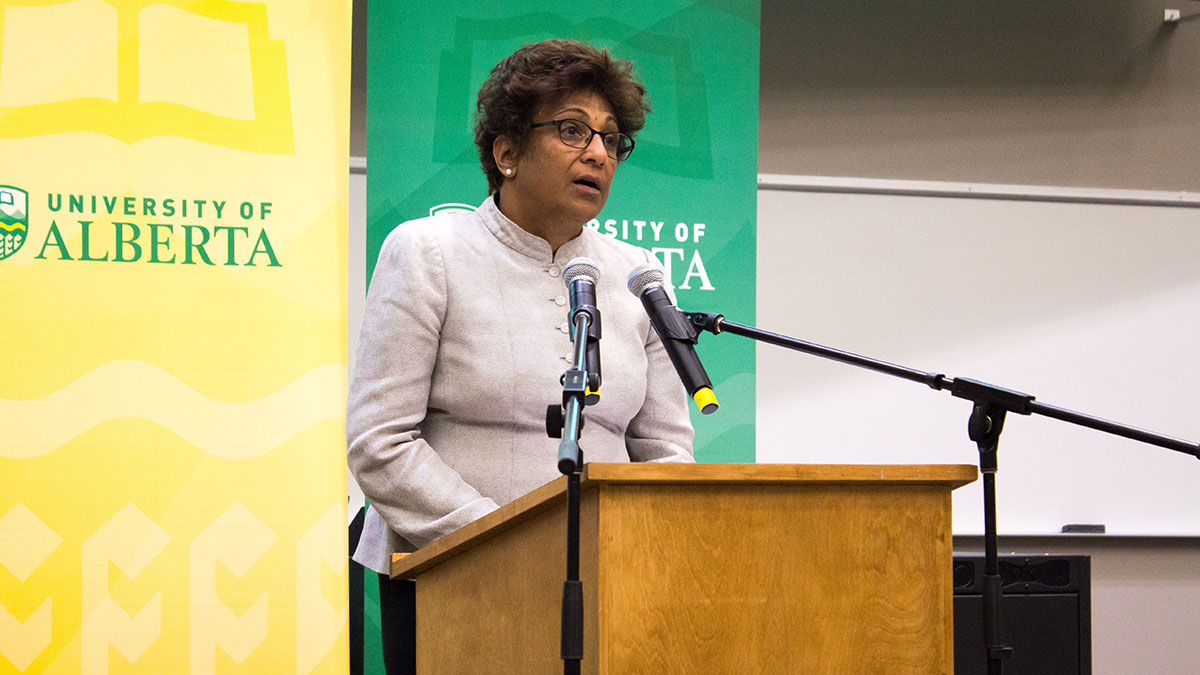 Indira Samarasekera has a sense the province's current fiscal situation is currently at "the bottom," but is optimistic it will only improve moving forward.
The University of Alberta president called for a campus town hall Tuesday afternoon to discuss the 2015 Alberta Budget, what to expect going forward and to address any concerns the community might have.
Announced March 26, the post-secondary sector saw a 1.4 per cent cut in funding from the Campus Alberta grant for 2015–16, and are predicting a 2.7 per cent cut in 2016–17.
Samarasekera opened the forum saying she was encouraged by the budget, as it "signals transformation" and a way to give Alberta post-secondary institutions long-term predictability in future funding.
The Alberta government is projecting a $5 billion deficit in 2015–16 and a $3 billion deficit in 2016–17 due to the tumbling price of oil. A barrel of oil is currently valued at $58.84 per barrel, down from the $79.87 per barrel in 2014–15. Minister of Finance Robin Campbell said the government isn't expecting a return to surplus until 2017–18, when they are projecting an excess of $709 million.
In 2013, Alberta post-secondary institutions saw a 7.2 per cent cut due to a $3.1 billion provincial deficit. But this year's revenue shortfall situation is different from the one Samarasekera encountered two years ago, she said.
"We were given some time to plan, as opposed to two years ago, where we had no warning, no time to adjust," Samarasekera said. "That was very difficult."
The U of A's Board of Governors approved the 2015–16 Comprehensive Institutional Plan (CIP) on March 13 expecting a zero per cent decrease or increase to the Campus Alberta grant in 2016–16. The CIP scaled a 1.5 per cent reduction to the university's operating budget.
But with the 1.4 per cent reduction to the Campus Alberta grant, the U of A is left with an $8 million shortfall in operating budget.
Samarasekera said the U of A will continue to operate with the $8 million gap and "immediately" work on ways to balance the deficit.
To compensate for the current fiscal environment, Alberta institutions have been instructed by the government to discover new, efficient ways to generate revenue and decrease their dependency on government funding.
One of those ways could be to increase tuition, which is projected to account for $1.15 billion in revenue in 2015–16 for the province, up from $1.12 billion in 2014–15.
The rumoured elimination of the tuition cap, which is set to expire in August 2016, would allow institutions to increase tuition without any formal regulation from the government.
Samarasekera said the tuition cap is a public policy discussion and "up to the government to decide."
She added that she would be concerned if the cost for undergraduate degrees in the Faculty of Arts and Science went up, as it challenges access and affordability.
"This is a slippery slope we don't want to go down unless we know what the consequences are," Samarasekera said. "I think we have be very cautious."
But she added that in professional programs, students have a degree of income and opportunity, plus there is "enormous demand" for a business or law degree. It's reasonable for the institution's professional programs be market competitive, she said.
Samarasekera also addressed whether the university would consider cutting "low-value programs" to mitigate the current fiscal state of the post-secondary sector. She said she has "no idea" how to determine whether a program is low-value or not, and there is a danger in cutting those programs not knowing what demand for said programs will be like in 20 or 30 years.
"I'm determined to stand up for what is fundamental on behalf of society," she said. "We have to be collectively vigilant against cutting low-value programs."
Students' Union President William Lau acknowledged Samarasekera's optimism regarding the budget, but noted that there is "always fear" when the campus community hears the word "cuts." He asked her how the U of A plans to strengthen that optimism and move forward.
"It's important that we don't minimize the pain of reductions," Samarasekera said in response.
"I think the optimism comes from the fact that the U of A is very strong and has not diminished in the past several years.
"We have maintained the quality of education through very tough times."
She added that she feels the government has recognized the need to create stability, and said the post-secondary sector "could have received much bigger cuts."
"I am optimistic about the future, I really am," Samarasekera said. "Reputation, excellence and impact have been increasing in spite of the ups and downs. I am optimistic and we will be a critical part of the province's growing future.
"Seeing investments we can tack into to conduct research across many areas to put us in a stronger position to contribute to the province's future and quality of life."