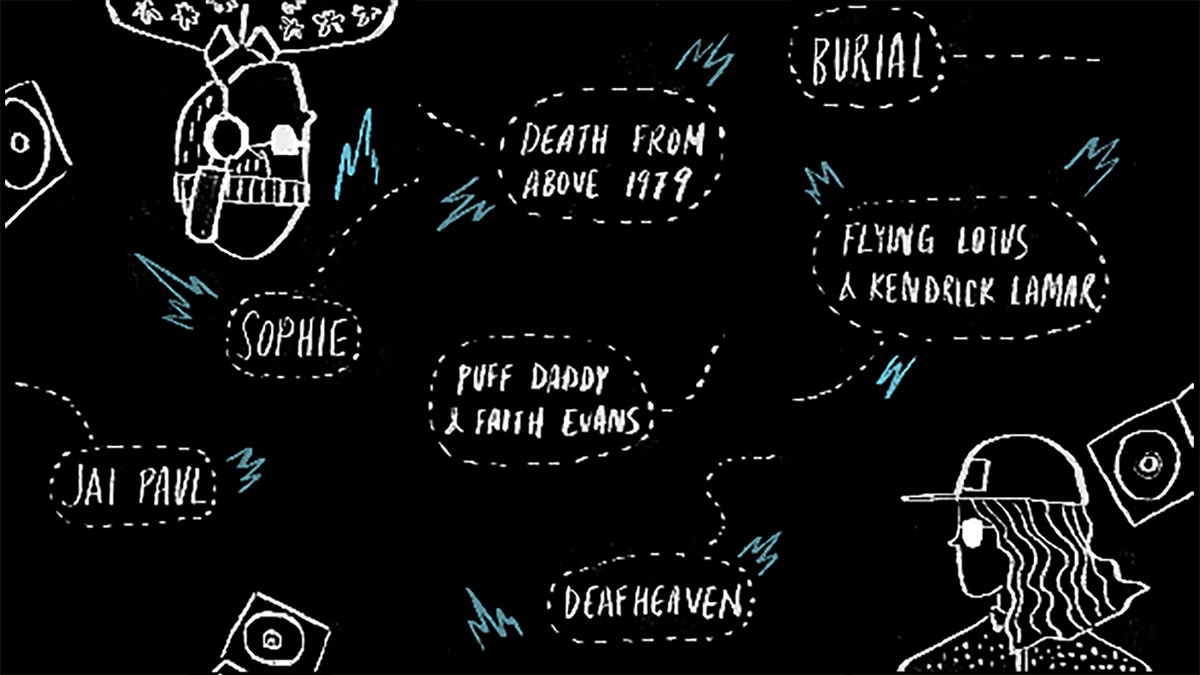 At seemingly every turn in the music industry is the uncertainty of the unknown. Whether it is seen in mysterious artists, samples or in songwriting, without a sense of ambiguity, music easily becomes vulnerable to predictability. The unknown acts as a central inspiration for artists across genres in the following songs:
Sophie – "Lemonade/Hard"
London producer Sophie's artistic output can be completely characterized by a question mark. His music is debated as a satire against EDM culture. "Lemonade" and "Hard" are filled with sharp turns layered over Sophie's own twisted take on K-Pop. While his identity still remains unknown to the public, his counterculture statement is an interesting perspective.
Jai Paul – "BTSTU"
There is no present-day artist with a more frustrating career to follow. Jai initially caught the Internet's attention with this brilliant release back in 2010. In the years past, Jai has remained predominantly out of the public eye, generating loads of hype without having an official album out. A leaked compilation of demos was illegally distributed as his debut album back in 2013 and more than a year later seemingly no one has any idea when or if an album will be released.
Deafheaven – "Sunbather"
Deafheaven's sophomore album Sunbather was subject to scrutiny from the metal community for being too soft and not being "true" black metal. Regardless of whether Deafheaven is black metal, shoegaze, post rock, or any combination of the above, they still released one of the most critically acclaimed albums of 2013. The title track, "Sunbather" is one of its towering pillars — regardless of genre, the strength and cohesiveness it provides cannot be ignored.
Burial – "Archangel"
Back when 2007's Untrue was released, Burial's identity still remained unknown. Even after coming forward as William Emmanuel Bevan, fans have still made conspiracy theories that he may actually be Four Tet. Regardless of who he is, Archangel remains Burial's most known song to date. It's even more impressive that such a moving piece out of mere
seconds of Ray J's "One Wish."
Death From Above 1979 – "Trainwreck 1979"
When DFA split in 2006, the break looked to be very serious. Band members Jessie Keeler and Sebastian Grainger had disagreements on every level and weren't on speaking terms. It was unknown to fans if we would ever hear a new DFA song ever again. However, five years after the split came the fabled Coachella reunion, and 10 years after their first album came "Trainwreck 1979."
Puff Daddy and Faith Evans ft. 122 – "I'll Be Missing You"
https://www.youtube.com/watch?v=mM0-ZU8njdo
To this day, the murder of The Notorious B.I.G. remains unsolved, even though there are many theories debating who shot the blossoming hip-hop star and why. Regardless if the incident was truly part of the East vs. West Coast rivalry, the incident today still remains one of the most tragic losses in hip-hop. "I'll Be Missing You" was recorded in the memory of Biggie, winning a Grammy along the way.
Flying Lotus ft. Kendrick Lamar – "Never Catch Me"
On his fourth studio album You're Dead, Flylo explores the feelings and experiences around the great unknown of death. Kendrick Lamar taunts death on the standout track "Never Catch Me" after he comes to terms with the fact that he will eventually die. Lamar raps with a certain kind of cockiness that he will defeat death by living on through his art and everlasting legacy.