The Gateway's Burger Bracket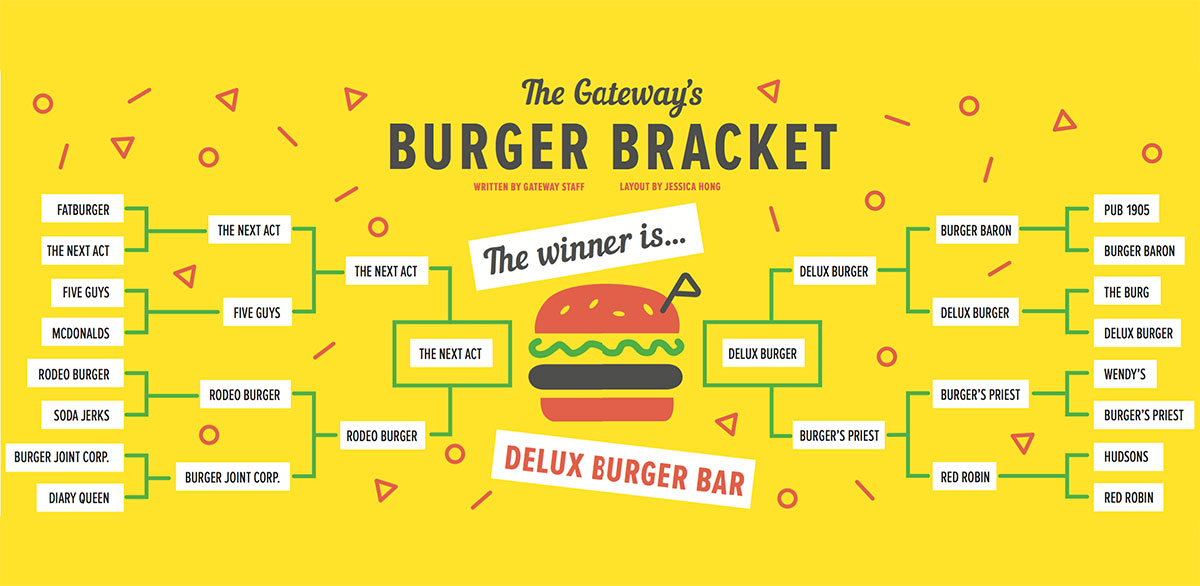 Out in the First Round
Soda Jerks
Probably more than any other on this list, the burgers at Soda Jerks are made great by the plethora of toppings available. You could talk about the crumbly yet tender patties or the multitudinous breads on which you can BYOB, but the sheer magnitude of available toppings boggles the mind and palate. Some house offerings, like the Black and Blue (blue cheese, blackening spice, and caramelized onions) or the Macho Nacho (Doritos, guacamole, and jalapeño jack) make the patron feel as though they aren't entirely lost in the menu. Combine this with an equally wide range of sodas, deep fried pickles that are the best anywhere, and a '50s-diner theme, and Soda Jerks makes a great night out any day of the week.
The Burg
The Burg isn't so much objectively terrible, as it is terribly disappointing. The burger is fine, the ingredients are fresh and the lively atmosphere of this burger bar can make it a fun restaurant to go to, but it's overpriced for what you get. To get a full meal at The Burg, you'll likely end up having to pay nearly $20. That's fine if the burger is good enough, but for the amount and quality of food you get, The Burg isn't really worth your while. Compared to fast food joints, The Burg will seem like a revelation, but the quality of their beef doesn't compare to the best burger spots in town. If you're downtown, you'd be better off walking across the street to the Blue Plate Diner for an Elk and Bison Burger.
Wendy's
Wendy's is the best fast-food burger joint around in terms of quality and bang for your buck. No, it doesn't have the best-tasting burgers or fries, and the Frosty certainly isn't the best frozen snack around, but its price-to-taste quality ratio is perfect. Dave's "hot and juicy burgers" are the type of burgers that both fill you up and don't make you feel awful afterwards, which is important for a fast-food joint. The Baconator is a phenomenal explosion of meat and you can't go wrong since it costs under $10. They also offer a nice value meal that includes the lovable "JBC" at only $1.89. If you don't want to spend a lot, but want to be filled up with something that doesn't taste like it was just pulled out of a microwave, Wendy's is a
good option.
McDonald's
There's something to be said for measured expectations. As much as McDonald's has used ad campaigns to make it seem like a nice cafe to grab a healthy snack (important aside: their coffee is surprisingly one of McD's best qualities), that's not what the restaurant is or should try to be. Whenever we pass under those golden arches, all we want is a cheap and greasy fast-food burger, and for that, McDonald's has never let us down. No one should ever claim that a Big Mac, Quarter-Pounder or Angus Burger is as good as the top gourmet burger joints in the city, but when we want an inexpensive burger right away, all those options sound like music to my ears. McDonald's is everything you'd expect it to be, and sometimes that's all you need.
Fatburger
Fatburger has branded itself as "The Last Great Hamburger Stand." While that may be a bit of stretch, Fatburger certainly holds its own against a multitude of other burger joints. Boasting great toppings such as gourmet cheese, guacamole and maple bacon, Fatburger brings a decent offering to the table. Where Fatburger falls short, however, is in the burger itself. The meat never tastes particularly fresh. Instead you're left with the overwhelming sense that the the patty has been cooked, frozen, and then reheated before going on the bun. All in all, Fatburger isn't the worst burger joint you'll ever visit, but it certainly isn't the best, either.
Hudsons
Besides the obnoxiously long lineups for entry on Friday and Saturday nights, Hudsons produces a fine burger. It's not "good for a taphouse" burger, but just generally good. The selection isn't on par with outright burger joints, but they're worth going for, even without sipping on a pint. The signature Hudsons maple bbq mayo is fantastic, and is worthy on anything have between the buns. The beef patty which is "hand formed daily" isn't forgettable, but isn't memorable either. And a peanut butter bacon burger is never a good idea, I don't care who does it, which is a disadvantage considering the burger menu at Hudsons is so sparse. The burgers aren't worth waiting in line and getting frisked by a bouncer at 11 p.m. by itself, but they're still one of the better pub chain options otherwise.
Pub 1905
Pub burgers can be a pretty sketchy risk to take. Half the time, you'll be surprised with delicious bar food and the other half it tastes like stale hot dogs at the Strat. Luckily, Pub 1905 falls under the category of the former. Pub 1905 looks like any other pub you'd go for a relatively cheap beer to watch an Oilers game. It isn't well-lit, it's a little dingy and completely unspectacular to look at. But their burgers are something else. These delicious patties are ground in-house, and the overall burger, as a whole, is incredibly compact and well-made for as many toppings and condiments as they can pile onto your burger that don't spill out into your hand. Every pub is going to offer something a little bit different to attract customers. When it comes to burgers, Pub 1905 tops their competition.
Quarter-Finalists
Red Robin
We used to hate the idea of restaurants having a furry mascot, but it's a hell of a lot better than some dejected, uninterested dude twirling a cardboard ad up and down a busy street. We never actually seen the towering red bird in person, but man, can that thing serve a mean burger. The selection at Red Robin is top notch and completely customizable without being overwhelming. Red Robin patrons can choose between a classic sesame, whole grain, ciabatta and, we favourite, an onion jalapeno-cornmeal kaiser roll. Fresh ingredients are lush and plentiful. The fried onion straw topping is a pleasant alternative to the traditional onion ring on a burger and offers a less messy bite. The signature seasoning on every table is a tasty, salty medley that is apparently zero calories — if that somehow matters to you. Powder the hell out of your bottomless steak fries or burger with it regardless, though their delectable burger patties are fine without.
Five Guys
On the surface, Five Guys appears to be your average fast food burger joint, but if you delve in deeper, you discover it does, in fact, have more going for it. It has excellent selection in terms of toppings, but the toppings themselves aren't the last word in freshness. As for the burger itself, while it is good, it did leave something to be desired. While it elevates itself above a run of the mild fast food burger, it doesn't quite compare to a dedicated burger restaurant. Overall, Five Guys acquits itself as good, but not great, and sits as somewhat as a hybrid of a burger restaurant.
Burger Baron
If you're looking for "atmosphere," don't bother. Burger Baron holds some charm on the outside, as most locations present an old-school, "diner drive-in" look to it. But the decor on the inside is drab and undesirable. You're better off ordering and waiting in the car, but the wait is well worth it. The mushroom burger is one of the best of its kind, with a gravy that's the perfect thickness for a topping and sauteed to perfection. The packaging and presentation of the burgers is uninspiring, but don't let that deter you. The beef patties are relatively thin compared to other options on the list, but are superior to most fast-food options. The fries, however, are soggy and dull, so don't bother ordering a combo. But if you can somehow find a Burger Baron, as they're all in seemingly weird locations, it's worth a visit.
Burger Joint Corp.
Upon entry, Burger Joint is impressive. It's in a new strip mall, so the decor is modern and clean. The tables all have a clipboard with a check-box menu so you can build your own burger on paper, and they'll make anything your heart desires. With so many options, it's easy to get carried away and overpower your burger with toppings. But that's probably the point. While all the vegetables you could add to your burger were fresh and flavourful, the patty itself had next to no flavour, and bared the scalloped edges of a frozen patty. Overall, the toppings were fun, but the highlight is definitely the curly fries you can get as a side.
Semi-Finalists
Rodeo Burger
We love Rodeo Burger for its versatility. Overall, it's strong because it has good, thick, real-tasting meat and a good bun, but it also offers a ton of different options in terms of toppings and sauce. One of the things we like most about it is the "build your own burger" style simplicity where you essentially just walk up to the counter, tell them how many patties you want and then list off the topping and sauce you want from the sheet in front of you. It's the perfect option that falls right in between fast food and sit-down dining. It's isn't too expensive, it's ready quickly, but it has that gourmet-burger taste to it.
Burger's Priest
Burger Priest has received a lot of hype recently, and it is certainly delivered. Oh yeah, they also do delivery. But only in their Ontario locations, sorry. Burger Priest has a pretty standard menu, but it also features a burger with two grilled cheese sandwiches as the buns, which is incredible. They don't have many options for toppings and sauces, but the menu items they do offer range nicely from standard burgers, to really unique options. The best way to describe the burger itself is simple, yet flavourful. It tasted like you've been waiting to eat for hours, even if you aren't that hungry. The owner is religious, so there's a biblical theme in the restaurant, but it certainly isn't overwhelming at all.
Second Place
The Next Act
Out of all the Edmonton restaurants that don't explicitly name themselves after their burgers, the Next Act is indisputably the top choice. The menu's got a lot of great food to offer and has a wide variety of options, which means it doesn't offer as much variety in its toppings as Edmonton's best burger joints. But it's got enough to offer to satisfy any burger lover, and some of its topping choices are hard to find anywhere else, like peanut butter, bacon jam or pea shoots. On top of that, the Cameo Burger that changes on a regular basis gives customers a good reason to keep coming back. Really, the only complaint that could be levied against the Next Act is how its location just off Whyte Avenue usually means that it can be hard to find a table there. If you're able to get a spot, the Next Act offers one of the most satisfying, delicious patties you can get in the city with some weird but rewarding toppings. It's a must-try for any burger lover.
The Winner
Delux Burger Bar
Are you a sucker for gimmicks like mini shopping carts loaded with fresh fries or a side of cotton candy after your meal? It doesn't matter, because Delux Burger Bar is worth visiting anyway. Delux's classic diner-esque decor feels spiffy without being tacky and the service is always outstanding. The Build-your-own-burger menu is excellent. The proprietary Aspen Ridge Premium Beef burger is perfectly charred and spiced flawlessly. If that's not your thing, the Stella Artois battered halibut is one of the best seafood burgers in the city. Regardless of what kind of burger you buy there, it's likely going to be the best of that kind of burger in the city. There's endless variety, top notch quality and even though it's pricier than your average burger joint, you get what you pay for. Delux is well worth the money and easily our pick for the best burger in the city.