Board of Governors rolls back domestic tuition hikes, keeps international increases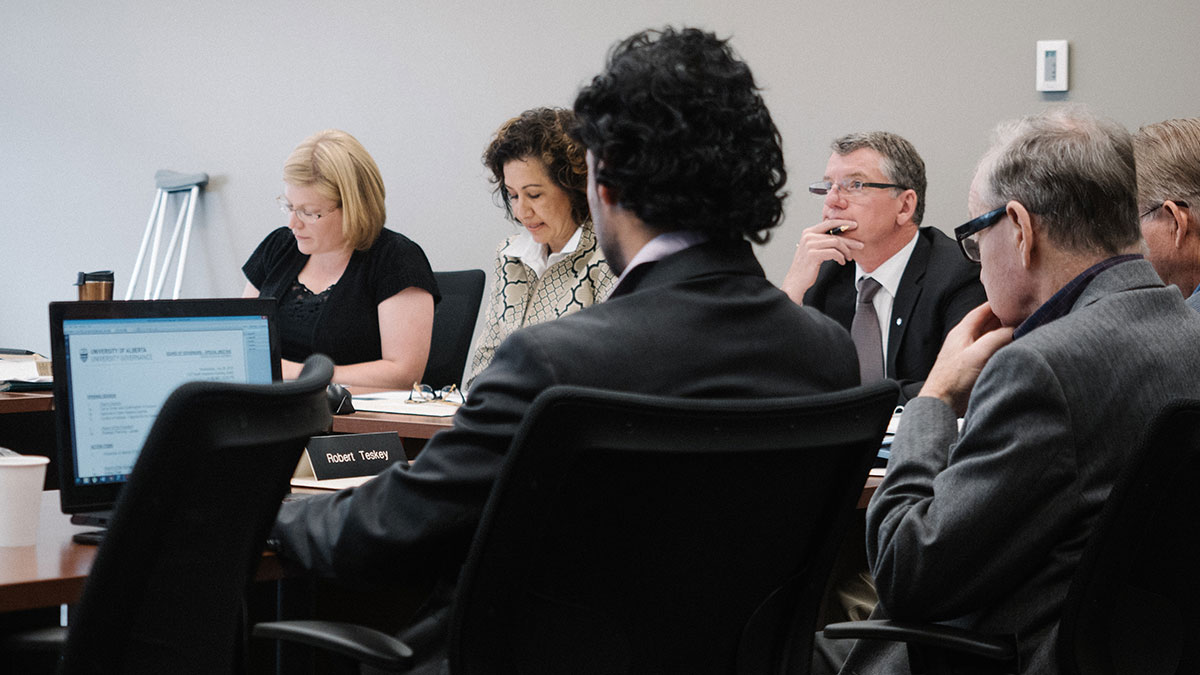 Domestic students won't be affected by tuition increases this fall, but international students will still see those rising costs.
The University of Alberta Board of Governors officially rescinded the previously approved 2015–16 domestic tuition and fee increases on Wednesday, though international students will still be impacted by those increases.
The tuition and fee reversals comply with the Alberta NDP government's Bill 3 and funding plan for post-secondary, which legislated a two-year tuition freeze and rollback on the Tories' previously approved market modifier program increases. To offset the rollbacks, Minister of Innovation and Advanced Education Lori Sigurdson announced an increase in base operating funding for post-secondary institutions by two per cent for 2015–16 and 2016–17, while reversing the 1.4 per cent that was cut to the Campus Alberta grant earlier this March.
The U of A approved a general tuition fee increase of 2.2 per cent in December 2014, and with the rollback, the government provided funding to compensate for the revenue that would have been generated from domestic students with the increase. Because the government did not provide any funding for the loss in generated revenue for international student tuition increases, those increases will remain.
U of A programs that will see their previously approved market modifiers rescinded for domestic students are the Faculty of Law's Juris Doctor program (an increase of $5,774 in 2015–16), the new Doctor of Pharmacy program (an increase of $1,400 in 2017–18), the Faculty of Rehabilitation Medicine's Physical Therapy program (an increase $46.32 per 3 credit course in 2015–16), the Masters of Business Administration program ($605 per 3 credit course) and the Department of Economics ($150 per 3 credit course).
Market modifier increases for international students, which were previously approved, will remain, effective Sept. 1, 2015. International students in the JD program will see an increase of $12,263.45 in 2015–16. International students in economics will see a $553.82 bump per 3 credit course while those in physical therapy will see a $94.68 increase per 3 credit course. Details of the MBA program increase for international students was not available.
Students' Union President Navneet Khinda, who voted in opposition of the motion regarding international tuition and fees, said she had "mixed feelings" about today's meeting.
"This was positive in a sense that we rolled back the tuition and market modifier increases … on the other hand, it's tempered with the fact that international students will still be seeing those increases," Khinda said following the meeting.
She said the SU's short-term objective regarding these increases would be to ensure that adequate support in terms of bursaries and grants are available to international students. Long-term, she said the SU will further review the post-secondary sector's funding formula, as they "clearly show loopholes" in tuition and fee regulation.
"I think it's important to keep in mind fairness to students," Khinda said. "If the government and administration think it's OK to do this, then we clearly need to make changes."