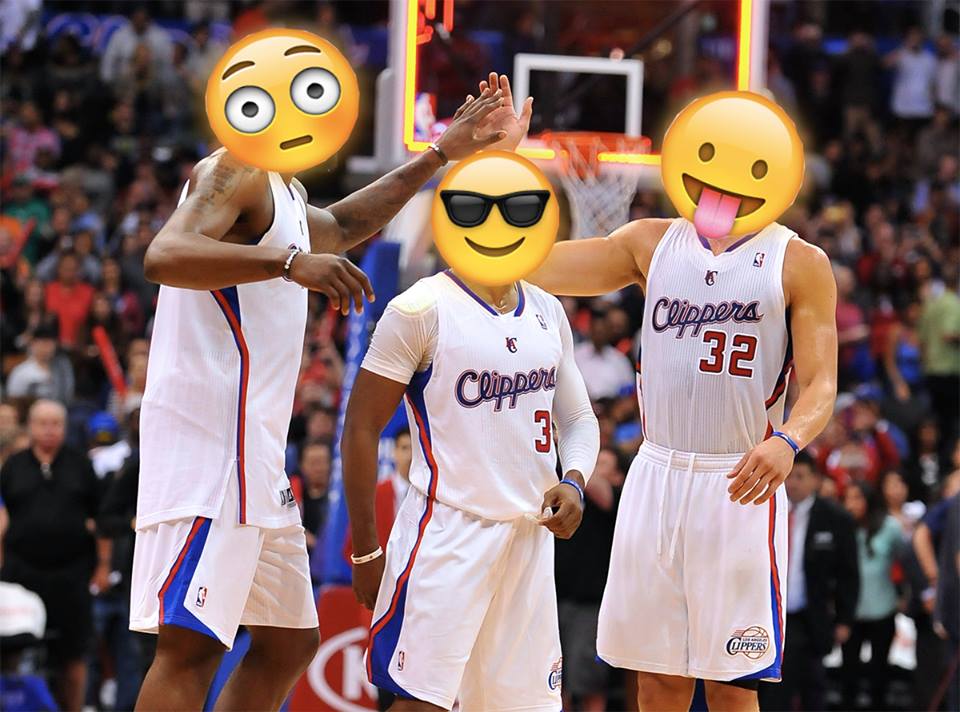 No NBA free agency would be complete without hours of negotiations, betrayed fanbases, massive overpayment after massive overpayment and Adrian Wojnarowski. But you know what else it could use? Emoji.
Those hours of negotiations among NBA front offices, agents and athletes are cool and all, but the Los Angeles Clippers and Dallas Mavericks' banter over free agent center DeAndre Jordan just showed us how entertaining — and wacky — recruitment could be if Twitter emoji wars were the norm. After Jordan agreed to a four-year, $81-million max contract with the Mavericks last week, Doc Rivers and his Clipper cohort reportedly flew to Houston to convince Jordan to change his mind and stay in L.A.
Dallas small forward Chandler Parsons could've posted his thoughts in 140-character form, but what's the fun in that, right?
✈️

— Chandler Parsons (@ChandlerParsons) July 8, 2015
The race for Jordan was on, and so was the impending emoji war. Clippers sharpshooter J.J. Redick spotted up with a response of his own.
🚙 — JJ Redick (@JJRedick) July 8, 2015
Redick wasn't bluffing, either. As a Texas native, Redick lives close to Jordan, as pointed out by who else but Yahoo! Sports' Adrian Wojnarowski.
Redick and Parsons are fine players and recruiters, but it was time for the big guns to step in. Clippers star Blake Griffin, who was vacationing in Hawaii, stepped in with three (THREE!) emojis.
✈️🚁🚙

— Blake Griffin (@blakegriffin32) July 8, 2015
It wasn't just for players either, as Clippers assistant Mike Woodson ditched his clipboard for his emoji keyboard and joined in on the fun with his preferred mode of transportation.
🏊 — Mike Woodson (@MikeWoodsonNBA) July 8, 2015
Now, I've never seen Woodson swim, but I have seen all-star point guard Chris Paul ride a FREAKING BANANA BOAT.
🍌🚤

— Chris Paul (@CP3) July 8, 2015
Good lord. And while an old man like Woodson might understand how to use emojis, the Clippers recent veteran acquisition Paul Pierce has no fucking idea what the hell he's doing.
pic.twitter.com/SIyHJjDScR — Paul Pierce (@paulpierce34) July 8, 2015
This dude uploaded a .jpg of an emoticon from 2004. A GOD DAMN .JPG. He probably started updating his GeoCities website on his Nintendo Gameboy Colour as soon as he hit "send." Speaking of recent acquisitions, new Clippers forward Lance Stephenson also chimed in.
We need u big bro @deandrejordan6 clippers nation

— Lance Stephenson (@StephensonLance) July 8, 2015
Wait, are those actual words??? Obviously, he's the new guy in town. But you know who isn't new to L.A.? Doc Rivers' son, Austin Rivers, who showed support for his dad and the Clippers efforts in the only way he could.
👀…….🙊 — Austin Rivers (@AustinRivers25) July 8, 2015
Too bad the Clippers aren't showing this dedication to retain you, eh, Austin?
Of course, the Clippers and Mavericks weren't the only teams involved. The Cleveland Cavaliers and Atlanta Hawks sneaked in a couple tweets of their own.
🐸☕️

— Cleveland Cavaliers (@cavs) July 8, 2015
⬇️👏 https://t.co/1sQfcWXctF — Atlanta Hawks (@ATLHawks) July 8, 2015
Not to be outdone by their Eastern Conference counterparts, the 2015 NBA champs made a succinct appearance themselves.
🏆

— Golden St. Warriors (@warriors) July 8, 2015
And no social media war would be complete without Kobe Bryant.
Emoji battle? — Kobe Bryant (@kobebryant) July 8, 2015
Ah ok .. I see .. 🔓🏆🏆🏆🏆🏆🔒💤 #mambaout https://t.co/sdx5kpqWwY

— Kobe Bryant (@kobebryant) July 8, 2015
Nicely done, Kobe. You still hashtag like a prepubescent 13-year old girl, though. And a certain someone has one more of those emojis than you.
🏆🏆🏆🏆🏆🏆 — Jordan (@Jumpman23) July 8, 2015
Just saying. Plus he's the:
🐐

— Jordan (@Jumpman23) July 8, 2015
Back on topic, you know what's missing from all this? That's right, there's almost no Mavericks support other than Chandler Parsons, who started this whole mess in the first place.
But fear not, Mavericks fans! Hath the saviour come to Dallas' rescue.
DeAndre Jordan…..you are not allowed to take your talents to LA. See you Monday 🏈🏀🏈🏀🏈🏀🏁🏁🏁🏆🏆 pic.twitter.com/7N2YcfWvOT — Tony Romo (@tonyromo) July 8, 2015
Now, how you like THAT, Los Angeles?
ESPN sources say Mavs owner Mark Cuban has begun to notify people within the organization that DeAndre Jordan is staying with Clippers

— Marc Stein (@ESPNSteinLine) July 9, 2015
Well, it was fun while it lasted. The Clippers secured their big man, and the Mavericks will probably look to sign JaVale friggin' McGee because they let this guy go to the Phoenix Suns so they could offer the max to Jordan.
☀️✌️ — Tyson Chandler (@tysonchandler) July 9, 2015
Ouch. But the real winners of today's emoji exchange are the millions of users entertained by the Clippers and Mavericks' antics. Redick, who gave the Clippers offseason an F-minus prior to today's social media circus, re-assessed his team's grade following Jordan's return.
🅰+…🚙➡️🏠…💤💤

— JJ Redick (@JJRedick) July 9, 2015
We couldn't agree more.