Orientation: How to survive first year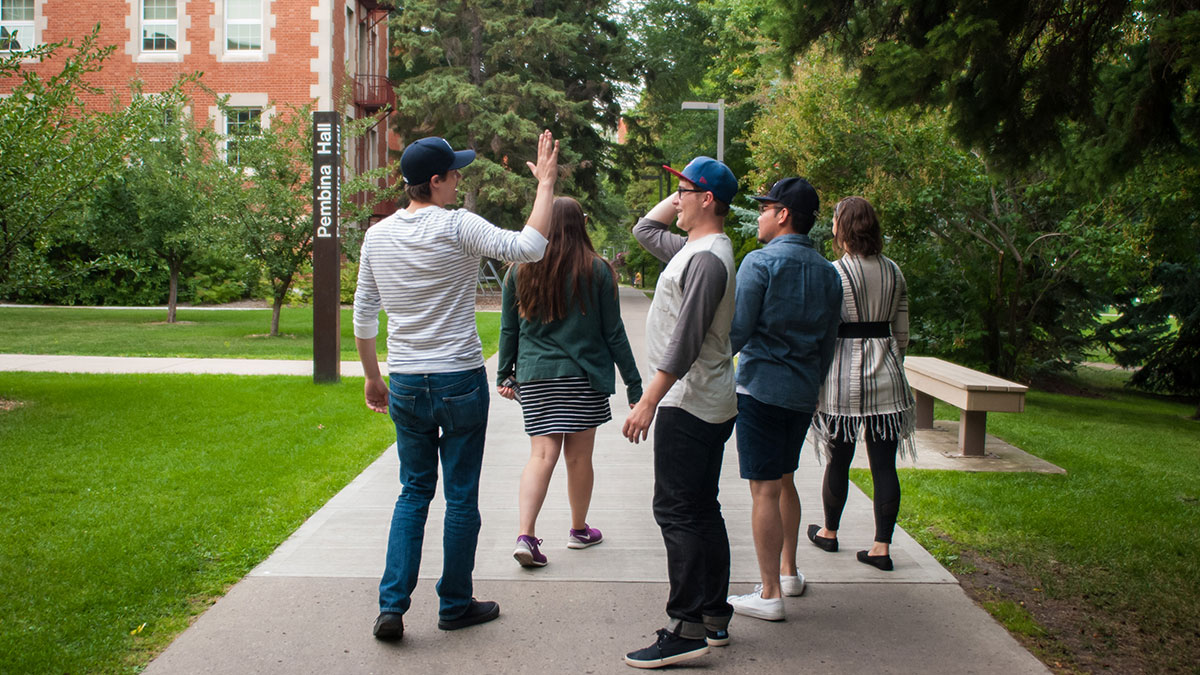 Don't be a dick
Put your phone on silent in class. No prof wants to be interrupted by Fetty Wap.
If you're going to talk, don't do it on a quiet floor in the library. Everyone will hate you.
Also don't talk in class. Seriously, just skip the class if you're going to talk the whole time.
You might feel intimidating with your entourage walking beside you, but everybody hates you for it. Leave enough room for people to pass you.
Stay on the right side in HUB or you'll trip an alarm that alerts everyone nearby to punch you in the face.
Be open-minded. There are over 30,000 students on campus from various countries, backgrounds, ethnicities, sexualities, species and cultures.
Hanging Out
The River Valley starts just north of the U. Head down for lunch or spend hours exploring nature away from the concrete jungle. And don't let the cold stop you; the paths are well maintained in winter.
You've probably seen it mentioned a lot already, but Whyte Ave is a walkable distance away. There's shops, restaurants, pubs, bubble tea and more. You can also take the 4, 7 or 106 buses.
Edmontonians love to hate it, but West Edmonton Mall is full of stores and restaurants. But you can also go shoot guns, go down waterslides and ride rollercoasters. It's only a 30 minute bus ride away via the 4 or 106.
WEM's Cineplex is one of the best in Edmonton, but if you want to see some indie flicks, check out Metro Cinema or Princess Theatre. Metro is about a 10 minute walk from HUB and Princess is on Whyte Ave. Plus, The Gateway has a monthly movie night at Metro where students get in free.
Not enough cash for these? Join a student club. Most of them are free or have a small one time fee to get in. Whatever your interests are, you'll find one.
Save Money
Bring your own lunch. Spending $10 per day on food is about $50 per week. That comes to around $200 per month or $600 per semester. That could pay for your textbooks, or a new phone every semester. Plus, it's healthier.
Take the bus. A U-Pass is included with your tuition and parking is prohibitively expensive. And you can catch up on work or sleep while you're riding it.
Buy your textbooks used, either from SUBMart or the Textbook Exchange Facebook group.
It's easy to go crazy and party every night, spending hundreds on $6 Bud Lights. Save some money by pre-drinking at home before you go.
Cancel your gym membership. You can use your OneCard to get into the U of A's Fitness Centre.
Take advantage of all of the free food during orientation. There will likely be a few pancake breakfasts, free hotdogs and more.
Best Study Spots
Outside is nice while it's still summer. Take advantage of the sunlight.
Second floor of the Computing Science Building is usually quiet and brightly lit by big ceiling windows.
The various lounges in HUB are good if you don't mind the sounds and smells from below.
The upper floors of the Cameron and Rutherford Libraries are quiet areas.
If you're studying with friends, you can book a room online.
Stay Safe
Never leave your things unattended. Losing your seat isn't as bad as losing your laptop. If you have to leave it, ask someone nearby to watch it for you, but remember that they might just take it themselves.
If you're worried about going home at night, give Safewalk a shout at 780-4-WALKME (780-492-5563).
Most people walk, but there are vehicles driving around campus, too. Keep your eyes open.
Don't explore construction zones or closed-off buildings.
Report suspicious or threatening behaviour to U of A Protective Services at 780-492-5050. Call 911 if it's an emergency.