News
Student-developed grade app wins provincial honours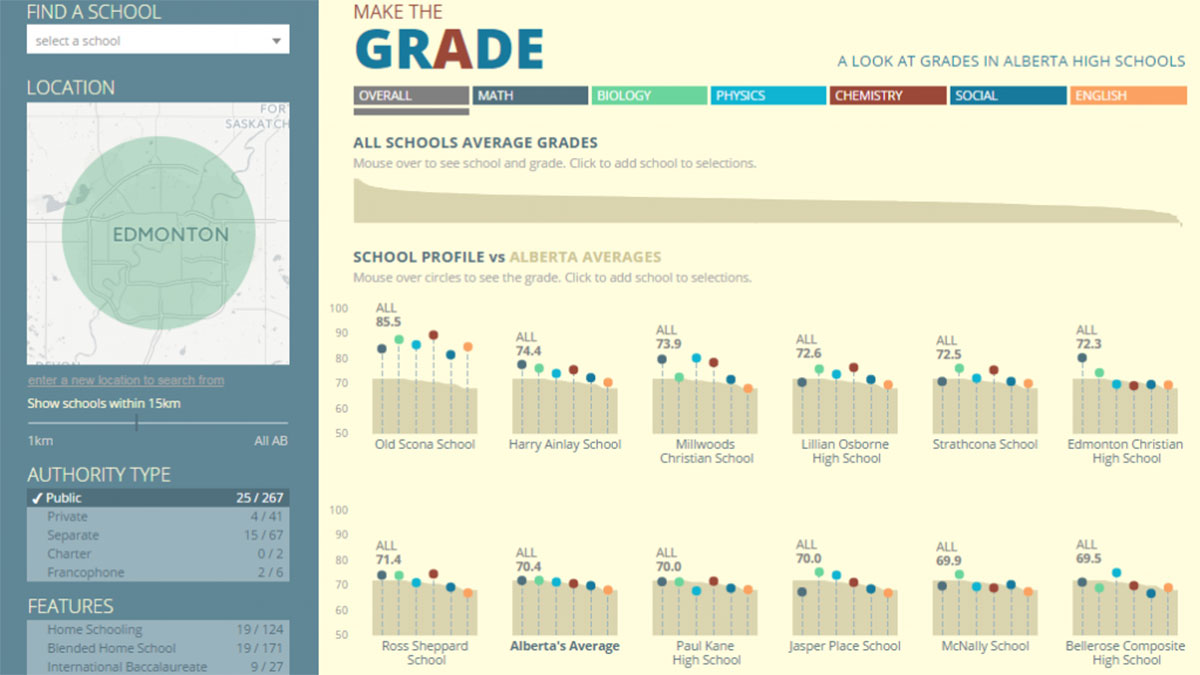 Students curious about rsew their high school's math program compares to others in the city can now do so on their smartphone.
"Make the Grade" is an app that uses provincial data to answer such questions. Created by Edmonton-based Darkhorse Analytics, the app won Best Overall Application (prized at $30,000) and Best Made in Alberta Application (prized at $30,000) in the Government of Alberta's Apps for Alberta contest.
The app is designed to compare the diploma results of Albertan schools to the provincial average and each other. Users can also filter by location, subject, and school type. With the release of the app on a blog post, Darkhorse Analytics acknowledged test results don't necessarily indicate which schools are the best — there are many factors that can influence overall diploma performance. "Make the Grade" visualizes one of many attributes parents and students take into account when choosing which school they believe to best fit their needs.
"It's a tool for people to explore and find their own answers as opposed to a simple analysis that tells people what is the right answer," Daniel Haight, Darkhorse Analytics co-founder and graduate of the Alberta School of Business, said.
The development team was composed mainly of U of A graduates, as well as University of Alberta student intern Devon Sigurdson.
The competition was launched to entice developers to use provincial data from the Alberta Open Government portal. The portal was created to help the public access government data, but raw data can still be difficult for non-statisticians to digest. The apps created in the contest make statistical information easier for the general public to understand by visually organizing chosen datasets.
"I think this is part of a trend we're seeing … where (the government is) opening up data sets, and so we have 2000 data sets available, but they're still fairly inaccessible to people," Haight said. "I love that Alberta has decided to fund the development of tools that allow you to do more than just download a giant text file full of data … because now it's accessible to a much wider scope of people (rather) than just a few hardcore geeks who love to download spreadsheets."
Having won $60,000 in prize money, Haight said the Darkhorse Analytics team is planning to celebrate their work by going out for a couple expensive dinners.
Web users can find "Make the Grade" at grades.dha.io.