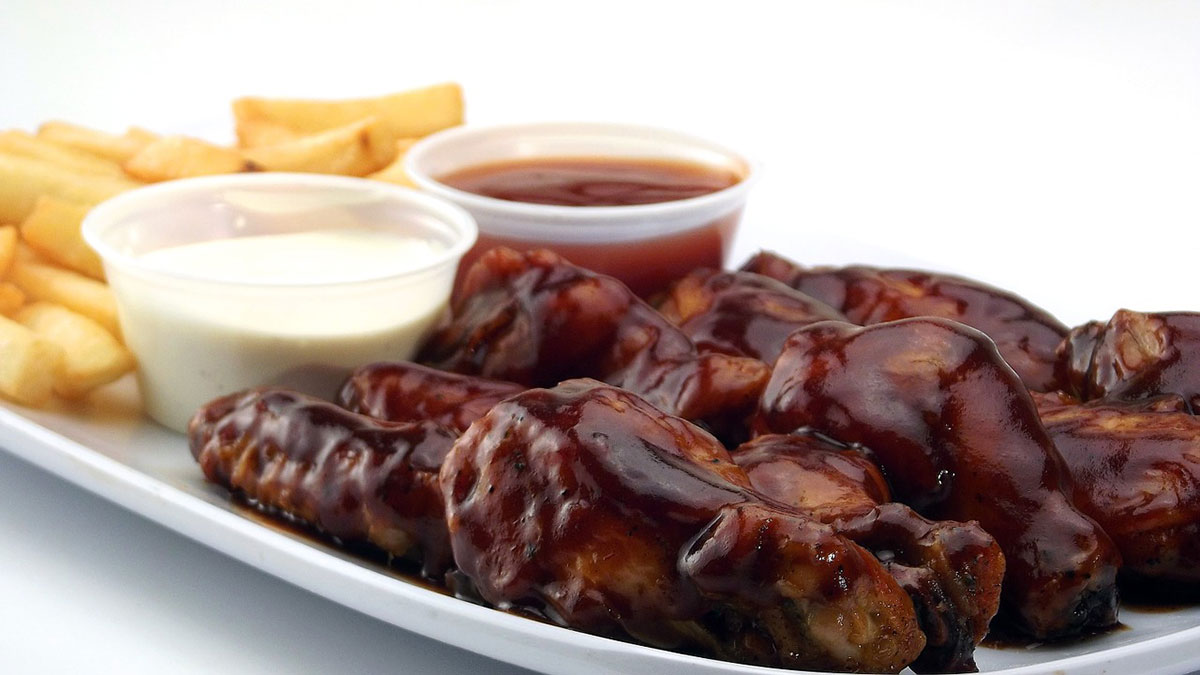 Summer is well in its prime, the suns out and the beer gardens have flung open their gates. There is one ritual however that cannot be missed, Wings Wednesday! During term it normally breaks the week up keeping us sane throughout the mountainous schoolwork, but in the summer, imagine it as the succulent glaze of the sweet cherry that has already topped the icing which is the summer holidays.
5. Wild Wing
Although a 20 minute drive away from Campus (or nearly an excruciating hour and a half by public transport) Wild Wing offers a large menu consisting of hot dogs, burgers, appetizers, salads, tacos and everything in-between, which is not to be missed. They also of course serve wings, totaling at 109 different flavours, this would be enough to keep you coming back for a while! An extensive menu labelled "Wings 101" provides good detail on all their wings; from flavours such as Mustang Sally and Hometown Hottie to Smoked Chocolate and Margaritaville, proves to us why this joint is definitely worth checking out.
4. Boston Pizza
Controversial, some may think however there is no sign of Boston Pizza slacking in whatever food they serve up to you. Stepping foot in here, you would probably assume having pizza as their name, why go for anything else they offer; but BP wings are something worth trying. Offered in three different ways, all-meat, fried or oven roasted, BP keeps it simple even giving you the option to have them naked. If you're still not convinced, maybe Fishbowl Fridays can tempt you, a deal well worth your money, offering 3 ounces of alcohol for $11. Only a 15 minute walk from HUB mall on Whyte Ave, BP is the place to be.
3. The Canadian Brewhouse
A favourite for some and no more than a 10 minute walk from Corona Station, Brewhouse is a fairly large venue with a large selection of drinks and food with offers running daily to keep you coming back. At only $4.99 for a pound of wings on Wednesdays, Brewhouse offers an assortment of mouth-watering dry rubs and sauces to be had. They include a fan favourite, Chipotle Mango as well as a variety of hot sauces and BBQ wings to hit that spot. Don't stop there though, the Brewhouse even goes past wings, on Thursdays for the same price they offer a basket of 10 Jumbo Shrimp (breaded or unbreaded) in the same wings flavour, highly recommended for seafood lovers.
2. Hudson's
At the end of Whyte Avenue lies Hudson's, a social hub with plenty of food and drink options. With their special of 39¢ wings on Wednesdays, it is. Not going too crazy with the number of flavours; Hudson's keeps it simple again with the traditional flavours such as Salt & Pepper, Hot and Maple Bacon Rub. A couple of notables for the adventurous are Maple Whiskey BBQ and Salted Caramel; highly recommend, because who said all wings must be had hot.
1. The Pint
With only five locations throughout Canada and Edmonton lucky enough to host two of them, the Pint tops the list for best wings. The Pint offers 40 way wings by sauces or dry rubs. As if they carefully crafted this specialized menu, the variety in flavours seems as vast as you could imagine, including Parmesan & Herb,
Tandoori, Szechwan, Death Wish, as well as seven different BBQ flavours, of course not forgetting a common favourite, Honey Chipotle. At 40¢ wings this is more than enough of a reason to check it, but in addition they also have mini dog Mondays, Taco Tuesdays and even catering for those vegetarians, 40 way rice on Thursdays. Cheap table kegs available and each new day bringing a new deal on drinks makes the Pint that little bit more special. Loaded with copious amounts of TVs it's the place to catch a game, chill out with some friends or simply enjoy their good grub.