Bears hockey has new head coach, but desire to win still remains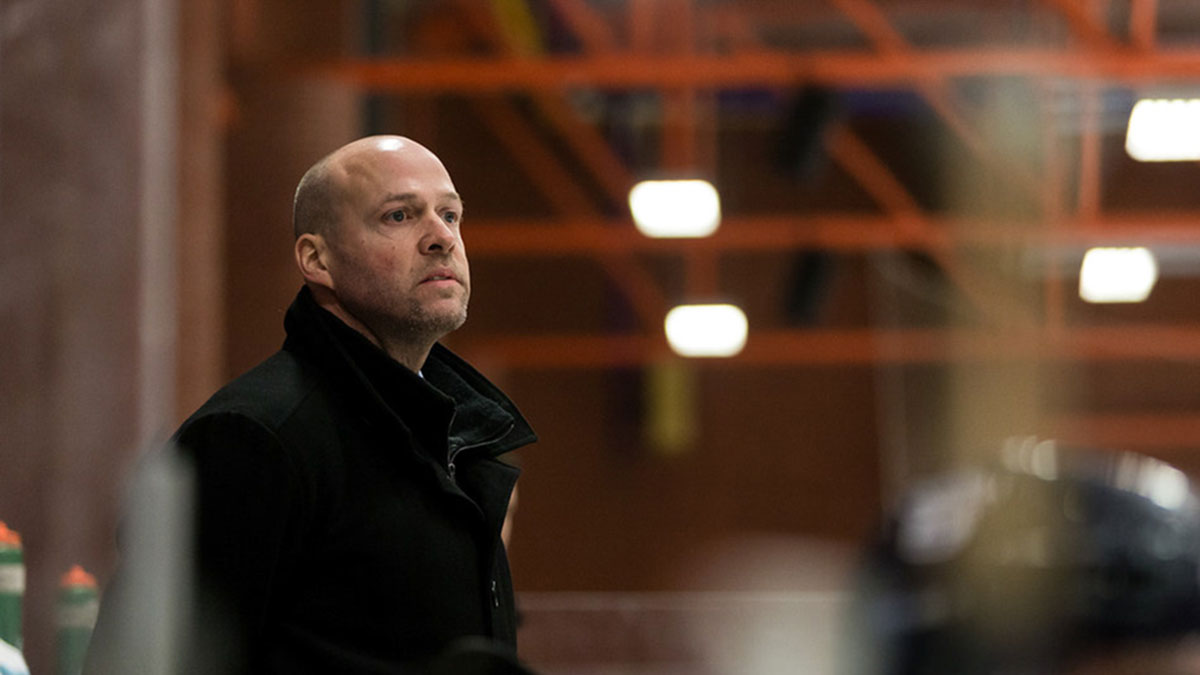 The University of Alberta Golden Bears hockey team may have a new coach, but the expectation to win is just as strong as it was as before.
After previous head coach Ian Hebers ended an extremely successful three-year run — in which he won two national championships at the U of A — to accept a position as an assistant coach with the Edmonton Oilers, the Bears found his replacement in previous assistant coach and player, Serge Lajoie.
Lajoie said he was honoured to be chosen to succeed Herbers.
"My immediate reaction was that it was quite an honor to have Stan and Ian contact me, and to put me at the top of their list of candidates," Lajoie said. "It was very flattering, and as the process moves forward, excitement replaces the feeling of being honored to be recognized and considered."
Lajoie is in a familiar situation, as he was an assistant coach with the Bears from 2005-2010. Before that, he was a player for five seasons starting in 1988. Over his Bears career, he racked up 141 points in 198 total games as a defenceman. Lajoie also won the Mervyn "Red" Dutton trophy as Canada West's top defenceman in 1993, his final season as a Bear.
"I always say, as a player I grew up here, as a person I developed here," Lajoie said. "I think the biggest familiarity for me is understanding that Golden Bear hockey program and culture, and knowing the expectations that go along with being the head coach of such a prestigious program."
Lajoie was also very familiar with the man he's replacing, as him and Herbers were teammates on the Bears from 1988-1992, and the two won a national championship together in 1992.
"I leaned heavily on Ian to guide me, because I'm relatively a young head coach, he became a sort of mentor to me," Lajoie said. "That has helped with this transition, there's been a lot of continuity in terms of coaching philosophy and system philosophy, so it's a honor to be able to replace him."
When asked if Herbers had given him any advice before stepping into the roll, Lajoie laughed and said: "Don't mess it up."
He said that Herbers was intent on having him forge his own path as coach of the Bears.
"He was very calculated in the information he gave me, and I know that's because he wants me to get to know the players myself, and develop those relationships without that prior knowledge," Lajoie said.
Even though Lajoie has big shoes to fill, he is certainly no stranger to success in the coaching world. He won two national titles with the Bears as an assistant coach in 2006 and 2008, and won two ACAC titles coaching with NAIT in 2013 and 2015. He was also named the ACAC's top coach in 2014 and 2015.
Lajoie noted that him and Herbers will have different coaching styles behind the bench.
"What Ian believes in in terms of building relationships is in all likelihood different than for me," Lajoie noted. "I'm a little bit more open, I wear my emotions on my sleeve a little more, and I think he's aware of that and wanted me to create my own relationships with players based on my observations."
Lajoie also stressed the value of hard work on the ice. "At the end of the day, talent is a beautiful commodity, but unless you pair it with hard work, you never fully reach your potential," Lajoie said. "I've challenged our leadership group and our strongest players to be our hardest workers, and I think we've taken some good steps forward with that approach."
Further than that, Lajoie believes in taking things one step at a time, and not constantly looking back or forward. "Focus on today, it's one step at a time, and it's keeping our focus on our very next step," Lajoie noted. "We could constantly look back at our games, but if you're constantly looking back and not focusing on your next step, then you'll never reach your ultimate goal."
"We know what our ultimate goal is – we want to position ourselves to compete for a national championship, and the best and quickest way to reach that goal is to focus on today."
Lajoie will make his regular season debut behind the bench on the road against the Lethbridge Pronghorns on Friday, Oct. 9.