Golden Bears football gets hammered in Battle of Alberta
Zach Borutski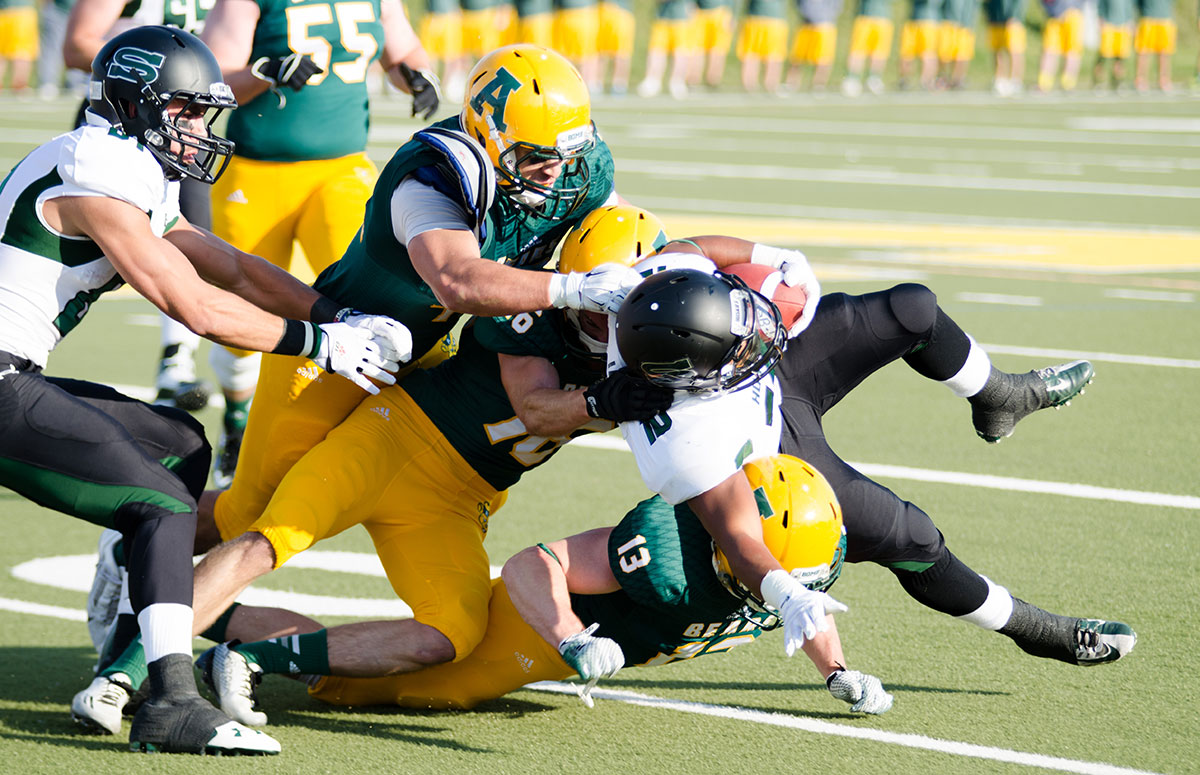 To say that the Golden Bears football team had a rough night on Thursday would be a huge understatement.
After starting out the season 2-0, the Bears hit their first stumbling block of the season, and they hit it hard — suffering an 80-18 defeat at the hands of the nation's top team, the Calgary Dinos.
Head Coach Chris Morris didn't pull any punches describing the game.
"When you get beat like that, there's not a whole lot you get out of the experience," Morris said.
The Dinos put the game out of reach quickly, as they scored on their first five possessions – putting up 42 points before the Bears were even able to score.
The Dinos had 975 total yards of offence on a young Bears defence that has played well this year, but last year's Hec Creighton award winner Andrew Buckley was firmly in control all game, completing 27 of 33 passes for 452 yards and three touchdowns in just three quarters of action.
Buckley's counterpart Ben Kopczynski completed 15 of 32 passes for 231 yards, to go along with one touchdown pass and two interceptions. The Bears managed to get on the board early in the second, as Kopczynski plunged into the end zone from one yard out, but by then, the game was well out of hand.
While the Bears managed the most yards of any team against the Calgary defense this year, it wasn't nearly enough, as Calgary more than doubled their total yardage output.
"Their offence was the part that really hurt us," Morris said.
"When somebody gets close to 1000 yards on you, there's going to be a lot of soul searching."
Things don't get any easier for the Bears, as they face a tough opponent in the Manitoba Bisons on Sept. 25, a team that beat Calgary in the Hardy Cup final last year. Meanwhile, the Dinos will try to push their record to 4-0 when they take on the Regina Rams on Sept. 26.