Golden Bears football looks to take next step into playoffs
Zach Borutski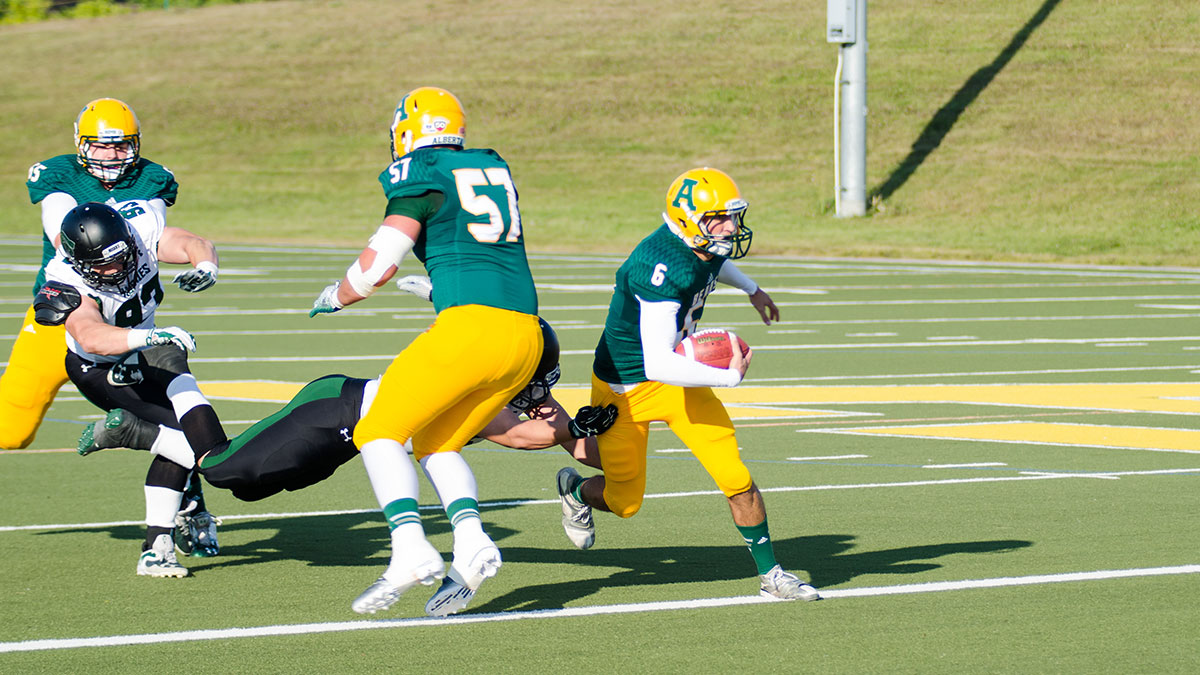 Chris Morris doesn't get nervous about opening day anymore, just excited.
The third year Golden Bears football coach will be looking to build off a season that saw the team win its first game since 2010, and come within one game of making the playoffs.
Heading into their opening game of the season, Morris will be emphasizing taking things one step at a time on the field.
"Compartmentalize the time. Do one thing at a time. It's just about what's happening right in front of you," Morris said.
"I think that's a universal solution in this sport and I think it'll serve us well on opening day as well."
A large part of the Bears' success last season had to do with players that aren't on the roster this year, as the Bears lost their top two quarterbacks in Ryan Schwartz and Curtis Dell to graduation. They also lost lineman David Beard, who was drafted by the Eskimos in May.
Despite these personnel losses, Morris remained positive in his outlook for the upcoming season.
"The good news is, for the last three years there's been a huge emphasis on recruiting the next wave of quarterbacks because we knew had two fifth year guys," Morris said.
While Morris has yet to name a starting quarterback, he spoke about the process of finding a quarterback to replace Dell and Schwartz.
"We secured some of the best kids in the province over the past couple of years, so we have some kids here that we think are very capable of stepping in," Said Morris.
"We're comfortable going ahead with the kids we have, so whoever wins that competition… we feel will do a very good job for us."
The Bears are competing in a very competitive Canada West conference this season that includes a perennial powerhouse in the Calgary Dinos, as well as strong contenders in the Saskatchewan Huskies and Manitoba Bisons.
Despite the stiff competition, Morris feels that league parity is a good thing for the Bears as a team.
"I think parity and competition is key to any team being good. In the sport of football, that's what it's about, it's about every game you play being a meaningful game where you have to fight and compete to win," Morris said.
"If you're lucky enough to get out of your conference and into the playoffs, then you're a tough team, you understand what those tough games are like, and how you pull them out."
With the Bears taking a big step this year, the question on many people's minds heading into this season is about whether they have a real shot at making the Canada West playoffs for the first time since 2010.
Morris maintained that making the playoffs was the ultimate goal, but he also stressed that the Bears still have a lot of work to do before they can start thinking about playoff football.
"We have a tremendous amount of growth we have to do as a team," Morris said.
"Absolutely, the playoffs are a big goal, but in order for us to get there, we're going to need to make significant growth in every practice this year for the rest of the season."
The Bears open the season on the road on Sept. 4 against the Regina Cougars. Their home opener will be played Sept. 11 against the Huskies at Foote Field.