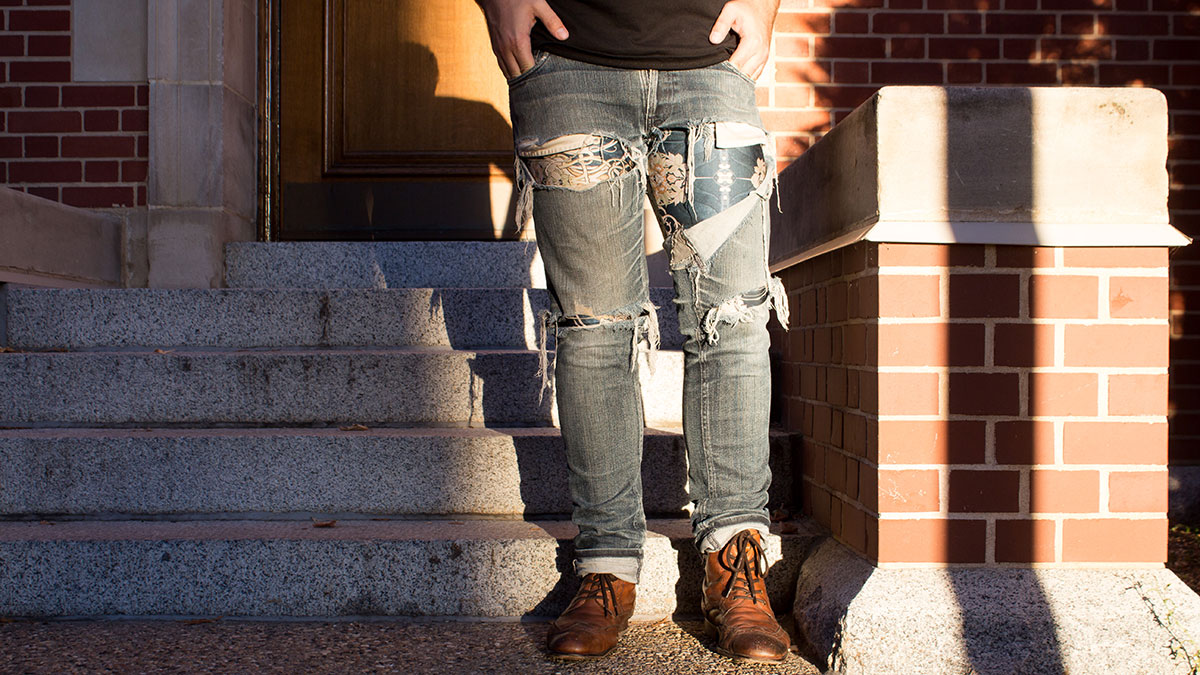 Think of raw denim as a blank slate.
A rigid yet crisp canvas made of deep rich indigo dyes, pure untreated denim fabrics and a distinctive sheen.
The stiff "cardboard" feeling when you slip on a pair of snug, coarse denim for the first time might be painfully uncomfortable, but for Josh Le, there's something "special" to it. Although, he didn't realize it right away.
Like many, Le didn't see the appeal of raw denim at first. He learned of the non-wash procedure, where raw denim aficionados abstain from washing their jeans for six months to preserve the dyes and prevent fabric shrinkage. He was content with his pre-washed and pre-distressed Levi's and thought the smelly methodology was "the stupidest thing ever." That is, until he saw the yearlong evolution of a friend's pair of raw denim jeans in 2008.
The deep honeycomb patterns on the back of the knee, detailed whiskers overlaying the thighs and high contrast fading at points of stress on the well-worn pair of denim mesmerized the once doubtful Le. That blank canvas was now a completely personalized piece unique only to the owner.
Today, Le, a University of Alberta Bachelor of Commerce graduate and former Students' Union Vice-President (Operations and Finance), is the website and retail operations specialist for Naked & Famous, a Montreal-based raw denim company. Naked & Famous uses rare denim fabrics imported from Japan, and the jeans are made entirely in Canada. Le manages the brand's retail stores and helps lead their sister company, Unbranded, while doing photography, advertising and copyrighting — a far cry from his stance on raw denim eight years ago.
But like raw denim, that changed over time.
"I was proven wrong," Le says, as he recalled his introduction to the world of raw denim in high school. "He showed me the light and I said, 'I'll give it a shot.'"
He bought his first pair of raw Nudies Slim Jim's soon after.
Breaking in a pair of hard textured raw denim is an "oddly gratifying experience." Many raw denim enthusiasts embrace the discomfort and sport their jeans everyday, including Le, who is wearing down a rare pair of Naked & Famous Tokushima natural indigo slub selvedge denim. You don't own a piece of designer denim; you design your own jean.
"It's just very satisfying because you put it on and it feels like you have a good pair of clothing because you know it's built so well," Le says. "It's a bit uncomfortable at first, but you know you're doing something substantial that will last you for a long time."
Le understands why some don't bother with and dismiss raw denim. There's the no-wash mentality, mandatory patience, high price point barrier, coarse feel and reluctance to dip into a hyped culture with an overwhelming number of complexities.
But as much as he treasures those complexities, don't worry about the perceived "unwritten rules," intricate rivets, meticulous selvedge details when it comes to raw denim, Le says. Just wear it.
"Some people get so caught up in the details," Le says. "Just first get a pair of raw denim to try.
"Wear your jeans, don't let them wear you."
Selvedge vs. Non-Selvedge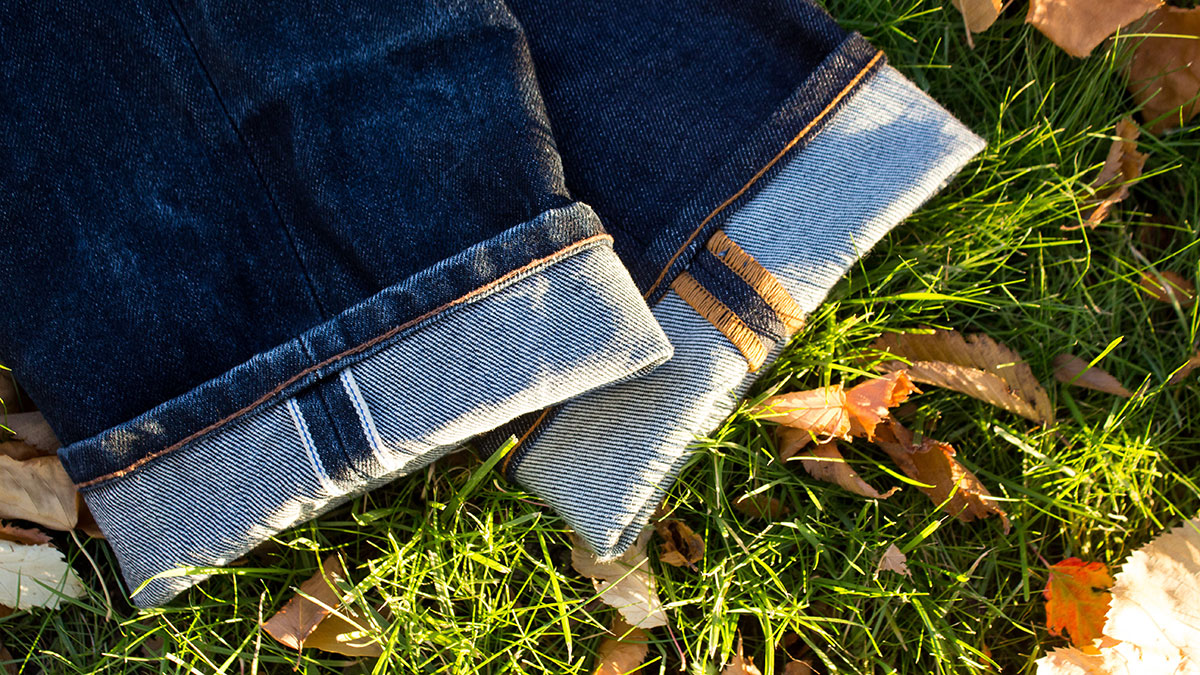 A common misconception in the denim world is that all raw denim is selvedge denim. There are big differences between the two. Raw denim refers only to the wash of your jeans while selvedge is the edge. Selvedge denim's edges are bound together (usually with red stitching) to diminish the chance of the edge unraveling. In comparison, non-selvedge denim's edges are not crisply finished and easily fray with wear. While most raw denim is selvedge, not all selvedge denim is raw. Don't base your purchase off of selvedge denim alone. With selvedge becoming more popular, keep in mind that it does not always equate to a better quality product or a higher price point. Be sure to check the other characteristics of the denim before making your purchase.
Weights
Lightweight: 12 Oz or under: Comfortable and easy to break in, but the least dramatic fades. They make a great starter pair for people wanting to try out raw denim, especially if they are also stretch denim.
Mid-weight: 12 Oz. – 16 Oz: The most common weights, stiffer and heavier with more potential for dramatic fading. This denim is more durable and is made to last. With added durability and stiffness, a bit of comfort is lost and break in time will be longer.
Heavyweight: 16 Oz and up: The kings of raw denim, these jeans take commitment and are not for beginners. Stiff, heavy, and uncomfortable, the break in period can take weeks, even months. But if you keep at it, you'll have a one of a kind piece of art. You're guaranteed to be in love, and it's unlikely these jeans will ever leave your side as they're built incredibly well. However, as with any loving relationship, sacrifices must be made.
To wash, or not to wash
Advice from Josh Le
Raw denimheads may recognize Le's infamous Nudies experiment in 2009. After not washing his jeans for 15 months (330 wears), he and assistant human ecology professor Rachel McQueen swabbed the crotch and tested them for bacteria. The levels of bacteria were "relatively normal." Le then washed the jeans, wore them for 13 more days and tested them again — levels remained consistent.
But the same couldn't be said for the smell. Le triple-bagged his jeans and threw them in the freezer, and they "smelled fine the next day." But freezing the bacteria only puts them in a dormant state and they revive when returned to warmer temperatures.
Even so, Le maintains that there are no "rules" to denim, and it ultimately depends on the owner.
"It's really your personal preference. I think it's even good for your jeans to be exposed to water from time to time, just because cotton gets stronger when wet. There's no "rules" to denim. Some people they just think of that six-month period, that's something that's just easier to say. If you wear your jeans a lot and it starts to stink, if you work in a lab with dangerous chemicals you should wash your jeans. But if you go about daily life. Down there you don't sweat as much I find. If it doesn't smell, stretch out too much, you don't need to do it."
Raw denim care
Disclaimer: Not washing your raw denim for a long period of time can lead to blowouts. The dirt and oil that your denim comes into contact gets embedded into the fibres, wearing down the fabric. The cotton's fibres become dried out with extensive wear and non-contact with water. So if you're planning on not washing and going for distressed denim with dramatic fades, here are some quick tips:
Air out your denim outside to curb bacteria and funky smells
If the crotch area starts fraying, bring it to a tailor to reinforce immediately. This will buy you significantly more time to break in your jeans and work on the denim's contrast
Spot wash, don't use hot water, soap or rub too vigorously, or you might end up with an unwanted faded spot.
Gravity Pope's Guide to Washing your Raw Denim (if you choose)
Wash your denim separately as natural indigo will likely bleed.
To soak:
Lukewarm water
Woolite black laundry detergent is best
Submerge inside out and lying flat, put something on top of them to keep them submerged
Soak for 45 minutes
Rinse with cool water
Hang dry, preferably outdoors
Myths
Going down two sizes with raw denim
If you size down, you'll end up with a pair of jeans you'll never wear. You can always wear jeans that are a little looser. "When you first buy raw denim they're at a mid-point. When you wear them more, you add tension to the fabric, bringing it to the maximum point. When you wash them, it will wash them, it will bring them to a minimum point. With that in mind, when you buy your jeans in store, you don't want them to fit perfectly," says Le. If you have jeans that only fit comfortably at their maximum point, you're going to have a hell of a time with breaking in and washing.
Washing jeans ruins fades
Hardcore denimheads might scoff at the thought of washing their jeans because it results in less high contrast fades, but the wearer will still get fades by simply wearing them.
"Washing is actually healthy for your jeans," Le says.
Stretch denim doesn't fit well
There's really no logic to that other than cotton denim is a little more "hardcore." It will still fade well and be comfortable from day one.
Dropping hundreds of dollars for jeans is better
Spend whatever you're comfortable with. "I've seen jeans from Gap that fade pretty well. I've seen people pay 50 bucks for their jeans and they faded pretty well. What you want from higher priced jeans is in detail," Le says .