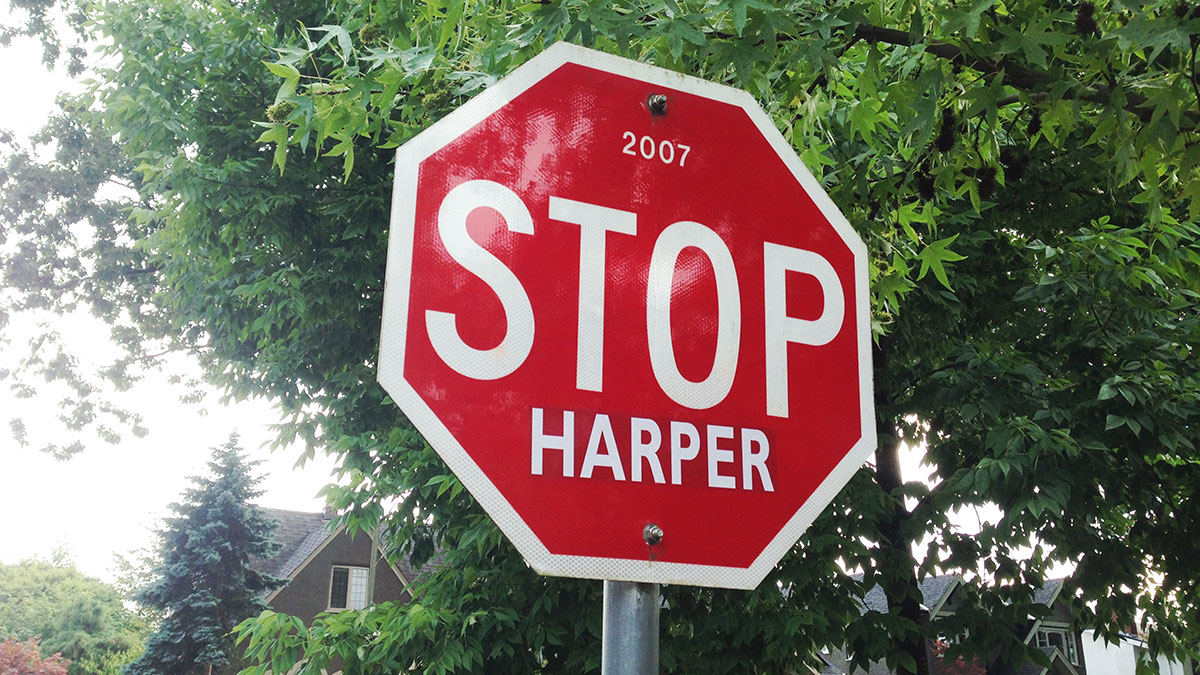 My fellow Muslim women, we have a new hero. He takes the shape of a cowboy hat-donning middle-aged man with skin the colour of potato salad that's been sitting out in the sun too long. He looks out for our best interests, working day and night to rip off our un-Canadian face veils, free us from our oppressive religions, and inform us of the barbaric nature of our own cultures.
While I'm flattered, I don't quite understand why Muslim women have suddenly become pretty much the entire focus of the Conservative Party's campaign. I'm aware that Harper has felt sufficiently threatened by the niqab for a few years, but last week Immigration Minister Chris Alexander announced seemingly out of nowhere a newfound urgency to tackle barbaric cultural practices such as child marriages, female genital mutilation, and so-called honour killings — things that have been illegal in Canada for quite some time now. The new RCMP tip line will be a resource for immigrant children and women who are "at risk of being victimized" — but only if they are victims of culture-derived practices, not your run-of-the-mill generic wife-beating. Money will also be sent overseas to organizations working with girls in Syria and Iraq; Alexander mentions the brutal attacks these girls undergo by ISIS, but fails to let Canadians know that Assad's regime has killed more than 125 times the number of children that ISIS has.
If you're wondering how exactly the suffering of Syrian girls is relevant to the discussion of the upcoming federal election, well, so am I. Closer to home, I'm curious as to how Harper is making a name for himself as caring for Canadian women while ignoring the 1,200 missing and murdered Aboriginal women that he publicly dismissed as unimportant to him right now. I also wonder if he is aware of the dire status of women's shelters in Canada, or if he thinks regular old domestic violence is not a big enough problem to deserve a hotline or funding. It's a little jarring that this tip line will encourage Canadians to snitch on their neighbours when they suspect women may be "at risk" of becoming victims — without addressing the millions of current domestic violence victims. Why is it only Muslim women that need saving?
The most mind-boggling aspect of this Muslim alienation campaign is that somehow, horrifically, it's working. Conservatives are leading in polls as of week nine, after consistently bringing identity politics and so-called "Canadian values" to the front of the table every time. Naturally, they deny pushing the agenda of xenophobia at every press conference, even after multiple hate crimes against Muslims are sprouting up across the country, even after Quebec had to legislate that Islamophobia is, indeed, not nice. I am slowly watching the climate of this country change to that of fear-mongering and xenophobia before my own eyes. The welcoming Canadian attitude on which we prided ourselves has suddenly taken on a distinctly America-post-9/11 vibe.
It is downright nauseating to watch Harper capitalize off real issues that actually do affect Muslim women, as well as women of all races and religions, only to further his lead amongst similarly intolerant citizens. Most irritating of all is that he is doing so under the extremely thin veil of caring about women's issues. Or, wait, am I still allowed to talk about veils?