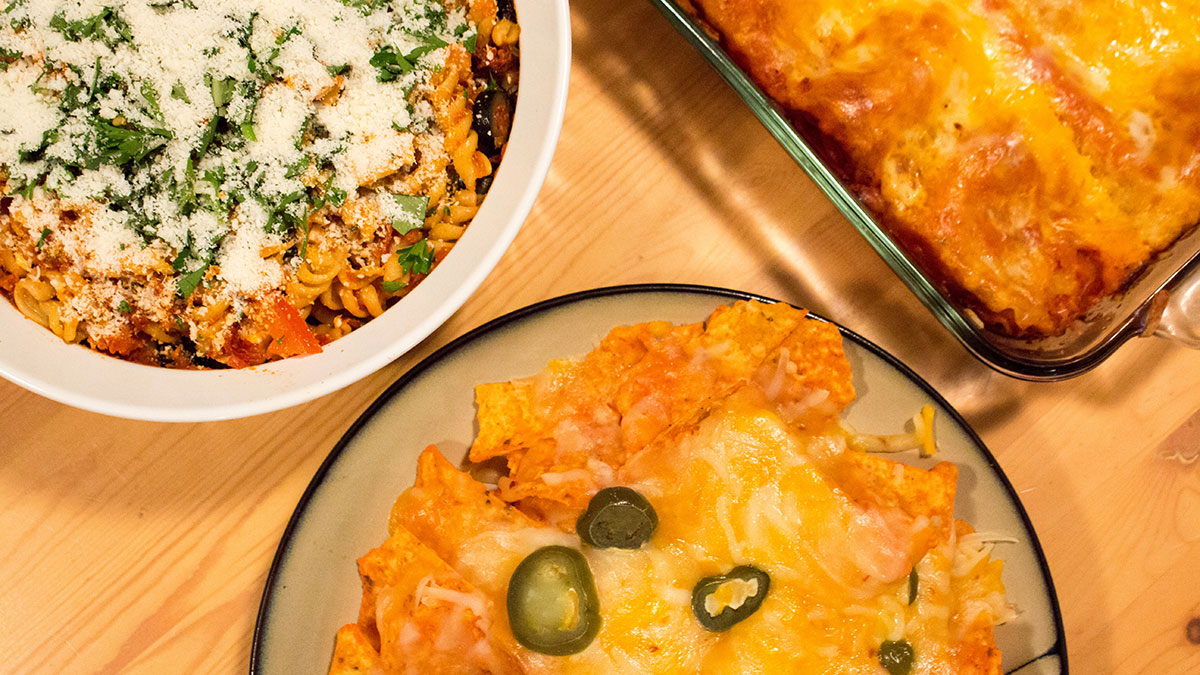 As University students we're gradually taking on more responsibility. Our parents are expecting great things from us. With Thanksgiving coming up, why not throw together a quick appetizer or dessert for the feast. It's hard for mom or grandma to be doing all of the cooking on the long weekend. Not to mention saying "I have no idea what i'm doing in the kitchen" at age 20 is pretty embarrassing. Our staff at The Gateway is here to save those beginners in the kitchen. We've thrown together a bundle of simple recipes that are bound to impress your family this weekend.
Homemade Butterfingers:
This recipe wins for simplicity and succulence. All you'll need is 1lb of candy corn, 450g of peanut butter, and 12oz of milk chocolate chips. What can go wrong with 3 ingredients – apart from an exploding sticky mess of candy corn in the microwave, so make sure you cover your bowl! Melt the candy corn in the microwave, stir in the peanut butter, and scoop into an 8×8 pan. Melt the chocolate chips in the microwave, and pour over the top. Throw the pan in the freezer for 30ish minutes and that's it! Recommendation: if you want equal bars, cut lines in the tray before the mixture cools. Note that clean-up requires soaking the bowl that you melt the candy corn in for a LONG time after. This is a nostalgic thanksgiving desert that those pesky pumpkin pie haters will be grateful for at the dinner table.
– Beth Mansell
Simple cheesy lasagna:
For those of you that have an aversion to both meat and vegetables, this simple lasagna is for you. It requires only three ingredients: pasta sauce, lasagna noodles, and cheese. All of which have nearly infinite varieties you can choose from. After you've selected your ingredients, choose a pan of any size, and layer them – starting with a layer of sauce on the bottom, then a layer of noodles, then another layer of sauce, then the first layer of cheese. After your initial layer has been completed, follow the order of: noodles, sauce, and then cheese, until you run out of room. With your lasagna assembled, preheat the oven to 350 degrees, and cover your pan with a sheet of aluminum foil, and put the lasagna in for 45 minutes. After that 45 minutes is over, remove the foil, and put the lasagna back in for another 15 minutes. When done, you'll have a mountain of cheesy goodness to feast on.
-Zach Borutski
SPOOPY SPAGHETTI:
This recipe combines the simple, universally-loved hot dog with the bane of celiac existence, pasta. First get your hot dogs out (preferably the ones that endorse the Jays, because it's playoff season now and you've got to represent). Cut them into 2-inch slices. Proceed to stab as many spaghettis into each slice as you want. A good number to aim for is 8, but you have complete creative control here, so go nuts. Try twenty. Try 1. Try cutting a 4-inch slit in the side of a hot dog and sliding a lasagna noodle through. Skewer many hot dog slices onto one spaghetti to make the culinary representation of anal beads. Boil your creations in water until the pasta is at your preferred firmness. Eat with ketchup or pasta sauce.
Tip: Use a couple tablespoons of olive oil in the water to prevent the spaghetti from sticking together.
-Jamie Sarkonak
Sundried tomato and feta pasta salad:
Face it, that mayonnaise-based elbow macaroni pasta salad everyone seems to make at potlucks flat-out sucks. This easy-to-make version is a colourful and tangy Mediterranean-inspired twist on the popular dinner staple, and while it requires a bit of prep, it's more than worth it. For the dressing, blend together six sundried tomatoes, a teaspoon of capers, a half-cup of olive oil, a basil leaf, clove of garlic, fresh ground black pepper, a pinch of salt and a generous splash of red wine vinegar. Blend until you get an almost smooth consistency. Boil fusilli pasta until al dente, then toss with feta cheese, black olives, six sliced sundried tomatoes, a diced fresh ripe tomato and some chopped parsley. Pour the dressing over the pasta and top with some Parmesan cheese. Now sit back and watch as your guests devour this flavourful and zesty alternative to the drab white stuff they're used to.
-Richard Catangay-Liew
Cookies and cream fudge:
Before you make this simple dessert, throw a couple water bottles in the fridge. Bring one cup of butter and a half-cup of evaporated milk to a rolling boil and then remove from the heat. Quickly fold in one small jar of marshmallow crème, two cups of white chocolate chips, coarsely ground cream-filled chocolate sandwich cookies. Pour the gooey mixture into a 9-inch baking pan lined with aluminum foil and top with more cream-filled chocolate sandwich cookies and lightly press down, but not all the way to the bottom of the pan. Throw into the fridge for an hour or until firm then cut into one-inch squares. Grab one of those bottles of water, because after you inevitably munch on a couple of these delectable little fudge squares, you'll be really thirsty. But it's more than worth it.
-Richard Catangay-Liew