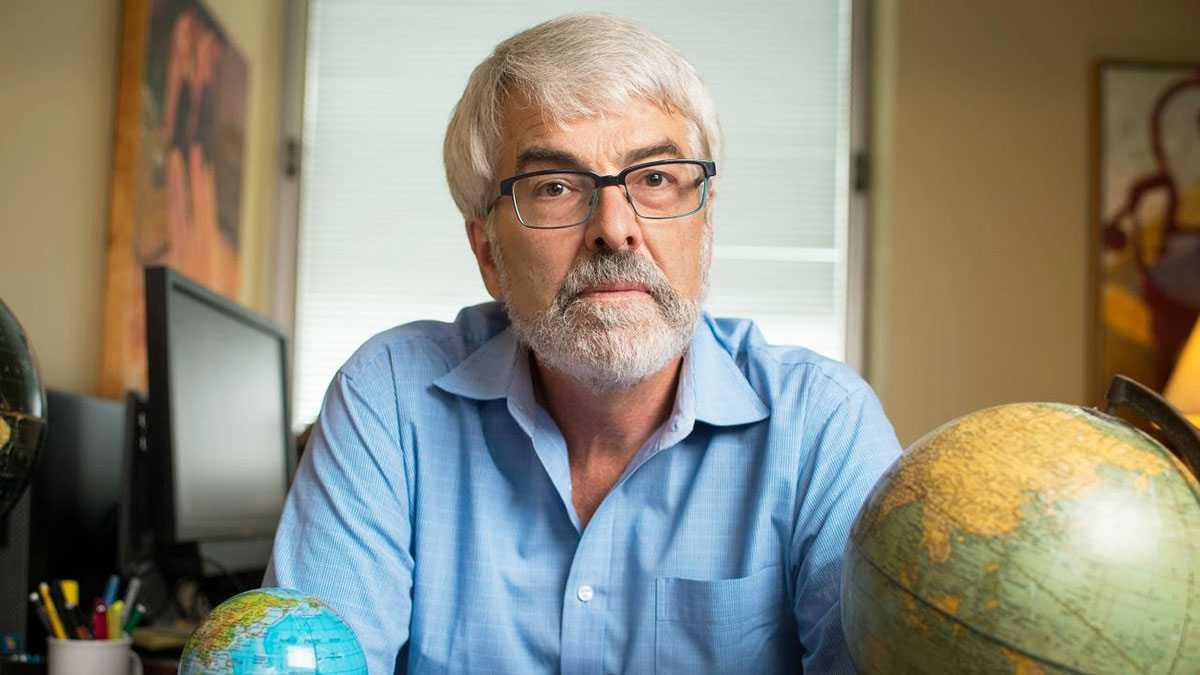 Nestled amongst Chinese checker boards and ceramic cats in his office on the sixth floor of the Tory Building, an onlooker might be surprised to discover that sociology professor Harvey Krahn has been recognized as one of Canada's greatest scholars.
"I like the colours," Krahn said, admiring an Edgar Degas replica on his wall. "They make coming to work even more enjoyable."
On Sept. 23, Krahn was honoured at the Office of the Provost and Vice President's annual "Celebrate! Teaching. Learning. Research" event by receiving the University Cup, the University of Alberta's highest academic award. The Cup recognizes the lifelong achievements of professors across all disciplines in teaching, research and community service.
"I was obviously very pleased," Krahn said. "I know quite a few of the previous winners, and there's some really remarkable people who have made important contributions in science and humanities and the fine arts, so I was a little humbled to be in the same category."
Though he mentioned several role models — including a professor he had as a student at the University of Western Ontario and a number of his colleagues at the U of A — Krahn attributed his decision to pursue sociology as a career to his background.
"I went to a Mennonite (high) school, with a lot of social justice, and it clicked about ten or fifteen years later when I thought, 'Oh, maybe this is why I'm doing this. I was socialized early on,'" he said.
According to Krahn, one of the most gratifying parts of his job is "lighting intellectual fires" in students. The three classes he teaches most frequently — Introductory Sociology, Research Methods in Sociology and People in Industry — are always ones he thoroughly enjoys.
"I really enjoy it, lighting fires about provocative topics and interesting debate issues, and (teaching) the value of research for answering questions," he said.
Krahn has published three books, 40 research reports and 84 research papers in his 32 years at the U of A. His favourite project has been a 25-year longitudinal study beginning in 1985 with the survey of a thousand 12th grade students in Edmonton that aimed to study how individuals' lives are shaped by higher education and unemployment.
"It's fun because we keep discovering new questions that we want to answer," he said. "You really get a sense of how they've changed and how the lives they've lived have changed and how the social structure has changed."
"It's never quite done. Maybe we'll have to interview them again."
One of the questions posed to this study sample a quarter of a century ago was where they see themselves in 20 years. When asked if he is where he would have imagined himself to be when he started his career, Krahn can't help but draw a parallel.
"This wasn't a planned career. It really kept unfolding (and) doors opened up," he said. "I am very fortunate to (have been) born in Canada and to be part of the baby boom generation so the education system was opening up as I was moving through it."
Though most of his career goals have been fulfilled, Krahn said there is a lot for him to do before he parts ways with the U of A.
"There's still a lot of really interesting research to be analyzed from the data sets I have, and I'm looking forward to doing that for the next few years."