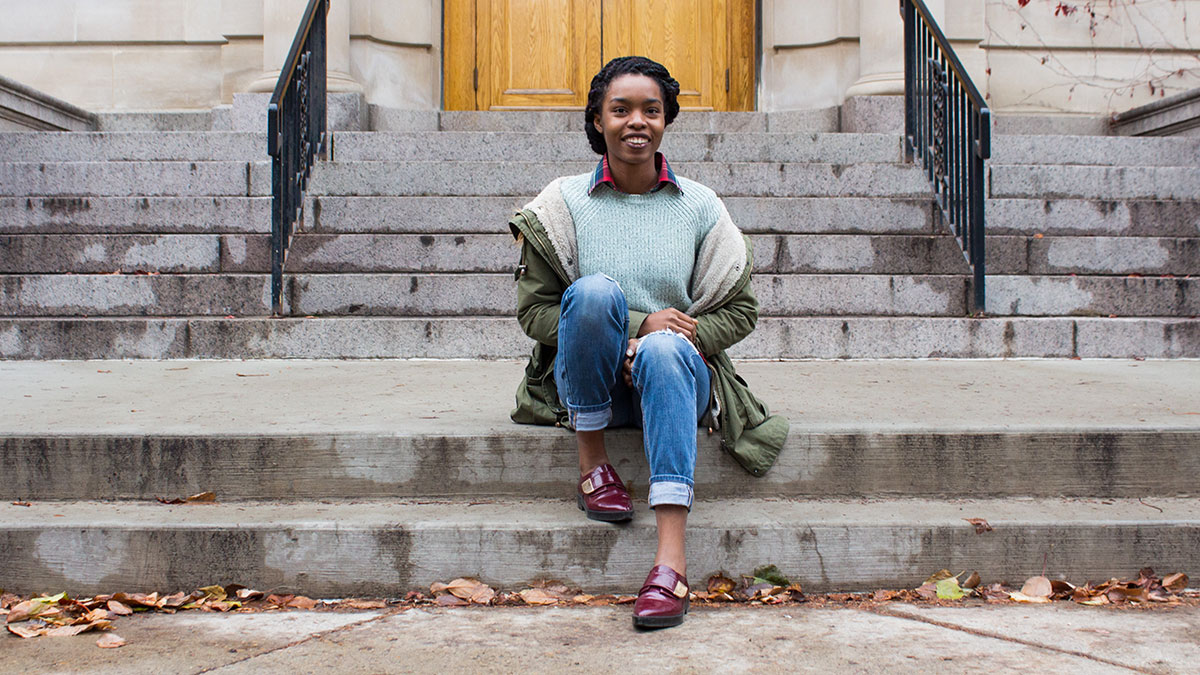 Name: Merlin Uwalaka
Year: Fourth
Program: Economics
Describe your outfit
I'm wearing a jacket from Asos – I like Asos. My sweater is from Superstore. I'm wearing a shirt that I stole from my friend, it was a guy, 'cause I liked it. And my jeans are from Target and my shoes are from Aldo. My bag is from Herschel. I'm not wearing any jewellery today, which is odd. Usually I wear bracelets.
Talk to us about why you started to make your own clothes.
 First of all I really like for anything I wear to really have a particular style. I just like things that are  special. And so, because of that, I would have something in mind that I wanted to wear, but I wouldn't be able to find it, so I started to make my own clothes. And even if I found it, it would be really expensive and I can't afford it, so it's cheaper to make my own clothes.
What have you made so far for yourself?
I mostly make lots of skirts and dresses, and jewellery. These pants that I'm wearing are actually my only pair!
Are you planning on having your own fashion label in the future?
Yes! Hopefully I would be able to get my own store. It seems really hard, but hopefully I can do something like that.
If you could describe your style in three words, what would they be?
Fun, colourful, and very Afropolitan.
Why do you think fashion is important?
I find that fashion is one way to express your art. Not everyone writes, not everyone sings, not everyone dances, so fashion is just one easy, everyday way to express yourself and show your personality.