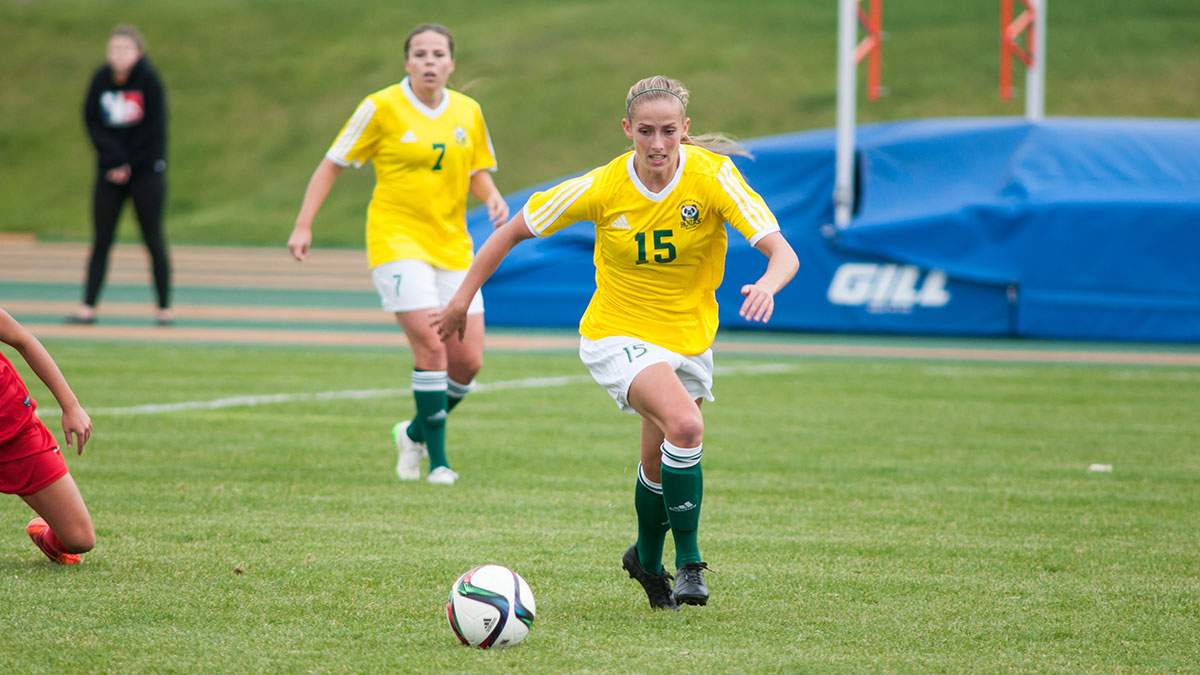 The Pandas quest for a second consecutive trip to CIS nationals was stopped short on Sunday, as the team lost a tight 1-0 game to the fifth ranked Trinity Western Spartans.
It was a close game throughout, but the Spartans were able to break through early with a goal in the seventh minute from rookie forward Rachel Hutchinson, who capped off her tremendous performance against the Pandas this season with her fourth goal against them in just two matches. Hutchison was able to convert on a nifty cross from Seina Kashima to give the Spartans the early advantage.
To their credit, the Pandas fought hard, to try for the equalizer, Julia Ignacio hammered a shot off the crossbar in the 53rd minute, and in the 78th minute, the Pandas had their would be equalizer called back because of a foul in the box.
Jamie Pasemko had another opportunity in the dying seconds of the match, but Spartans keeper Ally Williamson was equal to the challenge, stopping all three shots that were directed her way.
Despite the loss, head coach Liz Jepsen said she could not fault the effort or execution of her team.
"Watching the girls play, each and every one brought their 'A' game," Jepsen said.
"(Trinity Western) is a top ten team, they have been all season, and we outshot them, and I think we did everything we could to create opportunities."
Trinity Western certainly played within character, as they now haven't allowed a goal since Oct. 9, a span of 542 minutes. A big part of that has been keeper Ally Williamson, as she led Canada West in save percentage and goals against average this year.
"On the day, I'd have to give full credit to Ally Williamson, she was outstanding," Jepsen said.
"From the sidelines, there were a number of times where I was certain the ball was in the back of the net. She was simply outstanding."
Jepsen also mentioned that she was extremely proud of her players for the season they had.
"They were true ambassadors of the university varsity program," Jepsen said.
"The only disappointing thing on the day was that we didn't get the win, but if you're looking at performance, they brought their everything to the game."
The Pandas will now look ahead to next year, with several key players moving on from the team, including captain Annalise Schellenberg, 2013 Canada West MVP Julia Ignacio, Jesse Candlish, and Magie Zackso.
"Sometimes you need a little luck to win games, you need to be good, but you may need a little luck, and we didn't have luck on our side," Jepsen said.
The Spartans will now move on to face the MacEwan Griffins on Thursday, Nov. 5.