Puck Pandas dominate Dinos in most recent edition of the 'Battle of Alberta'
Jamie Sarkonak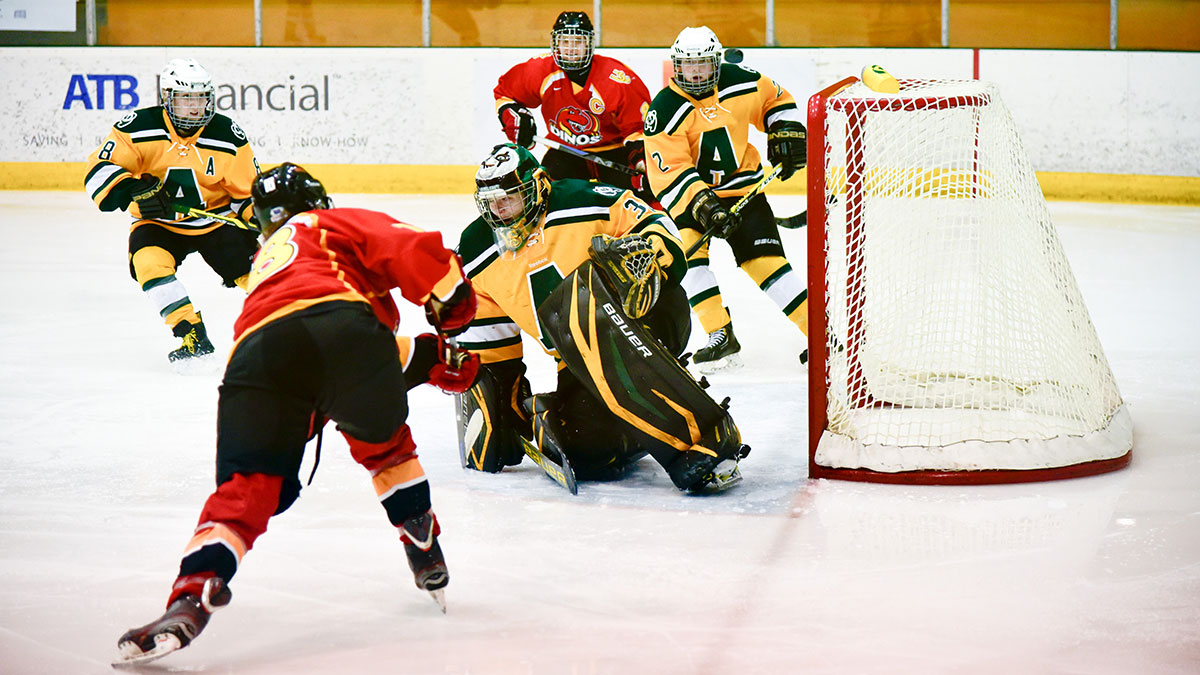 The Pandas hockey team certainly had no shortage of offence on Friday night, beating their provincial rivals the Calgary Dinos 8-2 at Clare Drake arena.
The eight-goal game outburst started off with Pandas forward Reagan Wright scoring in first period.
The Pandas pressed home their advantage in the second period, with goals from forwards Amy Helfrich,  and Janelle Froehler, and defenceman Natasha Steblin.
The team finished strong in the third period as Helfrich scored again, followed by forwards Ashley Morin, Sasha Lutz, and Autumn MacDougall.
Pandas goaltender Lindsey Post stopped 11 shots and only let in two goals in the third period, scored by Dinos Chelsea Court and Iya Gavrilova.
Head coach Howie Draper noted that the Pandas' game can still tighten up and improve, but called Friday's game a "great result."
The team reviewed their objectives only days ago, which might have been what contributed to their motivation their high energy, Draper said.
"It's just realizing that we have to be better," he said. "If we want to be the team that we think we can be then we've got to start bearing down."
Friday's game was fast-paced, with the Pandas keeping the pressure on the Dinos for a large part of the game. They outshot the visitors 21-13 and capitalized on all three of their power plays, while the Dinos were one for two with the man advantage.
The Pandas' "bye week" was spent playing against Japanese Women's National Team with a 1-0 win and a 4-1 loss. Now back into CIS games, Friday's victory pushed  the team over .500 for the season, as they now hold a 6-5 record on the season.
Forward Amy Helfrich was the game's first star on Friday, recording two goals as well as an assist. After playing Japan last week, the team's focus has shifted towards putting more goals in the net. That shift, plus the team's good mood all helped achieve the eight-goal performance, she said.
"It feels good to score the goals that we've been struggling with in the past few days," she said. "Calgary's always been a tough team to play but I think we've proved otherwise today."
The age-old "Battle of Alberta" rivalry has been off-and-on in the Pandas world, Draper said. As expected, the game got a little physical. Calgary ended up in the penalty box three times and the Pandas twice. The rivalry has been stronger in the past but it was still felt on the ice, Helfrich said.
"They started throwing some bodies around, which is kinda fun to get into as long as it doesn't get out of hand," she said.
The Pandas will play at Calgary for part two of the home-home series Saturday evening.