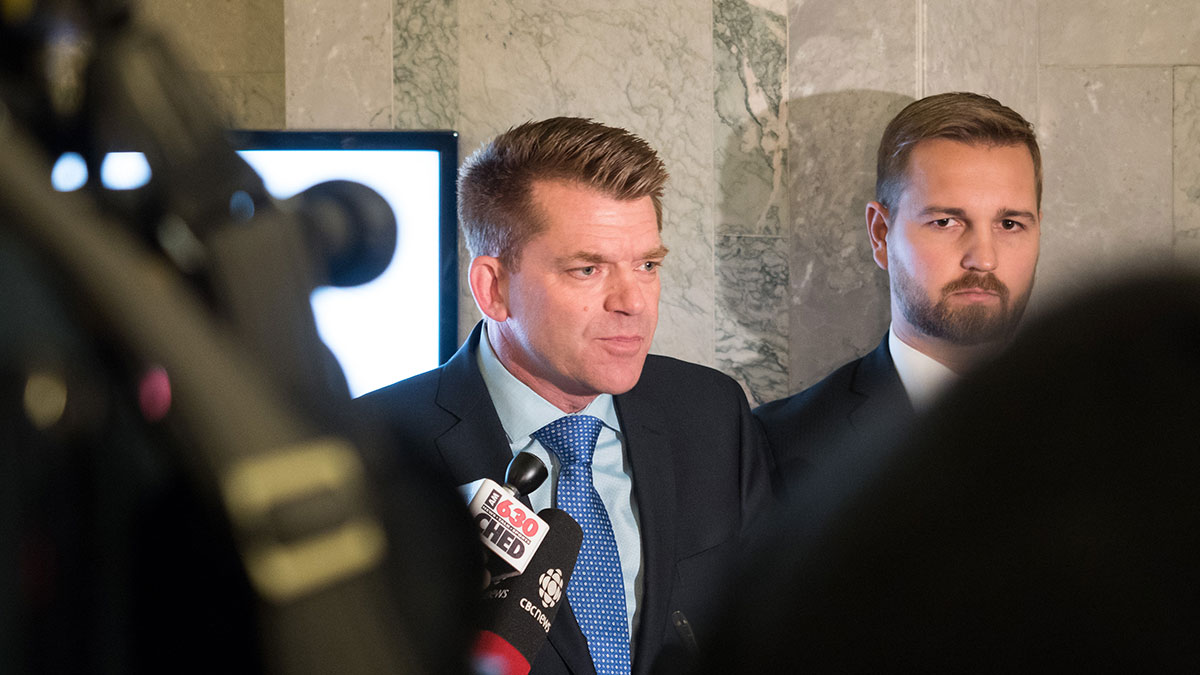 The Alberta Wildrose Party is denouncing mandatory students' union memberships and fees, while students' unions are fighting back, citing their key services and role in keeping post-secondary administrations and the government accountable.
A policy proposal by the Wildrose says that the Government of Alberta should look into changing the province's Post-Secondary Learning Act, and allow students to choose whether they'd like to become a paying member of a student association, such as the University of Alberta's Students' Union. The policy was unanimously approved by the Wildrose's members and applauded at their Annual General Meeting on Saturday, Nov. 14.
The Wildrose Party's rationale behind the proposal is that "much like mandatory membership and dues to any public sector union, these dues are then often used to advance certain, often progressive, political agenda."
One of the Wildrose memebers who signed off on the proposal is University of Calgary student Keean Bexte.
Bexte, who served as a U of C Students' Union Councillor for the Faculty of Science, said "distasteful lobbying" of student associations was the wrong approach, and questioned the merit of those student association.
"If (the Students' Union) consulted every single member of the union, not everyone would agree with them," Bexte said. "A large minority, if not a majority, of students would disagree with the SU on some issues. I think there's better ways to deal with these issues than forced unionization."
Bexte added that the policy proposal is not an attack on students' unions, but a just a question to the status quo.
"The Wildrose Party wants high quality services for students, we want students to feel represented, I just don't think the Wildrose Party supports the fact that artificial monopolies are the best service providers do this for students," he said.
U of A SU President Navneet Khinda said the Wildrose Party's proposal was "misguided," and even "insulting." She refuted the rationale that students' unions spend money inappropriately, as a small fraction of membership dues support their advocacy efforts.
The Council of University Alberta Students (CAUS) released a letter to the Wildrose Party ahead of their AGM, stating that membership fees support their roles as "fiscal watch-dogs" and non-partisan advocates, as well as enabling them to provide core services for students. This would create logistical issues, Khinda said.
"What would happen if it was an opt-in type of thing?" Khinda asked. "Does it mean that students don't have access to our services? Would it create a problem where we don't know who has paid and who hasn't? There are a lot of logistical issues there, and you don't ever want to deny a student access to the Peer Support Centre."
While Bexte and Khinda are on opposite sides of the spectrum in the debate, they agreed on the point that it's unlikely the current Alberta NDP government would legislate a policy such as this.
"I highly doubt this would be something (the NDP) would be interested in," Bexte said. "This type of freedom of students isn't what the NDP wants."
For Khinda, she said she believes this policy is "out of step with that Albertans think and even want.
"I think this government does value a students' right to associate and a students' right to govern," she said.
"But this is official opposition, and we have to take them seriously. I hope that at least if this policy stays in their books, that they at least talk to the students' unions and student associations in the future."
Correction: A previous version of this article quoted Keean Bexte as saying "official monopolies." This has since been corrected to "artificial monopolies."