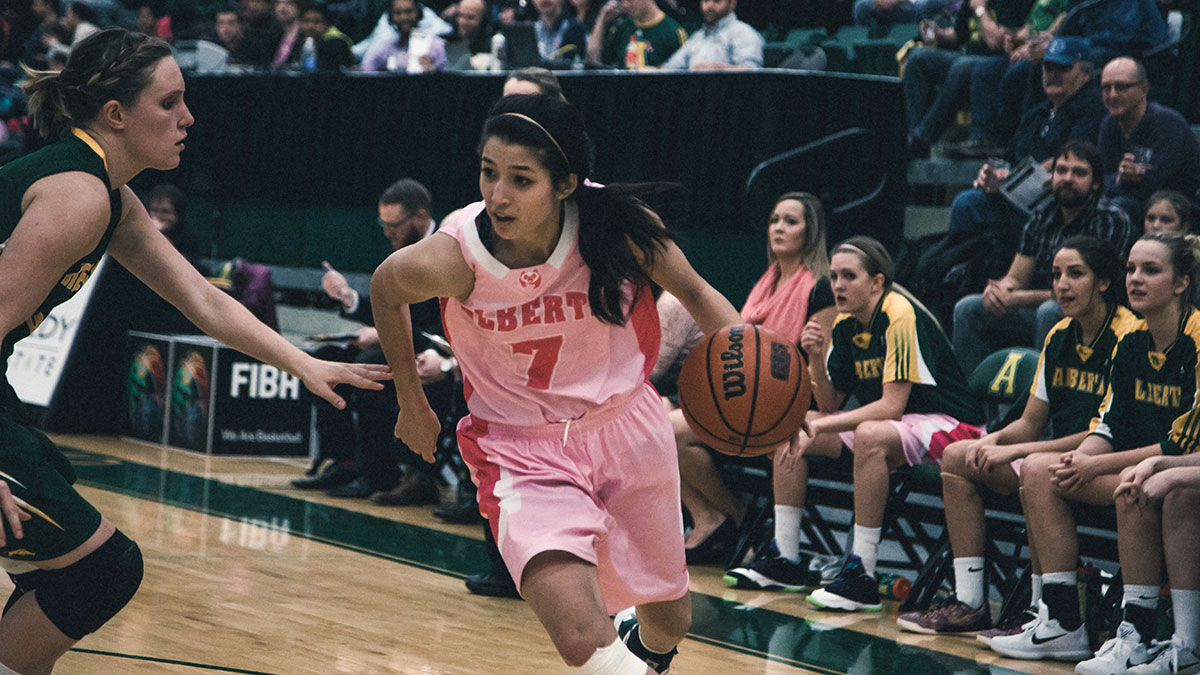 It took the Pandas basketball team over three weeks to lose their first conference game of the season as the Regina Cougars were able to halt the Pandas seven-game winning streak on Friday night.
The Cougars took it to the Pandas on that Friday, controlling the majority of the game en route to a 71-50 win.
Head coach Scott Edwards said that his team's execution simply wasn't there during the loss.
"We just didn't shoot the ball well," Edwards said. "We had more shots, just as many offensive rebounds, we didn't have a lot of turnovers, and we had just as many free throws, but our shooting percentage was so low that we could never really get any traction in the game."
In Friday's loss, two of the Pandas starting guards, Megan Wickstrom and Maddie Rogers, went a combined three of 27 from the field, and scored just nine points combined. It was an uncharacteristically poor shooting performance from a team that is currently fourth in Canada West in field goal percentage, at 40.7 per cent.
Jessilyn Fairbanks led the Pandas was the top scorer for the Pandas in a losing cause, pouring in 19 points. No other Pandas player finished in double figures.
On the Cougars' side of the ball, Charlotte Kot led the way, recording a double-double, with 24 points and 14 rebounds.
The Pandas were much better on Saturday night however, riding a strong first quarter performance to a 70-63 win.
Edwards was pleased with how the Pandas responded on Saturday.
"I think we came out both mentally and physically tougher," Edwards said.
"(The players) did a really nice job of leaving Friday night alone, and getting back at it on Saturday. It was fun to watch."
Fairbanks was at it again on Saturday, scoring 23 points to lead the Pandas, while also pulling in seven rebounds. Megan Wickstrom bounced back from her poor performance on Friday night to chip in with 17 points and six rebounds. Kot once again led the Cougars with 16 points in a losing effort.
The Pandas now face a solitary showdown with their inter-province rivals the Calgary Dinos before their winter break. Going into that game, the Pandas sport a 7-1 record, and sit in a tie for second place in the Prairie division with the Dinos. Both teams sit one game back of the Saskatchewan Huskies, who have yet to lose this year, posting a perfect 8-0 mark.
Edwards credited his team's consistency for their stellar first half.
"We've been the same team night in and night out, and (the players) really compete for each other," Edwards said.
Despite their success in the first half, Edwards said there's always room for improvement, especially on the offensive end. He spoke about finding more offence from the team's forwards, as all three of the Pandas current leading scorers are guards.
The Pandas will have one last matchup against the Dinos on Dec. 5, and then will go on their winter break. They will return to action on Jan. 5 and 6 with a pair of games against the University of Victoria Vikes.