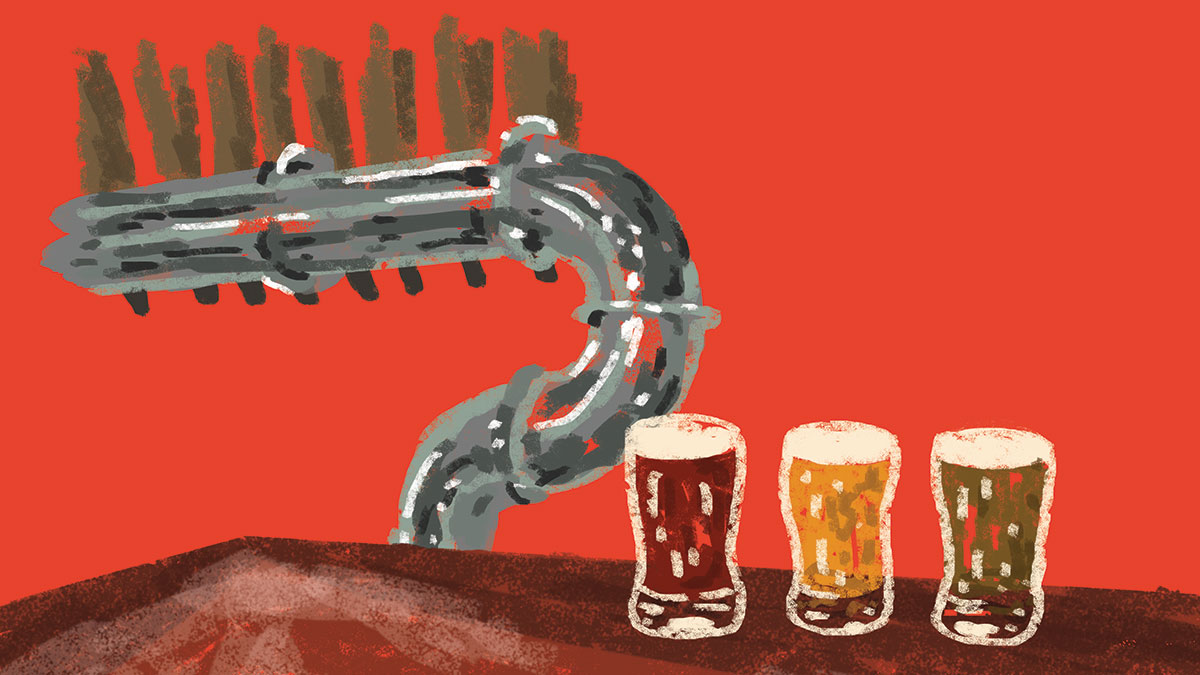 Beer Geeks
How two UAlberta engineering grads broke out of their industry and found themselves with craft beer
Words and Photos by Alyssa Demers
Illustration by Adaire Beatty
The first craft beer I ever had was Tin Whistle's pinnacle stout: The Killer Bee. Having only drank domestic draughts, my naïve, admittedly underage self was taken aback by the opaque, chestnut colour and the prominent, foamy head as it gracefully filled my glass. I remember the smooth, malty flavor of the beer that concluded splendidly with a subtle hint of honey. The potential for beer opened up for me, and I realized with a little thought, a little curiosity, and a little love, what a work of art a pint of beer could be. That's when my love of beer began.
Fast-forward to December 2015. I walked through the door of Beer Revolution in Oliver Square and sat between two men at the bar. Immediately after curt introductions, they both turned to me and asked me if I wanted a beer. I nodded and insisted they pick one for me. Soon after, a dark, robust stout was sitting in front of me and upon first sip I wondered if they had read my mind — this was exactly what I wanted.
The two men were craft brewery owners Shane Groendahl and Mason Pimm and this is their story of university, Beer Geeks Anonymous, the love for craft beer, and starting two small town breweries in the Alberta prairies.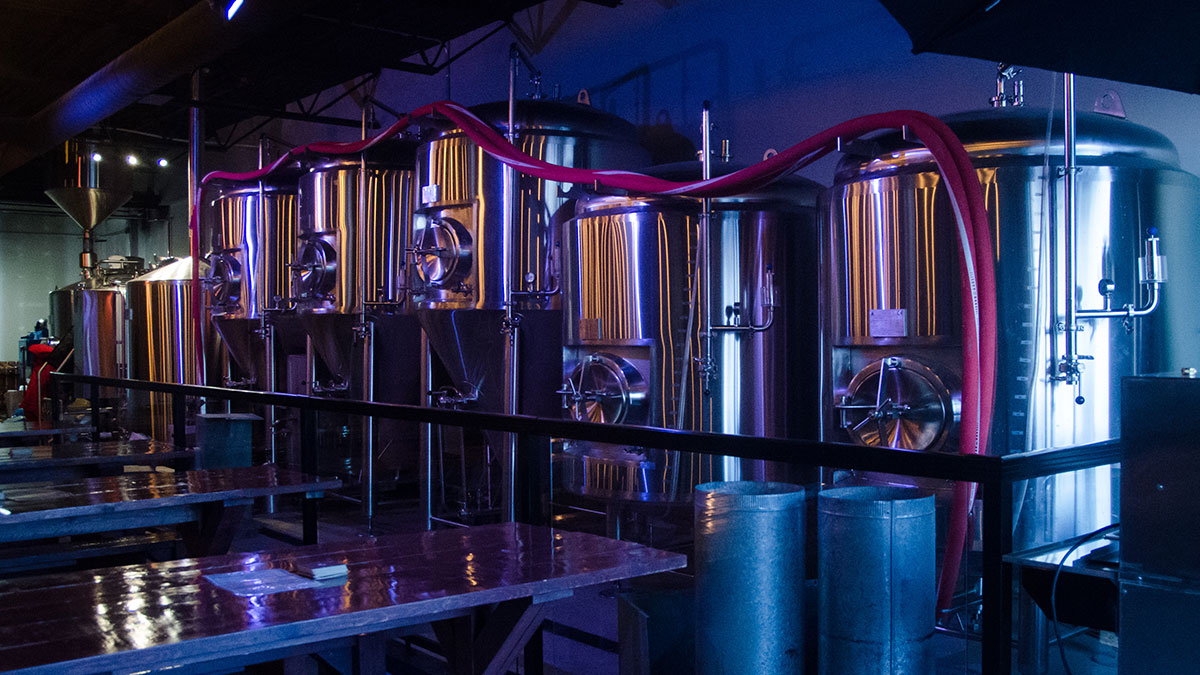 Blindman Brewing's managing partner and assistant brewer, Shane Groendahl begins by discussing his beginnings in the beer scene in 2004 as a recent high school graduate working at a liquor store called Andrew Hilton. During his time there, he was introduced to a vast variety of different beers. He explains that the Wildrose IPA was a defining point for his entry into the world of craft beer.
"It was like the light bulb going off in my head. Suddenly, this beer had flavour, and bitterness; resinous, piney-kind of citrus flavour. I was like 'wow, this is something I want to drink,'" Groendahl remembers excitedly.
Nodding in agreement, Two Sergeants managing partner and assistant brewer Mason Pimm shares his own story. He fell in love with home brewing and as his passion for craft beer grew, he decided to one day make it himself on a larger scale.
"I learned more and grew as a person in a field that I enjoy," he says simply. His flagship craft beer? The Red Racer IPA.
Apart from his craft brewery, Groendahl is also the president of Edmonton's craft beer group known as Beer Geeks Anonymous. Their mission is to promote local craft breweries and create a higher level of awareness and knowledge about the industry. The group does this by hosting monthly meetings and a plethora of events. Groendahl's previous attempts to break into the beer industry were through his presidential role in Beer Geeks Anonymous. He met the other co-owners of Blindman Brewing through this venture.
In recent years, the Alberta craft beer industry has expanded. Initially a niche market only the most dedicated beer geeks delved into, craft beer is now becoming increasingly dominant in the beer markets, mainly with Canadian microbreweries like Granville Island, Big Rock, and Wildrose. The food service industry is catching on to this new interest in unconventional brews; chain restaurants such as Beer Revolution, Craft Beer Market and MKT have opened their doors in Edmonton and host a variety of draught and bottled beer, as well as Gastropub food and bar snacks. The market is changing. Patrons now want to experience something different from typical chain food. They want something unique, and something of quality.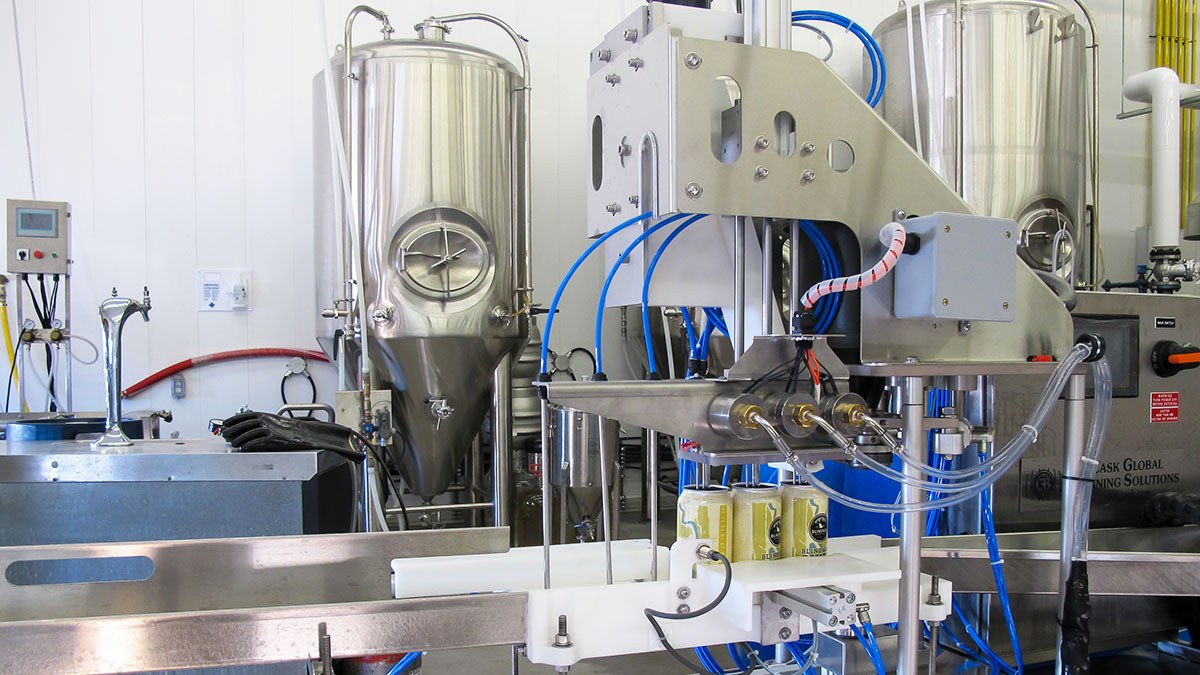 So why has the market shifted so suddenly? Pimm muses that the cultural shift around the awareness of craft beer is to blame. Accessibility towards craft beer information has expanded due to the prevalence of the Internet and social media. It's shown Albertans a new side of beer, and the wave continues to grow as the number of small breweries in Alberta rises. The people have spoken, and breweries are responding.
Both Pimm and Groendahl graduated at the University of Alberta with degrees in Engineering, but this proved to fall short of their expectations for their careers and level of fulfillment in their lives. As Pimm elaborates, he quit his engineering career a year ago to focus on craft beer, creating the opportunity for himself in the brewing industry. He hasn't looked back since.
In the tumultuous career market and struggling economy, the prospect of a job in engineering is appealing. It's a secure career with an optimistic outlook in a trades and industry-driven province. This notion is what ultimately appealed to Groendahl and influenced his choice in the disipline. He explains that being an engineer has a potential, or 'glowing aura' around it, so he went on to finish his degree, but ultimately views it as an uninspired decision. For Pimm, engineering was a far off dream that unfortunately wasn't as exciting as the reality. He remembered in junior high when he wanted to be an aerospace engineer and vowed to one day work for NASA. He went to school and became an engineer, but his dream fell flat when he realized the climate of the industry and how idealistic that dream really was.
Groendahl describes his shift into craft brewing as a moment of epiphany.
"It was very serendipitous. There was a point in my life where I wanted something to call my own," he elaborates. "It took being passionate towards beer in my private life to make me realize that I can be passionate towards beer in my work life too.
"It took me a while to figure it out."
Pimm found this moment through the insight of his parents. It, too, was a moment of epiphany, as he never considered leaving his engineering career a viable option.
"I found myself running into walls everyday, thinking that I wasn't happy. I ended up leaving my job, and trying to find this unique opportunity and looking around for something meaningful," he recalls. "It wasn't until I had that presented to me by my parents where I thought, 'wow, I can do whatever I want. I don't have to do this anymore.'"
Consequently, both Groendahl and Pimm are now immersing themselves into their career of choice in the Craft Beer Market and they couldn't be happier with the results.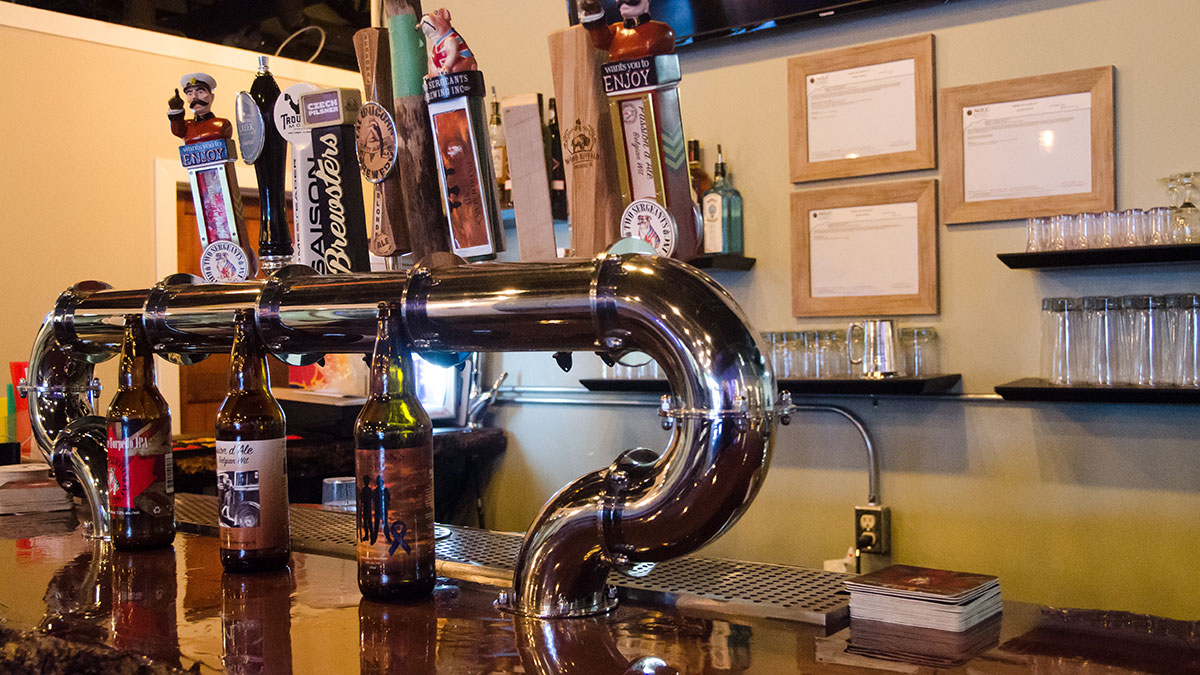 To come up with a new beer recipe, Pimm and Groendahl sit down with their co-owners and brewmasters and do what they do best: have a beer and talk. At the Blindman Brewery, the owners and brewmaster enjoy a beer from another brewery. They discuss what they like and dislike about the beer, and how they could create a version of that beer that is uniquely theirs, yet continues to integrate similar components. It happens with a discussion, with research and with insight from the brewmaster. Pimm agrees and adds that it takes self reflection from all parties involved, and a conversation about what everyone wants from the beer.
"It's a bit of luck, a bit of trial and error. That's how we take it," he explains.
While I spoke to the brewers, a patron at the bar and Pimm began to converse. Afterwards, I asked what they were talking about and Pimm excitedly mentioned that the man was having a pint of Two Sergeant's beer and wanted to let him know that he enjoyed it.
"Brewers are always willing to talk. (They're) some of the friendliest people in the world," explains Groendahl.
Being the co-owner of a local craft brewery allows for dialogue between the brewer and the patron who is consuming the product. This dialogue leads to instrumental rapport for recipe development and returning customers.
However, the beer needs to speak for itself. It needs to provide a message to the consumer — What flavours? What type of malt? Hops? What is this beer trying to achieve? Will it warm you up? Cool you off?
"The brewer can't be there all the time, sitting beside them, explaining the beer, so you kind of have to make that evident in the beer itself," Groendahl explains, gesturing towards the beer in his hand. "You have to be very thoughtful of your own products and how other people are going to perceive it."
He elaborates that it is a matter of projecting your brewery's values and reasoning, and answering questions patrons have. Having that conversation is of huge value. Communication creates an intrinsic sense of community and brings everyone together with a common purpose.
Pimm hopes that people get into the craft beer scene, get educated and try new things. He concludes with a poignant reflection that represents the passion that both brewers hold about brewing, and ultimately following the road less traveled in life to achieve something great.
"It's been an amazing journey over the last year, what I am doing and where I am now, I'm happier than I've ever been," he concludes.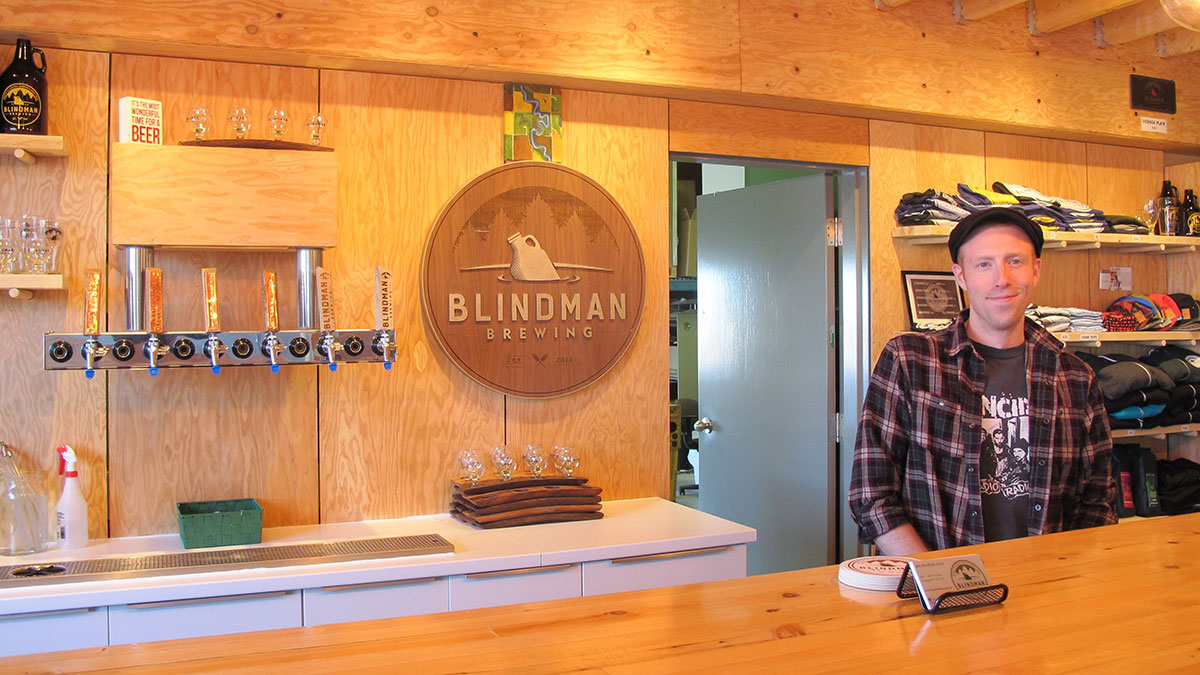 Brewery Profiles
Blindman Brewery
Bay F – 3413-53 Avenue
Lacombe AB  T4L 0C6
403.786.BEER (2337)
Blindman Brewing is located in the small industrial area east of downtown Lacombe, Alberta. The woodwork on the walls, bar and tables are polished and give the space a relaxed, yet unabashedly sophisticated feel. There's a lot of natural light, and the rustic, bare light fixtures hanging from the ceilings are an asset to the space — bonus points for the hanging light shaped like a hop seed. The pristine taproom looks like a space out of a magazine. The brewhouse is tucked away in the warehouse behind a large room filled with tanks, coolers and bags of malted barley.
"A lot of people had been seeing our signs around town and were anticipating our opening, so they came out to see if the rumors were true," said Groendahl, "There's a lot of community support in Lacombe for all small businesses."
Mainly focusing on the taproom, Groendahl hopes to produce a small batch of beer every week to test out. By only making one keg at a time, he says it'll keep things interesting for patrons and ultimately help with recipe testing.
"Just a great, great response, and we hope that it continues on. We love having people in our taproom and just being that center of the pinwheel in Lacombe. We want to be that place where people go on a Friday afternoon or Saturday afternoon to hang out with their friends and just add that connectedness to the community," Groendahl elaborates.
Beers on Tap:
Blindman River Session Ale: Light, crisp, dry, hop characteristics, fruity, tropical
Longshadows India Pale Ale: Vermont style IPA, Bold hop characteristics, bitter, resiney, piney, citrus
Saison Lacombe: Automne: Belgian style farmhouse ale, rye, barley and wheat malt phenolic, spicy, tart, clove, orange peel, pepper
Robust Porter: Smooth, dark, roasty, smoked malt characteristics, warming
Two Sergeants Brewery
#501 10470-98 Avenue
Fort Saskatchewan, AB
T8L 0V6
780-912-9319
A small brewery and taproom nestled away on a side street in Fort Saskatchewan, Two Sergeant's Brewery is a gem in the prairie city. Eclectic, bare light fixtures hang from the ceiling of the taproom, emitting a pale gold, ambient glow. The room is dark and relaxing, with dark wood flooring and picnic tables. To the right, the brewing tanks are unapologetically out in the open, with colourful lights softly shining on them, emitting a striking glow. The feeling is rustic, like a pub in Scotland, yet refreshingly polished and chrome. The taproom is steady, with people scattered at the picnic tables nursing glorious pints of beer.
The busy taproom is nothing new for Pimm as he fondly recalls the lively group of regulars that have been with the brewery since the first day.
"It was a packed house, I was really surprised to see the response that we did get. To be able to walk around and point things out to people and talk about the beer was really great," Pimm explains. "People were just really eager to get in there. It's been a pretty special experience."
"I think Fort Sask has been missing what we're offering for a long time; it feels good to fill that need," Pimm elaborates as he gives me a tour of the space. The patrons are friendly, and the feeling of community is ever present: Two Sergeant's Brewery is a fantastic and dynamic addition to Fort Saskatchewan.
Beers on Tap
Patrolman's ESB: Memorial beer for fallen Constable Daniel Woodall (portions of the proceeds going to the Woodall Family Fund), medium hop bitterness, malt sweetness in the aftertaste, coffee and caramel notes, amber colour
Bangalore Torpedo India Pale Ale: Bold bittering yeast, sweetness from the hops, citrus and pine, golden colour
Passion'd Belgian Wit Ale: Wheat ale, cloudy, smooth, citrus, orange on the nose, coriander notes