News
Peace at Last: A Syrian refugee's journey to Canada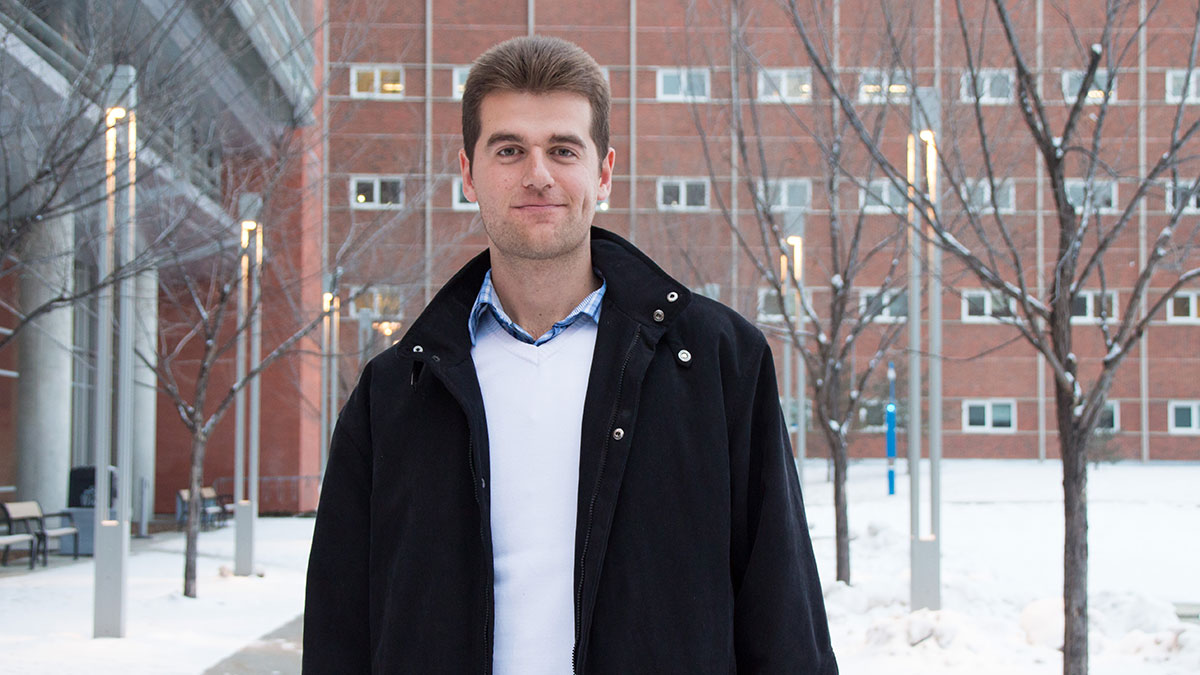 Naseem Alrayes had always wanted to be a doctor, just like his parents. And at age 23, he was nearly one semester away from reaching his dream. But living in the heart of the failed state of Syria made graduation impossible.
In the past four years, Naseem had been studying in Syria's capital, Damascus. Compared to Homs, Naseem's home city — and Syria's "revolutionary capital," Damascus was safe.
"Kind of safe," Naseem says. "I (didn't) know what (was) closer: death, or finishing my degree."
At Damascus University, Naseem watched the gradual escalation of revolutionary violence. There was a day when Naseem came home to find his house without windows or doors, with broken furniture strewn about — the result of a detonated car bomb next to his house. Events like these caused Naseem's parents, living in Jubail, Saudi Arabia, to live in constant fear for their son.
"Believe us that these years were the hardest period in all our life," Naseem's father, Dr. Alrayes says in an email interview with The Gateway. "We were melted with TV news and we were dying with every event happening."
The family didn't originally plan to spit up. The Alrayeses had been living in the city of Homs for about 20 years — that's where Naseem began his education at the University of Homs. But the humanitarian crisis and Syrian Civil War started, and the Alrayes' family, residing in a Christian neighbourhood, was one of the first to experience the consequences. The once-peaceful neighbourhood where they raised their children became occupied by gunmen. Fleeing became absolutely critical.
"We will never forget that black horrible day when we left our home under shooting, explosion, barefoot, leaving all our property back," Dr. Emad Alrayes says.
Syria wasn't supposed to be that way. The country had a warm, peaceful culture — visiting foreigners would even feel a "magic magnetic power" that would make them want to stay, says Dr. Emad Alrayes. Naseem's Ukrainian-born mother, Dr. Irena Alrayes, was one of these people.
Naseem stayed in Damascus, and his parents and sisters moved to Saudi Arabia, where Dr. Emad Alrayes found work in a hospital. The beginning of Naseem's stay in Damascus was fine — the violence was a more than a 100 kilometres away in Homs. But in a couple years, the situation became critical: mortar rockets fell over residential areas, car bombs detonated next to commuters and snipers targeted children. Some of these people were Naseem's friends and neighbours.
His parents grew more and more worried, but Naseem was optimistic that the situation might improve.
The opposite happened.
In Naseem's final days on campus, a missile decimated a neighbouring building — the first event he took as an indication that he must leave. He moved into residence at Damascus University, but because of the crisis, the institution was attacked at least a few times per year, Naseem recalls.
"Missiles come directly into faculties, and students are technically dead," he says. "So (the impact) huge."
At the beginning of the crisis, that would have been something that you would question ("What the hell is happening? How can we be living in this?" Naseem would ask.) But the devastation was just something you just had to live with.[pullquote align="right" cite="" link="" color="" class="" size=""]"Smelling the smell of danger, smelling that you could be dead at any moment, in any place. There is totally no safe place in the end."[/pullquote]
"You kind of get used to the idea of death. Of, just it's fine walking around smelling death everywhere," Naseem says numbly. "Smelling the smell of danger, smelling that you could be dead at any moment, in any place. There is totally no safe place in the end."
Naseem's parents tried to convince him to come to Saudi Arabia, at least temporarily, but there he would have been unable to study. The decision to stay in Syria was even more difficult when Naseem's mother was diagnosed with an advanced level of breast cancer. But Naseem was determined to become a doctor; prioritizing education meant staying in Damascus. Education in Syria was free and it would have been expensive to study abroad, and very difficult to successfully apply for a visa. For Syrians, visas are difficult to find, Dr. Alrayes says.
For the Alrayes family, education is crucial in expanding the mind. And although Naseem was studying in Syria, his two younger sisters needed a safe place to study as well. The family started to search Canada for schools.
"Education is the real wealth that we can provide our children instead of any other wealth, which could be lost," Dr. Emad Alrayes says. "The education stays forever."
While he had been studying by himself in Damascus, Dr. Irena Alrayes, and sister, Anna, successfully applied for visitor visas to come to Canada. Though it meant having to postpone her chemotherapy, Naseem's mother arrived in August to find a place for her daughter to finish high school — and a way out for her son.
"And she did," Naseem says with a smile.
Anna, in Grade 12, enrolled in Columbia International College of Hamilton, Ontario. But the search wasn't complete — Naseem's mother was often recommended to the U of A. Then she heard of the U of A's President's Award for Refugees and Displaced persons, which had been announced in the Fall. The award would cover the tuition and living costs of up to 10 students who had been forced to leave home.
Naseem applied and won.
The news was received at the same time Naseem's mother was about to begin her first round of chemotherapy. Her anxiety was replaced with joy and relief.
"She forgot about herself — her heart was flying high," Dr. Alrayes says. "She came up again and started to believe that miracles still exist!"
Two days before Naseem left for Canada, a bus exploded right in front of his residence at the university. He knew it was time to go.
This week, Naseem Alrayes is a U of A Biological Sciences student who has transferred 51 credits into his program. Technically, he's in second-year. But going to class is no longer a risk. His parents are no longer overwhelmed with fear for their son every time they check the news.
Whether or not they're safe, well, that depends on how you define safe, Naseem says. Being a Christian in Saudi Arabia can be unsafe. And Dr. Irena Alrayes is still fighting breast cancer.
But Dr. Irena Alrayes has completed three of eight rounds of chemotherapy. And Naseem, though he misses Homs, says he's ready to call the U of A his second home. His first impression of campus? He exhales the word with relief: "Amazing."
"Everything is included. Anything you want, you can find it. And you can get any support you need at any time, in any point, so it's just great."
And it won't be too long until Naseem can be with at least some of his family. His sister Anna has received early acceptance into the Faculty of Science's Pharmacology program. He's proud of his sister, and grateful that they'll be able to study together.
"The whole university understands that me and my sister should be together in the same university," he says.
Naseem no longer has to worry about what disastrous event might happen while at the university, so he has started to plan his future and pursue success in genetics or pathology.
"I am sure that he will get success, because I believe that the genius is generated from the womb of sorrows," Dr. Emad Alrayes says.
---
January 2017 Update: this article has won the 2016 JHM Award for Best News Article
Best news piece goes to Jamie Sarkonak, The Gateway, "Peace at last: A Syrian refugee's journey to Canada" #NASH79

— Canadian Univ. Press (@CanUniPress) January 8, 2017