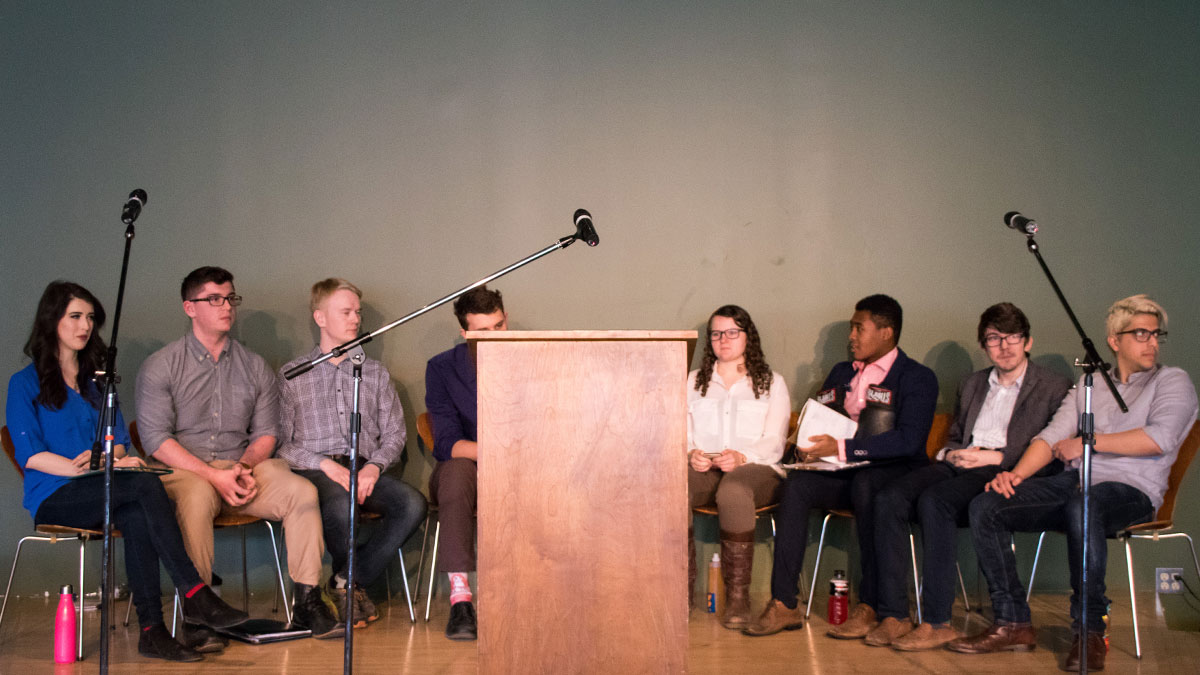 With the University of Alberta being known for having some of the highest student debt in Canada, internal and external finance were a recurring topic of debate for this year's crop of student leader hopefuls.
Candidates from the Vice-President (Operations and Finance), VP (External) and VP (Academic) were all present at Wednesday's SUBstage forum, where they questioned each others' visions for the future of the Students' Union executive roles, if elected.
Academic Adversaries
Opposing views on the use of the university's online course evaluations and student representation were voiced by VP (Academic) candidates Marina Banister and Tom Patrick.
Banister said she would like to see the university use its course evaluations to determine payment or teaching staff, but Patrick pointed out the decreased participation in online evaluations between — online evaluation participation is 15 per cent lower than paper course evaluations, which is not enough to assess teaching ability.
"I personally do not think that fighting uphill battles with administration is worth it when there are low-hanging fruit and other ways that we can ensure quality of instruction," Patrick said.
Banister said that participation rates can be remedied by having profs give class time for students in order to fill out the forums. Teaching quality will also increased by introducing a teaching tenure stream, which the SU has already recommended to the university, she said.
The VP (Academic) candidates were questioned by an audience member on their ability to accomplish their goals in holding professors accountable to their evaluations. The importance of using evaluations to determine raises and tenure were making sure that feedback is respected, and student voice can be used to find that balance, Patrick said.
"I think there are fundamental challenges between asking a professor to be a world-class researcher and to teach a 100-level class," he said.
The candidates also spoke of their different philosophies in student representation. Banister spoke of a lack in seats for students in different levels of governance, with 23 per cent of departments lacking a student group. She wanted to make a toolkit with Discover Governance, and the university's faculty associations to create or strengthen department groups and faculty groups. Strengthening faculty associations would also come from devising a comprehensive transition schedule that can be used to combat problems with student leader turnover.
"We need to make sure that students are represented at every level of governance," Banister said. "From the bottom to the top."
Patrick's focus was on training within student governance, which he would pursue by creating a handbook for best practices. Those resources would be used to remedy problems that he has seen with student leadership in the past, such as the dissolution of last year's Arts faculty association and the lack of student consultation in the Students' Council decision to raise SU fees.
External candidates butt heads on federal involvement
Issues of mental health funding, student employment, and government involvement were on the docket for the Vice-President (External) race.
Candidate Patrick Cajina's advocacy for a national post-secondary education act received backlash from his opponents, as Mike Sandare and Reed Larsen disagreed that federal input should be an appropriate focus.
Sandare called the proposed act "not really realistic," and that federal involvement throughout the provinces would be a complete "overstepping of bounds." Currently, post-secondary education is almost entirely regulated by provincial government, altering this structure would be an change of enormous magnitude.
Larsen agreed with Sandare, and suggested that the university push for increased funding into research from the national level.
Cajina said the proposed act would create a quality baseline for post-secondary that could be expected nationwide, comparing it to federal health care regulation. Cajina said that getting a post-decondary degree can open up avenues for social mobility, and that this baseline would protect low and middle-income students.
"We don't seem to have a national vision of what post secondary to look like," Cajina said. "We need to prioritize post-secondary for the students that are underrepresented in this system."
One issue on which all candidates agreed on was bringing SU employee payment models in line with industry standards. When a question from the audience asked about how they felt about the SU underpaying their employees, all three candidates took a similarly critical stance.
"These are institutions that need paid staff," Sandare said. "We should have fair payments there."
Cajina said the work that SU-employed lobbyists and researchers do is integral to SU policy, and that those employees need to get paid.
"We have to put our money where our mouth is," Cajina said. "If we are asking the government to do all these things, we need to show them that we give it to the people we employ."
For his part, Larsen said that the SU could begin a trend with their payment models for student employees that was adopted by other organizations.
"We can start to set the standards of what students can be paid in these sectors," Larsen said. "If we paid a bit more, it would encourage students to go into that area."
No candidates proposed any specific ideas regarding where the money for these pay increases would come from.
In another question from the floor, candidates were asked what they would plan on doing differently regarding mental health issues if elected.
Cajina said he would work with the VP (Student Life) in an efficient manner, to better address student concerns regarding mental health.
Larsen suggested that the best way to tackle the issue was to "keep bringing it up day-to-day," and continue current dialogues on the issue.
For Sandare, though he acknowledged that the search for renewed funding would be a big part of his role with mental health, he said he would look outside the university for assistance.
"I want to push for community partnerships, with various mental health organizations from the city and the province," Sandare said. "Pushing for them to come here to campus or seeing (students) go out to those resources."
All candidates agreed that a lump-sum government payment followed by a per-student funding format in the new plan would be a primary concern in seeking provincial assistance with respect to mental health.
Operations and Advocacy
When quizzed by candidate Taimur Malik, all of the VP (Operations and Finance) candidates knew where their Students' Union fees were going — $39.05 for the SU and $43.19 for dedicated fee units.
Malik and fellow candidates Hasan Birer and Robyn Paches spoke of what challenges they foresaw for the Ops Fi portfolio in the next year. Malik saw was the rising of the minimum wage to $15 and its effects on students and SU businesses. So far, the SU decided to increase its membership fees by seven dollars over the next three years earlier this month. Though Students' Council voted in favour of the fees, Malik argued that consultation with students for the raise was insufficient.
"We need to make sure that the burden is not shifted to students," Malik said.
Paches thought the Ops Fi role has more "room for advocacy" this year.  He would instead focus on negotiating for the U-Pass, coordinating funding and volunteers for the upcoming Myer Horowitz Theatre renovation.
"I feel the biggest challenge isn't the whole business side of things," he said.
Birer said his own challenges would lie with serving students.
"We have to make sure that whatever we pay, it is valuable and reasonable for students," he said.
The Gateway seeking DFU renewal
Representing The Gateway's "yes" campaign, The Gateway Executive Director Beth Mansell said the newspaper works to improve student writing skills and telling student stories.
The campaign aims to gauge student response on on approving The Gateway's Dedicated Fee Unit, which is $3.39 during fall and winter semesters and $0.43 during spring and summer. DFU's must be renewed by the Students' Union every five years, which is supplemented by a non-legally binding plebiscite question. The Students' Union can override the outcome of the plebiscite vote, as opposed to a referendum, which is legally binding.
"If you're not picking (the newspaper) up every week, we are still important," Mansell said. "We investigate all levels of university governance, and hold all levels of governance accountable."
The next forum will take place in the Lister Centre cafeteria on Thursday, Feb. 25 (6 p.m.).