Edmonton Opera revitalizes the classic story of Carmen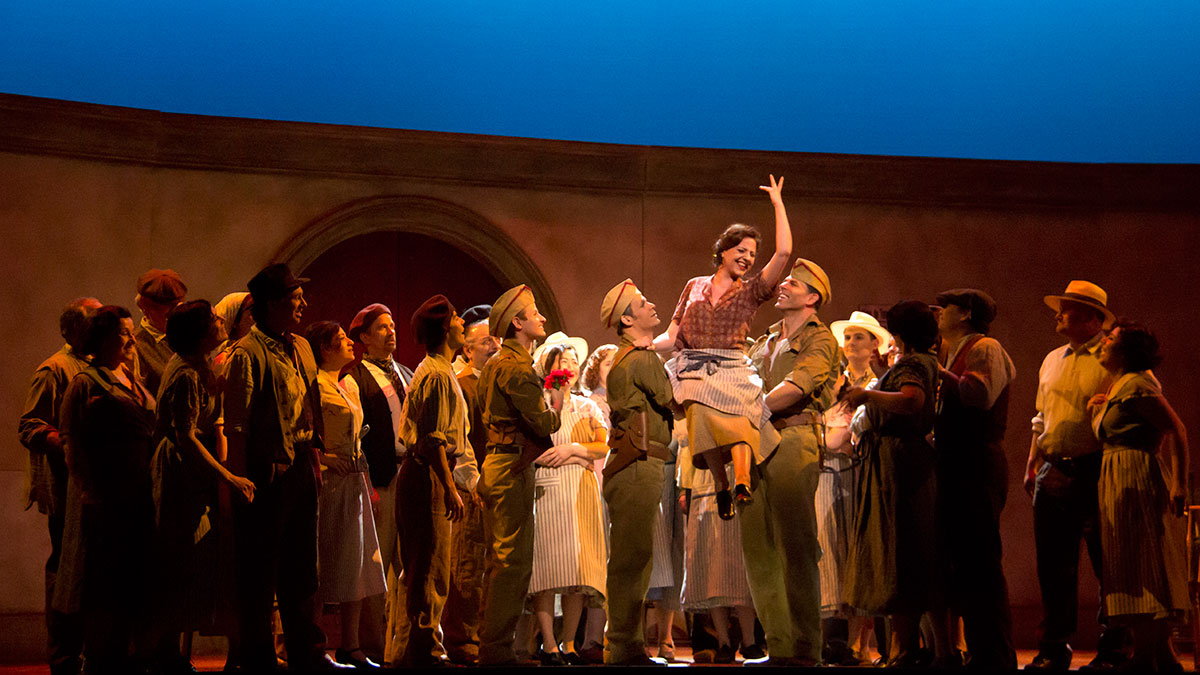 Written by: Georges Bizet
Directed by: Maria Lamont
Starring: Geraldine Chauvet as Carmen and Jeffrey Gwaltney as Don José
Where: Northern Alberta Jubilee Auditorium
When: Feb 4th
To some, the idea of opera seems a dated and dying art from. However, Maria Lamont and the rest of the Edmonton Opera is set on continuing the beauty that is opera. With gorgeous costumes and impressive set design, their production of Georges Bizet's iconic Carmen will be one to remember. Carmen and Don José's tragic love story is a classic tale in Opera that has been re told over and over, but set designer Camellia Koo wanted to ensure that this story is given a fresh perspective.
"The director was interested in modernizing it … we landed in the 1930s just before the Civil War. It was a tumultuous time in Spanish history but it was also an interesting time for women because they were a huge part of the resistance." Koo says.
Using photographs taken from the Civil War to gain inspiration for colour schemes and costumes allowed this new take on Carmen to move forward. Just as their overarching theme of Carmen's ever-flowing story and unpredictable heart.
Koo says the opera has an overwhelming sense of momentum. Audiences will be wondering where else can move forward as they watch her adventure. Carmen's love triangle with Don José the soldier and Escamillo the Bull Fighter is never a dull moment as the audience wonders who she will choose and if anyone is unfamiliar from the story the tragic ending is unexpected since it seems like Carmen can never be pinned down in any sense of the word.
Despite performing opposite two very strong characters and powerful opera singers Koo explains it perfectly when she says audiences will wonder, "Who is the bullfighter and who is the bull? There is a power struggle through the whole opera."
University of Alberta student Natasha Da Fonesca is a member of the chorus in Carmen and she has been performing with the Edmonton Opera for three years. She laughs about her initial uncertainty surrounding the opera, but since she gave it a try she has been passionate every since.
"People either find it very expensive or very long or very boring. Yeah it's a three hour opera but there is so much jam packed into those three hours that its psychologically jarring in a sense," said Da Fonesca about Carmen.
It may be long but audiences will be unable to realize the time go by as the action of this risqué production will demand your attention. Carmen the gypsy woman absolutely commands the stage. She owns it and it is hers to control. Even when she is standing to the side you can feel the presence of Carmen. The incredible passion with which she, and the whole cast, sings with forces the audience to pay attention.
To those who fear that operas are difficult to understand, especially when they are sung in different languages like Carmen, the production has provided subtitles. Above all the action on the proscenium there are English translations of songs for the audience to follow along.
Operas are often thought of as elite classical presentations but Carmen challenges all of those stereotypes. Da Fonesca says that one of her favourite scenes to perform "was affectionately named as the grope-a-thon" by their director. It's a scantily clad action filled bar brawl scene where Carmen befriends smugglers in an entertaining scene with twinkling lights, champagne, and raunchy dancing.
"Its not a fat lady singing in the middle of the stage not moving with her blonde pig tails, not anymore," Da Fonseca says. "Now its Carmen stripping in the middle of the stage; I hope you catch her clothes as she throws them."
Many are not aware of how the art form of opera is changing. They are becoming more modernized and those who have never seen theatre or opera must indulge and feel the sensation of a movie coming to life in front of them.
"Trying to hold more of a younger audience is absolutely essential… Sometimes even the story line is altered to keep that attention, while still accommodating people that like classic stories and classic operas and classic music," says Da Fonesca.