Opinion
UAlberta Pro-Life's tactics are disgraceful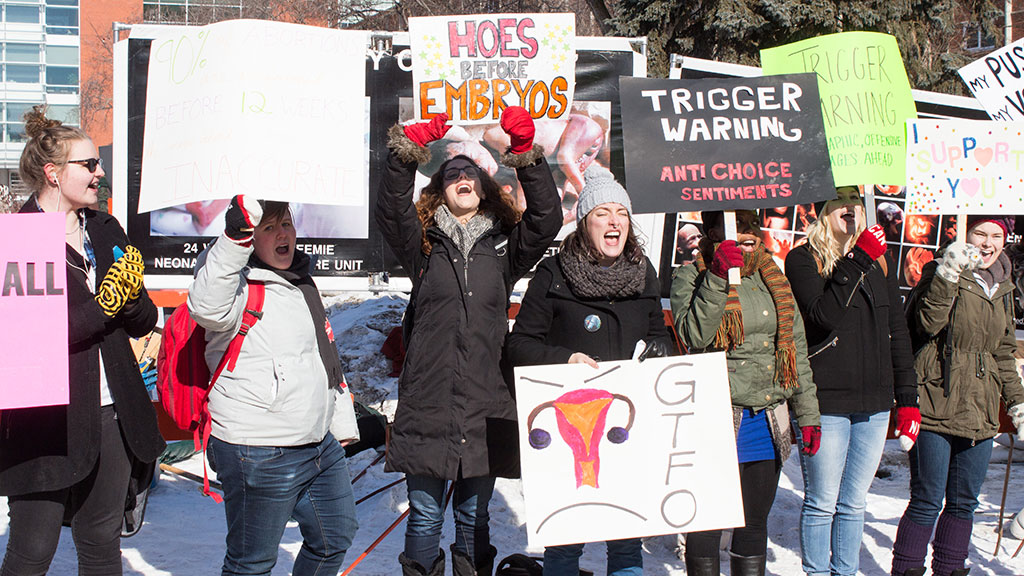 In an online Gateway article published Feb. 23, a member of the student group UAlberta Pro-Life argued "being uncomfortable with the way someone puts forward an argument, disliking a certain intellectual position, or even hating the people who are trying to advance that position are not good reasons to silence an intellectual opponent."
The issue with this statement is that the author assumes they have the right to make others feel uncomfortable. He feels his group has the right to shock and shame those who have made a very personal decision his group happens to disagree with. For anyone who had the misfortune of witnessing the display last year, UAlberta Pro-Life covers Quad in large posters of stillborn births and bloody fetuses. There are no signs of warning, and the brochures they hand out are false advertisements aimed to force even more graphic images on unsuspecting individuals.
It is not an academic discussion. An academic discussion on abortion is like what took place between philosophy professor Howard Nye and Jojo Ruba from the Centre for Bioethical Reform, also on Feb. 25. People actually had the choice to attend, and any graphic images or discussion would come with a warning, a basic safety one would expect on a university campus. What UAlberta Pro-Life engages in can only be defined as bullying. The only other group known of who purposely use shame and shock to get a viewpoint across is the Westboro Baptist Church, an organization not even allowed into Canada due to its tactics.
As it stands, UAlberta Pro-Life should not have the ability to pay any amount of money to put on a graphic display in the middle of campus' most public space unless they put it in a tent. It is a campus area frequented by children, students, and folks on the way to work.
Would the university allow displays of pornography or violence in the middle of Quad? No, they would not, because there would be many people who wouldn't want to see those images. Some simply out of taste, others because they're being exposed to an image that can bring up memories of past trauma.
What is the most angering is that UAlberta Pro-Life will not even consider putting its graphic display somewhere less public. They won't consider the rights of others over their assumed right to cause harm. And as for the $17,500 they are publicly calling a "fee on free speech," it is a fee any other student group would have to pay. When any student group holds an event on campus that the University feels requires security, they make the group pay a security fee.
Want to throw a party? You need to hire security. Want to use university or Students' Union space? Better have a damage deposit available. It's unfortunate, but a part of planning events any campus group leader knows all too well. Want to hold a two-day event as UAlberta Pro-Life requested? Well, understandably, security costs will rise. No one is taking away the group's free speech, they're simply being told to follow the same rules as everyone else.
In a nutshell, UAlberta Pro-Life is asking for the right to side step the same requirements any other student group would need to go through, in order to host an event that places graphic imagery in the middle of campus to purposely shame folks into its viewpoints. They can talk about wanting to "have a discussion" all they want, but they know as well as anyone that you do not start an academic conversation by using shock and shame. UAlberta Pro-Life wants the university to foster academic conversations and difficult discussions, but UAlberta Pro-Life needs to start by actually acting like academics first.