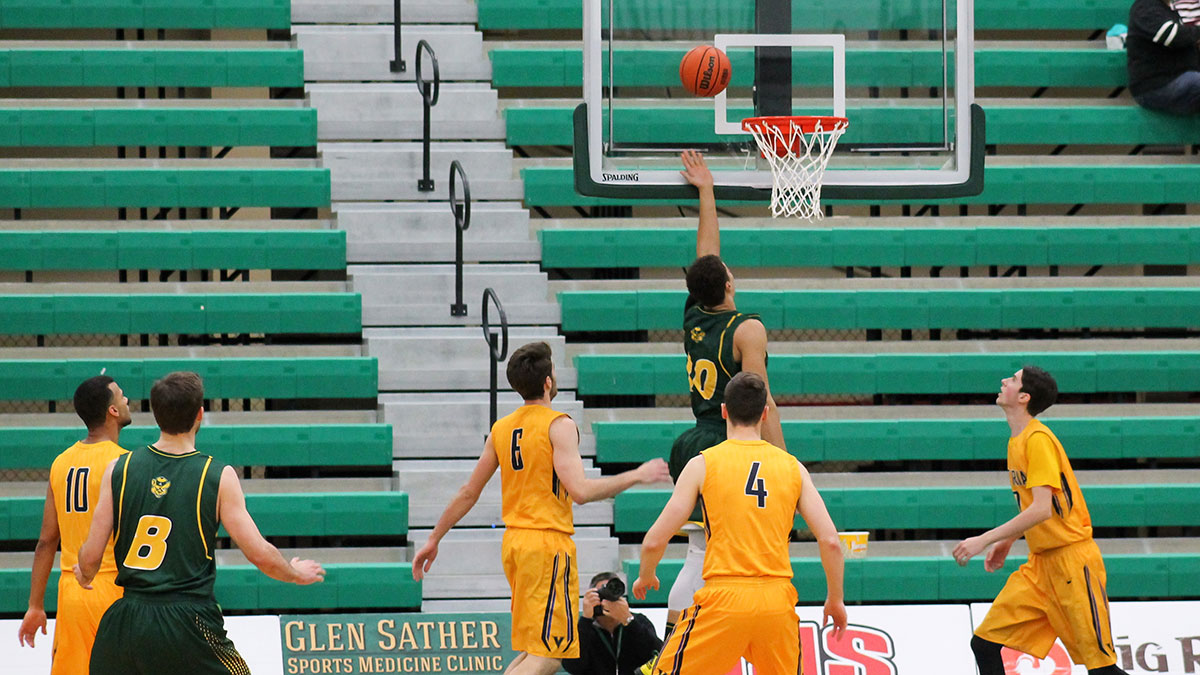 Bears Basketball
Bears basketball earned an important pair of wins over the weekend, sweeping the Trinity Western Spartans and pulling their record above .500 for the season.
The green and gold used a strong second quarter performance to give themselves a win on Friday night, outscoring the Spartans 30-12, and holding their ground after that to emerge with a 78-58 victory. Mamadou Gueye led the Bears in scoring, pouring in 28 points to go along with eight rebounds. Brody Clarke provided some solid secondary scoring, chipping in 17 points in 18 minutes.
Saturday night saw another strong performance from the Bears, as they rolled to an 83-60 victory, once again led by Gueye, who scored 27 points while pulling down seven boards. Clarke once again provided some solid scoring, with 16 points on the night.
The sweep moves the Bears to 9-8 on the year, and puts them two games ahead of the Victoria Vikes for the final playoff spot in the Pioneer Division with three games left in the season. A matchup with the Saskatchewan Huskies looms next weekend, as the Bears look to cement a playoff spot for themselves. — Zach Borutski
Pandas Hockey
Pandas hockey squandered a chance to gain ground on the Saskatchewan Huskies this past weekend, splitting their two games on Friday and Saturday.
The green and gold lost a tough game on Friday by a score of 2-1, after conceding two quick goals at the end of the second period. Deanna Morin gave her team a 1-0 lead 13 minutes into the middle frame, but the Pandas couldn't hold on, conceding two late goals, and went into the third trailing 2-1. Despite outshooting the Cougars 13-7 in the final frame, the Pandas couldn't find an equalizer.
The Pandas managed to return the favour on Saturday night however, winning a 2-1 game of their own, this time in double overtime. Lindsey Cunningham opened the scoring for the Pandas late in the first, and they managed to hold until the 19:56 mark of the final period, when Julia Flinton was finally able to bury an equalizer for the Cougars.
There was a happy ending for the Pandas on this night however, as Natasha Steblin fired a shot through a crowd early in the second overtime to send her team home with a split.
The Pandas currently sit third in Canada West, but can still finish first if they sweep Mount Royal this upcoming weekend and if both UBC and Regina lose their remaining two games. — Zach Borutski