News
Cool beans: creating vegan gelato with fermented legumes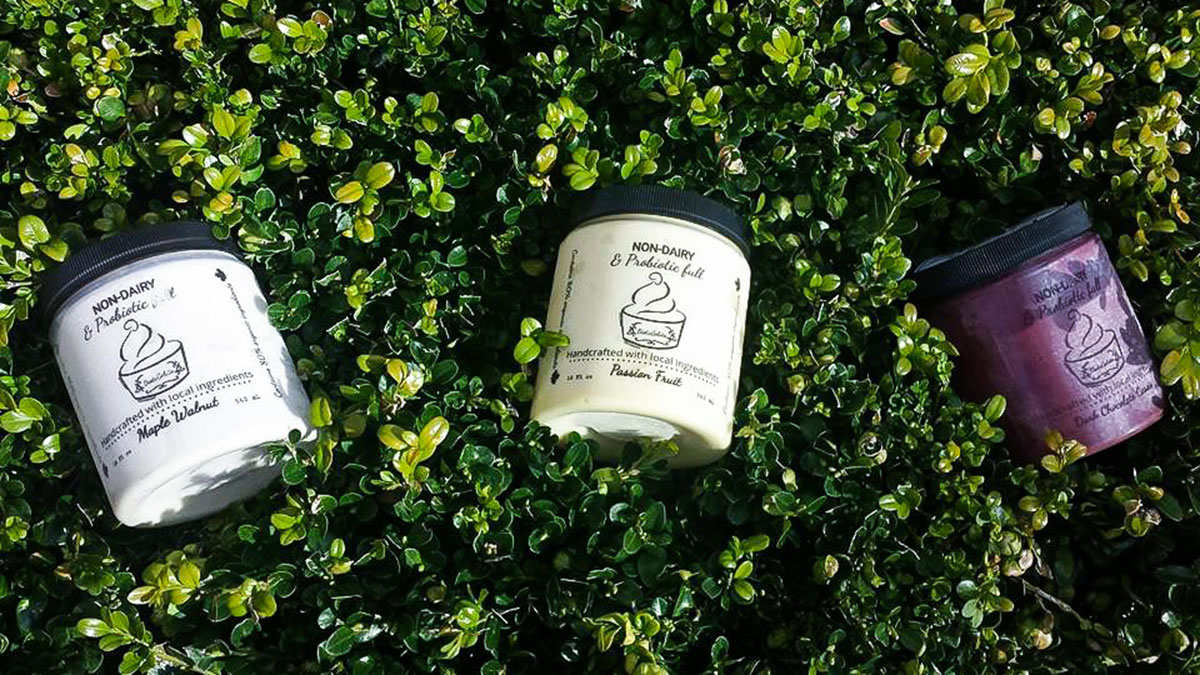 Three U of A students are taking the bean to new heights by fermenting it and flavouring it into a new vegan gelato called BiotaGelata.
Nutrition and Food Science students Austen Neil, Chandre Van De Merwe and Nicolle Mah placed second with their bean gelato in Mission ImPULSEible, a national product development competition. Held in Vancouver on Feb. 21 and 22, the competition encouraged students from universities across Canada to use "pulses" — beans, lentils and peas — to create innovative food products. Neil, Van De Merwe and Mah were the only entrants from the University of Alberta.
BiotaGelata comes in four flavours: maple walnut, dark chocolate, cassis and passion fruit.
To create BiotaGelata, the students fermented white beans and kidney beans, which both contain a high starch content. The fermentation breaks down the compounds in the beans, creating a "milky" yogurt-like base, Mah said.
Before taking on the project, the students researched similar dairy-free and vegan food items in the market and found a demand for allergy-conscious food items, a target market that the students said they hope to direct their product towards.
The bean gelato contains less sugar than other dairy free items, that often use soy as a base, with raw kidney beans containing 2.2 grams of sugar per 100 grams versus 7 grams per 100 grams for raw soybeans. It also contains zero fat as well as high plant protein content, which fulfills a recent consumer trend towards dairy and soy alternatives.
Chandre Van De Merwe said that the probiotics in the gelato also provide an added health measure.
"These probiotics are not just bacteria that are good for your gut, they are also health implications," Van De Merwe said. "(Consumers) look for these fermented products because it's a healthy alternative to dairy yogurt."
Aside from feedback and consumer preference, the students had other incentives for using pulses to make their gelato, such as the cost, Van De Merwe said.
"(Beans) are cheap and I don't think people realize you can use a little bean and make anything out of it," she said.
Aside from their inexpensive value, the students used beans that support Alberta's economy and local farmers — a perk that Austen Neil said she enjoys.
"I think the coolest part is we can actually use Alberta-grown beans instead if having to outsource," Neil said.
Nicolle Mah said they have received positive responses from those who have tried BiotaGelata through competition and social media. Consumers are eager to buy and wonder when the gelato will be on the market, Mah said. Despite this, the students are focused on university more than product development. With the bean gelato still in the prototype phase, they have not decided when or where it will be available.
The BiotaGelata team said they hope to create a brand based off their product in the future and sell it out of whole food markets such as Planet Organic. They've considered expanding into ice cream sandwiches and popsicles as well.
"Beans are not just a savoury dish that you eat or it's not just for chili, it's not just for salad, you can use them in a variety of ways," Van De Merwe said.