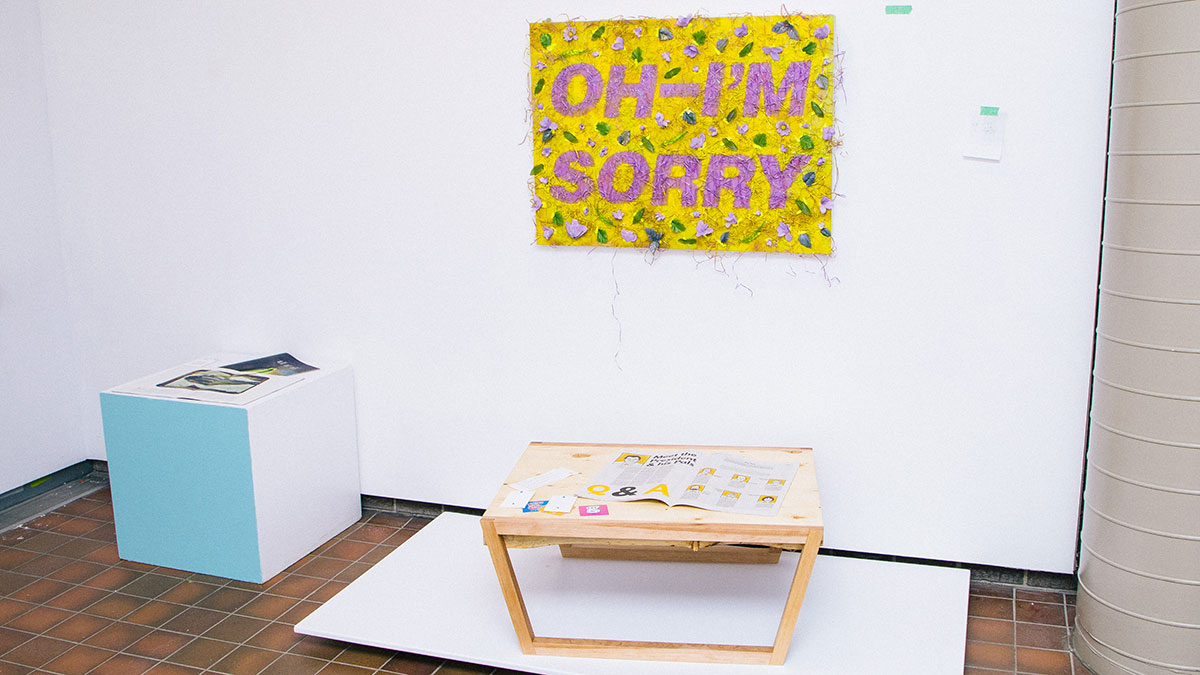 Common Ground
Opening reception Thursday, March 31 at 7 p.m. Runs until Saturday, April 9
FAB Gallery
Free
With each project, students in the Bachelor of Design program sacrifice part of themselves as they face frequent and meticulous critique from their peers and their professors throughout their time in the program. This constant stream of work that the students have faced over their years in school will culminate this year at their annual graduation show.
The theme for this year's exhibit is "Common Ground" which is as multi-faceted of a theme as the students it intends to represent.
Giselle Boehm, the graduate who is responsible for External Communications of this year's show wanted to choose a theme that all disciplines participating in the show could relate to.
"We want the idea of 'Common Ground' to communicate this idea that when all of these disciplines come together they are strongest together as a single idea," Boehm says.
Adaire Beatty, this year's Visual Communication Design (VCD) Grad Chair, adds that "Common Ground" also represents graduating and being on common ground with industry professionals, and now having the tools necessary to take the next step into a career.
At its base level, the theme of "Common Ground" is achieved through Visual Communication Design (VCD) and Industrial Design (ID) sharing a gallery space during their exhibit. "Common Ground" also represents the collaborative effort between both disciplines to create the aesthetic of the show, from the website to the plinths that will be used to display this year's submissions.
"I think a lot of the time it feels separate for us (ID and VCD) cause we are physically separated on campus … which we always find really frustrating because I think there would be a lot more opportunity for collaboration and things like that if we were physically closer together as well," Beatty says.
This collaboration between VCD and ID is especially demonstrated by Jon Thompson (this years ID Grad Chair) and Adaire Beatty, as one of Beatty's submissions will be displayed on top of Thompson's gorgeous "Log Table" (which simultaneously appears well-refined, yet undisrupted and natural) quite literally sharing "Common Ground".
In addition to collaboration within the U of A's community of designers, the theme of "Common Ground" lends itself to the journey of personal discovery that design students face in acquiring their degree.
Boehm has found that the creative process, regardless of medium, is ultimately the same across the board. Whether it's oil painting, music or creating vectors Boehm feels that the medium is just a toolkit that is applied to the process of creation and concept development.
"Each of us are a Printmaker and a Painter and a whole bunch of other disciplines at the same time as being a designer and so I think, there's also this idea of finding common ground within the self, and trying to sum that up into a design project," says Boehm, who is very modestly a passionate oil painter and musician in her personal life.
Sharing similar sentiments, Beatty describes that accepting that she was both an artist and a designer was an integral part in realizing that the differences between art and design are found in medium and not in process.
"You really have to understand you and your process and what you're passionate about and once you figure that out it just clicks and you can make work that is exactly what you want it to be," Beatty says.
This year's exhibit houses an extremely diverse set of submissions including: Joyce Zhou's beautifully simplistic redesigns of William Golding books, Julie Christenson's minimalistic shoe display system entitled "Sko," and Ryan Wayne's "Monster Alphabet" which is a collection of wonderfully animated letters in the form of stickers and magnets. "Common Ground" certainly exemplifies the broad reach of design and just how much designers are capable of changing the way we perceive our world. It is clear that designers are destined to constantly face new challenges, as Thompson describes the realization "that nothing is ever really done."