Features
Feature: Edmonton's Forgotten Epidemic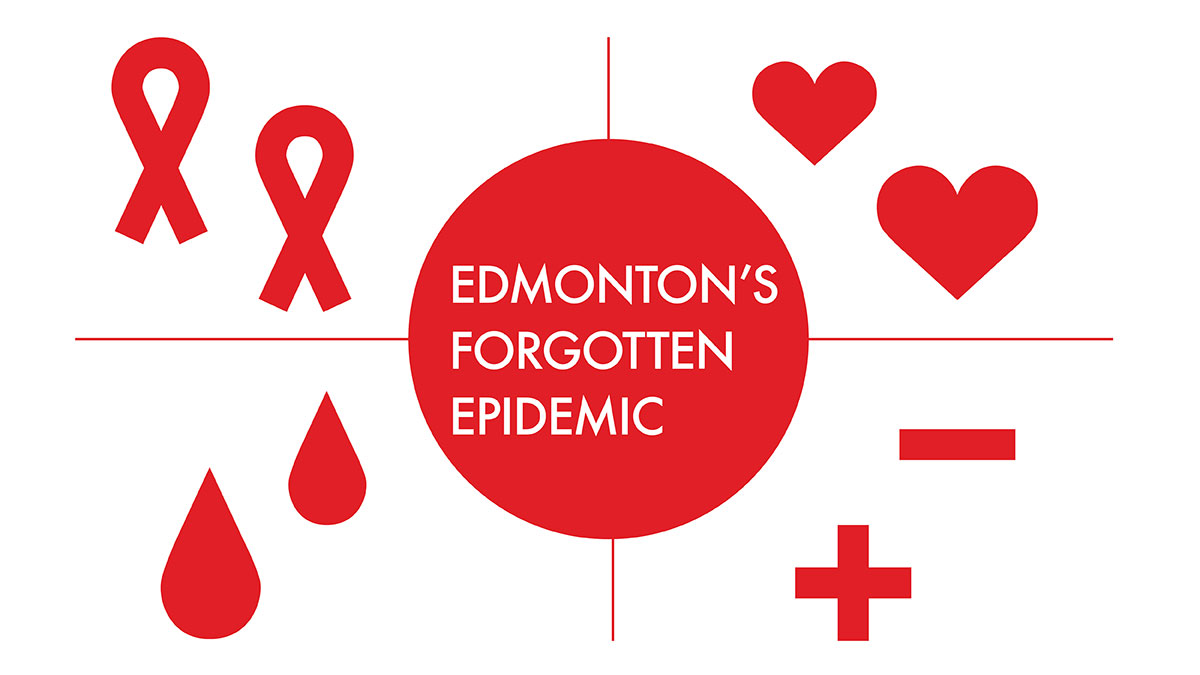 The disease was called "gay-related immune deficiency" back then, or GRID for short. In the summer of 1984, the gay and lesbian community of Edmonton was still safe — AIDS was far away, in places like New York and California. When Michael Phair would meet up with others in the community after the day's work, they would kind of joke about it.
"We were thinking it would never get here," he says. "I used to say it's too cold."
There had been a lot of good news that year: gas was 40 cents per litre, and the Oilers had won the Stanley Cup. On Canada Day, the good luck streak ended; Phair received the news. An Edmonton man, Ross Armstrong, was diagnosed with AIDS. He would be the first of hundreds.
***
Before the AIDS pandemic hit Edmonton, the gay and lesbian community was said to be relatively quiet. When Phair arrived in Edmonton in 1980, there were only a couple gay bars. There were a few advocacy groups as well, called GALA (the Gay and Lesbian Awareness committee), and the predecessor of the Pride Centre, the Gay Alliance Toward Equality, which provided social support services and access to trained peer counsellors.
"I used to tease that there was one-and-a-half persons that were out," Phair says. "One was the guy who owned one of the bars, and I was the kind-of 'half-person.'"
Half because Phair was working with Alberta Education, so he was a little, but not a great deal out. There was an attitude among the gay and lesbian community that everything would be okay if they stayed quiet and under the radar, Phair says. Most of the community's advocacy efforts, through GALA, went towards including sexual orientation as a basis for discrimination under the Alberta Human
Rights Act.
Staying under the radar only worked until 1981. Turns out, the city police's Morality Control Unit had been investigating a popular bathhouse called Pisces Spa. On May 21, 40 city police, six RCMP officers and two crown attorneys raided the bath house, and arrested more than 60 men. Those arrested were photographed and videotaped. The men were questioned about their sexual activity without lawyers, and a membership list of 2000 names was seized.
"They were arrested and charged. There were reports of a couple of suicides, but I can't verify that," Phair says. "There were a couple that lost their jobs as well. There was a lot of stuff going on in the community. Shortly after that was the epidemic of AIDS."
While the Edmonton gay and lesbian community was dealing with court injustice, the community in Los Angeles were dealing with a cluster of rare infections in five men. These marked the first cases of the AIDS pandemic that would spread to Edmonton a few years later. Phair moved from Edmonton to San Francisco in 1983 to study for his Masters', where AIDS was prevalent.
"(There were) hundreds, thousands with AIDS. People were dying all the time," Phair says.
Every gay and lesbian advocacy group in San Francisco fundraised and supported affected individuals, Phair says. Living in the midst of AIDS gave Phair an awakening, and he returned to Edmonton a year later with a cautionary outlook. He knew it was coming.
The first man diagnosed with AIDS was named Ross Armstrong. He was in his 30s, about Phair's age. He was one of the 64 AIDS cases reported to the Public Health Agency of Canada in 1984 — a minority case. In 2014, there have been a total of 23,535 cases across the country.
Upon hearing the news of Armstrong's diagnosis, Phair gathered with five others around his kitchen table to devise a plan. His co-organizers all took different work and advocacy backgrounds to the table, with work coming in different provincial departments. Edmonton didn't exactly have a specific system for dealing with AIDS patients at the time, but the people gathered around the table were ready to make one — they all knew how to navigate the provincial system and press for policy change. The AIDS Network of Edmonton was founded that night, and became very busy very fast.
"What (the AIDS Network) really meant among the gay community that while AIDS is here, we better do something about it," Phair says.
The provincial government was hesitant about looking at AIDS, both in terms of education and treatment.  The gay and lesbian community knew they were they the only ones who would, Phair says. The group organized fundraisers, events, and started an information and support phone line. As more people were moved into hospital care, the volunteers followed, helping with cleaning and feeding. The founding members all worked full-time. Phair seemed to be perpetually awake.
"For many of us who were younger at the time, it took a different role of caring for, supporting, buying food for people and helping them get to things. Most of us in our 20s to 40s were doing that," Phair says. "With it came the strength. Others in society were saying bad things or whatever, but if gave us the strength because here we were dealing with people who were dying."
In the first few years or so, there was a hope for a silver bullet — there had to be some sort of cure, or vaccine, or something that would help. But AIDS hit hard.
"Everybody died," Phair says. "Everybody."
***
There were many sad moments, but there were definitely times at the AIDS Network when work was fun, which is part of what made it successful. Fundraisers were engaging — like the AIDS Network's performance of Alice in Wonderland in Victoria Park. Phair went as the Queen of Hearts, and ("Oh God," Phair says,) Armstrong went as Alice in drag, completely surprising everyone in a torn dress and an over-the-top appearance. The performance went all afternoon, and spectators would watch with cucumber sandwiches in hand. The AIDS Network made about $500 that day, Phair says. At the time, that was a lot.
Money from fundraising went into producing informational materials, like pamphlets and overheads for slides. The AIDS Network couldn't rely on the province to distribute sexual health information about AIDS on its own, so Phair reached out to Alberta's head of sexually transmitted diseases at the time, Dr. Barbara Romanowski.
"In that time, when you chose STDs as a specialty, you didn't expect people to die," Romanowski says.
AIDS (acquired immune deficiency syndrome) is a condition caused by a virus called human immunodeficiency virus, or HIV. The virus is transmitted through bodily fluids, which could mean semen, blood, vaginal fluids, anal fluids and breast milk. It mainly affects a person's immune response, causing extreme vulnerability to rare infections, like infections of the brain.
Romanowski received her first HIV patient a few months after Armstrong's diagnosis. He was a young individual, in his 20s, who had been living and was diagnosed outside of Edmonton. There were no good lab tests to diagnose anyone at the time, which resulted in people going around without knowing they had the virus for a long time.
Romanowski had spent a year on sabbatical in London to learn more about AIDS, and returned to Edmonton in 1983 to run the provincial STI program (which was called the social hygiene program at the time.) London, like San Francisco, had also incurred many deaths due to the disease. As a witness to the effects of AIDS, Romanowski was keen on reducing transmission. Colleagues would make fun of her – she didn't care to remember the jokes.
More people in Edmonton became infected, and Romanowski's patient list grew, but telling them the news stayed hard. Very, very hard.
"As soon as you say 'you're HIV positive,' people couldn't hear anymore," Romanowski said. "That first visit was relatively short, just because they can't absorb anything."
The first visit included the news and the question of whether the diagnosed had family and friends, and Romanowski would then answer any questions. Usually, that was "Am I going to die?" In 1985, Romanowski couldn't answer with a "yes" — she couldn't lie to her patients, she says. Only in the second and third visits Romanowski would give them more detailed information.
AIDS patients had to be moved into hospitals as their conditions worsened, where many of them were treated with fear by hospital staff, who would often enter rooms in full-body coverings. Patients were at risk for depression, anxiety, and even suicide (you had to be bright enough to intervene before suicide occurred, Romanowski says.) Some of their rooms weren't cleaned very often, and some weren't fed. Volunteers with the AIDS Network would help patients out in hospitals where care wasn't exactly optimal. Discrimination under the Alberta Human Rights Act could not be claimed as sexual orientation wasn't included. If Romanowski visited a distressed patient and left them with a semi-smile, she would count it as a success.
***
In the 80s, there really wasn't a lot of information out there about transmission. Even the word "AIDS" was treated with fear and aversion. It took about a year and a half for the AIDS Network of Edmonton to find an office space to rent. Landlords would turn the group away.
They were "tainted."
When the AIDS Network of Edmonton finally did find an office space, it was named after Armstrong, who cut through the opening day ribbon. At about a year and a half into being diagnosed, Armstrong was feeling weaker. Not long afterwards, he returned to Ontario to spend his time with his sister and her family. There had been times where Armstrong's health would decline severely for about a week, but it was clear after the move he wasn't going to
bounce back.
Phair spoke with Armstrong on the phone a few days before he passed away and just made small talk — Armstrong was having a hard time even hearing. On Canada Day of 1986, Armstrong succumbed to AIDS. In Edmonton, "It's Raining Men" played at the community hall ceremony where the community came to celebrate Armstrong's life and tell stories of fond memories.
In the first 10 years of the AIDS epidemic, Romanowski would go to all of her patients' funerals. By the 90s, she had attended "probably between 80 and 100." As an act of self-preservation, she stopped attending the funerals. They were personally taxing.
Funeral organization could be difficult because many homes would refuse to take deceased AIDS patients. In the first half year of AIDS, Phair organized about three or four funerals. That turned into about one a month, and then three every month. For some of the funerals, the family hadn't been aware their 22-year-old child was gay and had AIDS.
If we're having trouble talking about safe sex now, it was even worse in the 80s. Sex was bad, Phair says, and gay sex was even worse. The AIDS Network would deliver classroom talks (which were usually met with a bit of resistance at first, Phair says.) He would store boxes of donated condoms at his house, and would give them out at gay bars.
"We'd always have fun with that," Phair says. "We'd say, 'Oh, you need a couple of them, oh this won't be big enough for you.'"
All of the sudden, men who were "a little more hefty" became conventionally attractive — weight loss was associated with the disease. Before the onset of AIDS, thin men were more likely to be considered attractive. Monogamy became more conventional too; a gay man having sex with multiple partners started to be considered wrong, Phair says.
Life-prolonging treatment for AIDS became available in the 1990s, and infection rates started to plateau. The disease was no longer a death sentence, says Romanowski. But with that, attitudes towards safe sex have become more lenient.
"The epidemic changed so we were able to control the infection," Romanowski says. "People were living healthy lives. But almost the same time as that happened, the perception in the at-risk community was 'Oh I don't need to worry so much.'"
The first drug became available for HIV/AIDS in the late 80s: it was called zydophedine, or AZT. The antiretroviral was originally given in high doses, causing nausea and low red blood cell count. Romanowski would prescribe the medication and an alarm clock which would remind patients to take their dose every four hours, even in the middle of the night. In the 90s, new drugs called protease inhibitors became available.
There are basic practices people can take to minimize risk of STI transmission, but they're not too popular. It was like that at the University of Alberta too – a study conducte from 1995 to 1997 showed that only about ten per cent of students answered "yes" to always wearing a condom during sex. Having worked with sexually transmitted infections for 30 years, Romanowski is jaded when it comes to condom use. It's so simple, she says, they're even given out for free. Yet Alberta still sees some of the lowest condom use in
all of Canada.
Rates of HIV infection are now rising in Indigenous communities — though these people make up 3.4 per cent of the Canadian population, they accounted for 12.5 per cent of new cases in 2008. And current rates of gonorrhea and syphilis infection are highest in the 20 to 24 age range. And human papillomavirus, or HPV, remains incurable and causes cancer in one of 150 Canadian women. We're no longer in an HIV/AIDS epidemic, but STIs are still a prominent, seemingly-invisible concern.
***
The AIDS Network is now known as HIV Edmonton, and lives on as a charity that supports individuals living with the virus. Phair has since moved on, and is the current chair of the U of A's Board of Governors.
A couple years ago, Phair was teaching a class about LGBT history, where students would be surprised to hear that same-sex marriage only became legal in Canada in 2005. Phair says there isn't a generational knowledge gap within the LGBT community. The separation of knowledge comes from the vast change within the community that's happened in such a short time. He doesn't think the AIDS epidemic will be forgotten. There just has to be people working at it.
"I think one of the lessons from history is that it's possible to reverse what's been achieved," Phair says. "It's important then to keep doing and keep working and trying to ensure that we keep moving forward."
Romanowski is more cynical. For her, the problem will be solved when condom use is at 100 per cent.
"I don't have much hope that will ever happen," Romanowski says. "We've tried for 30 years and we're still unsuccessful. Maybe the next generation will be more successful."