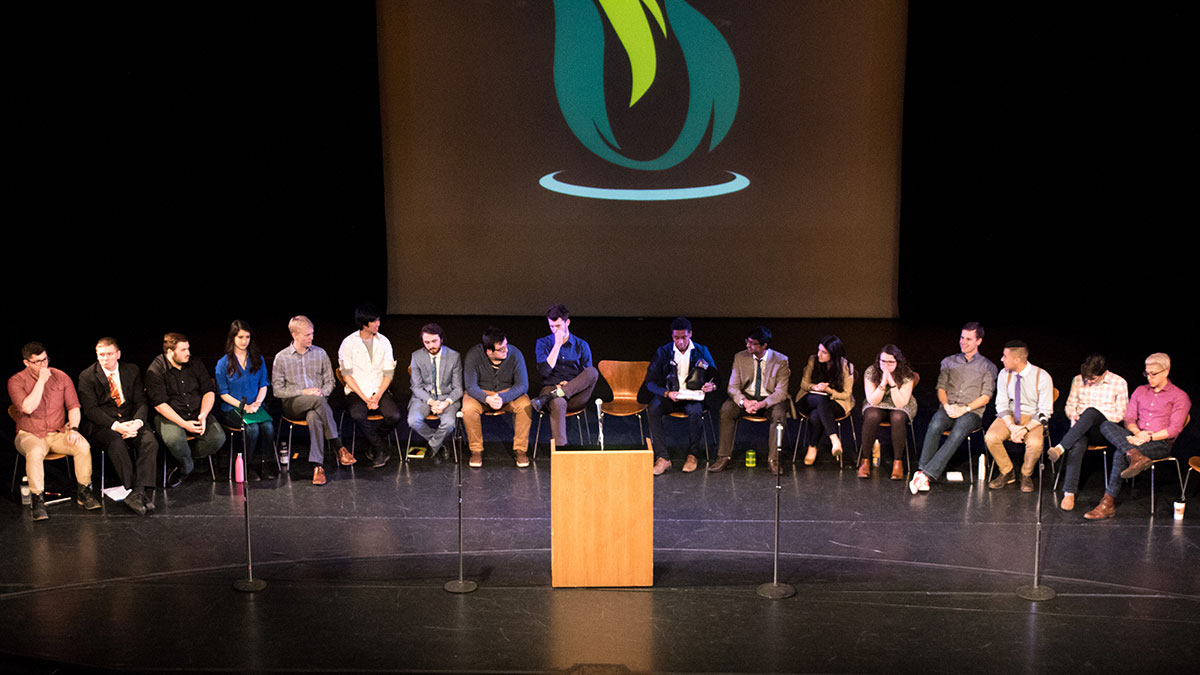 Presidential punch-out
Diplomacy prevailed at the Myer Horowitz forum, where all Students' Union candidates gathered to answer concerns from future constituents regarding key topics such as the Residential Tenancies Act, student group discipline and the future of graduate jobs.
Presidential candidates Fahim Rahman, Dylan Hanwell and Cody Bondarchuk largely focused on student group discipline, which they all hope to bring under the SU rather than the university. The three have worked together all year in the roles of VP (Academic), VP (External) and VP (Operations and Finance), respectively.
Each presented their platform, highlighting what they thought should make them the next leader of the SU. Bondarchuk said he wants tuition to be lowered, as grants run the risk of being cut by the government when economy is weak. Hanwell also said he would work to lower tuition, and said that his flexibility in representing the university as VP (External) would make him best for the job.
"We all have great platforms," Hanwell said. "But at the end of the day, sometimes you don't have a choice (in working with the government). You need to adapt … This past year was one of the most turbulent years the VP (Ex) has ever seen."
Rahman said he will work towards increasing student financial aid and centralizing experiential learning opportunities for students.
Presidential candidates were asked what the university's top priority should be. Bondarchuk said the priority right now is for the university to build capacity and improve its ranking and research, but he would work to make students the most important part of the university.
"The university cares about students, but we care a bit more," Bondarchuk said.
Rahman said it's most important for the university to prepare students for what they'll be doing after graduation — working. He admired the University of British Columbia's community learning system and hopes that a similar system could be implemented at the U of A.
Hanwell said a large priority for the university is residences — a new Lister tower has been approved, first year students are now guaranteed a place in residence and the university is working towards housing a quarter of its students in residence. The SU will need to be prepared for the expansion, Hanwell said.
"If we don't set a solid foundation for what the rights of residents are, for how residence associations interact, then we're in for a world of hurt in the future," Hanwell said.
Regarding student groups, the presidential candidates were asked whether the responsibility of discipline should be moved under the SU given that students may trust the university more.
Hanwell and Bondarchuk both said the university has its own reputation that it tends to take into account in decision-making. The university wants to make sure "they're covering their own asses," Bondarchuk said. Because of that, punishment would likely be more fair under the SU, he said.
Hanwell recalled the suspension of the Lister Hall Students' Association and the Engineering Students' Society's GEER week, which will both end in 2017. The SU would be different from the university in conducting restorative justice instead of punitive justice, he said.
"The university has an approach of shutting (unruly student groups) down as soon as possible," he said.
Rahman foresaw a 50-50 split of judicial responsibility with the Dean of Students, where justice would be administered with "both voices on the table." That way the Dean of Students could "reel the SU back in" if they were acting too radical. Having both powers involved in discipline would be better than simply sanctioning a student group for two years, Rahman said.
The candidates were asked what their disciplinary approach to UAlberta Pro-Life's displaying on campus would be, as the group was recently told it would have to pay $17,500 to the university in security costs if it wished to display posters on campus. Candidates responded that that specific scenario was not a question of discipline, but of security.
Hanwell said the situation wouldn't have been handled much differently, but that any legislation that was passed would have to work for the U of A's 30,000 undergraduate students. Bondarchuk said he would have looked for a compromise in security — in this situation, UAlberta Pro-Life was suggested to display in a different area that would lower security needs. That kind of compromise would be more ideal than having the group go "full steam ahead legally," Bondarchuk said. Rahman said he would have looked at whether UAlberta Pro-Life was breaking the law by conducting hate speech; if they weren't, he would have suggested they hold a debate.
"As long as they're obeying the law, they have the right to present," Rahman said.
Externals engage with student body
Affordability, the tuition freeze and student residence were common themes throughout the VP (External) race at Myer Horowitz forum, where candidates Patrick Cajina, Reed Larsen and Mike Sandare presented their views.
The candidates were questioned about their respective experiences and why they think they are the most qualified for the VP (Ex) position. Cajina cited his four-time election to representative councils. Sandare said his experience negotiating contracts gives him superior experience, while Larsen would rely on "being comfortable talking with almost anyone."
All three candidates agreed that tuition costs are too high for students and that measures should be taken to make university more affordable. Cajina focused on financial aid, in particular providing that aid to students ahead of time rather than retroactively.
"We do need to talk about reducing tuition, but we can't forget the financial aid that will reduce the barriers for students to enter post-sec," Cajina said.
Sandare would push for a grant system similar to that of other provinces, and said that high tuition is a "symptom of the larger problem of improperly funded universities." Larsen noted that he was the only candidate who didn't specifically include lowering tuition in his platform. Larsen would rather focus on eliminating loopholes in legislation that the university can use to increase student costs.
The candidates each also commented specifically on the tuition freeze expiring in 2017. Sandare would like to prioritize maintaining the freeze for domestic students and extend it to international students next year.
"This is going beyond just tuition and tackling education as a whole," Sandare said.
Larsen and Cajina saw the tuition freeze as an unsustainable solution. Larsen said post-secondary needs regulation that will keep tuition and non-mandatory instructional fees from rising in the future.
"The first step is knowing what we're going to have to pay every year," Larsen said.
Cajina also said tuition is "way too high" and would aim to involve the federal government — a post-secondary review and a tuition freeze brings students the opportunity to close loopholes. He would work on reducing tuition and increasing student financial aid.
The candidates were asked questions about student residence representation and the effect of including campus residences under the Residential Tenancy Act, which would grant additional rights to students in their interactions with Residence Services. Cajina's approach would be to discuss different policies for different residences with the university, citing recent additional alcohol regulation in Lister as something that was damaging to residence community. He also said the Act would have to apply retroactively to those already in residence with active contracts.
Sandare and Larsen both aim to include all residences in the Act. If the province mediated between the university and its tenants, both sides would benefit, Larsen said.
"(The Act) gives students the ability to fight back, and have their rights ingrained, but it also does the same for the university," Larsen said.
Student Life hopefuls make one last push
With the last opportunity for candidates to voice their opinions in a public forum, the Vice-President (Student Life) race heated up on Monday afternoon.
Levi Flaman, Kevin Wang, Francesca El Ghossein and Jordan Simao's key talking points included mental health, residences and achievable goals.
A student on an eight-month waiting list for a psychiatrist appointment asked the VPSL candidates how they would advocate for mental health causes.
Flaman said he understood the questioner's situation, as he was in the same situation. He also emphasized that he would work with whatever funds went to mental health.
"(Eight-month wait times) are absolutely unacceptable," Flaman said. "(But) we're stuck doing the best with what we've got."
Simao said that every candidate on stage supported increased mental health funding, and that mental health advocacy should be "implied" and not a platform point. Instead, Simao focused on increasing systematic efficiency in providing those services.
"I want to create a collaborative working group by combining different (mental health) groups on campus," Simao said. "If money is not coming in, we need to be more efficient with things that happen."
El Ghossein said she would examine the structure of how mental health services are currently provided, and look to increase efficiencies and reduce waiting times through a central triage system.
Wang responded by saying that there was already a psychiatric nurse doing that triage, and that he would take free counselling to the SU website.
Residence affairs came up twice in question period, with VPSL candidates being asked how they would improve the SU's relationship with Residence Services, and how they would address representation in Lister Hall through the suspension of the Lister Hall Students' Association.
Simao said that it was key to "bang on the table, not on the door" when it came to residence services. He pledged to strengthen residence associations and amplify their voice on issues pertaining to where they live.
Wang said he would push for a better feedback mechanism with residence associations, "because we can't force res services to do anything." In addition, he said he would go to the Dean of Students to ensure voices were heard.
Flaman also said going straight to the Dean of Students office in a top-down approach would yield positive results.
"With Residence Services, they tend to be antagonistic," Flaman said. "With the new Dean of Students (to be named later this year), we get to show our side of the story."
El Ghossein said it was key to maintain a "respectful relationship without being complacent" with Residence Services.
Lastly, the candidates were asked which of their goals they were most likely to achieve.
El Ghossein said that since last year's VPSL Vivian Kwan spent 75 per cent of her time on residence affairs, she would ensure that residence fees are collected and that residence associations remain viable.
Flaman pointed to the U-Pass renewal as a time sensitive issue, and one that was relatively easy to achieve since it goes to referendum and renewal next year.
Wang said most of the points on his platform were achievable in the year he would spend in the office, but he couldn't promise big changes like those proposed to the residence structure.
Simao said he would take the university to task on its 49 recommendations of the Sexual Assault Review Violence Review Group, and said his platform too was focused on things achievable within the year.
Academics-at-arms
The VP (Academic) race opened with ideas for implementing change, starting with international students, who an audience member said are disproportionately charged with misconduct.
Candidates Marina Banister and Tom Patrick began with how they would serve international students with their higher rate of misconduct. Patrick said he doesn't directly address international student misconduct in his platform, but his solution would be to make sure the International Students Association would have tools for advocating for their constituents.
"They are the ones that speak with full force for international students." Patrick said.
Banister said she would take a more proactive approach in supporting international students, starting with explaining academic standards to students. The university should be more sympathetic to students who don't commit misconduct on purpose.
"(International students) are coming here because they want to have a better university experience, and we need to make sure we're setting them up for success," Banister said.
The VPA candidates were also asked what experience they would bring to the Council of Faculty Associations (COFA) and what they would do to benefit inter-faculty collaboration. Patrick cited his work on Students' Council and his work with COFA as an Engineering representative. Banister also sat on COFA as an Arts representative, and said she hopes to foster collaboration, rather than simply discussing differences between faculty needs.
Banister and Patrick were also questioned on their plans for tackling mental health. Banister said the role of the VP (Academic) should be prevention. Students would benefit from having more flexible options in their degrees, whether they're extended or accelerated. Right now, the university is offering "cookie-cutter degrees for multidisciplinary students," Banister said.
Patrick responded that the university already offers many options in degree flexibility. He said the solution to improving mental health lies with reducing textbook costs and not having to work with instructors that would rather be researching.
"It's really important to get students engaged and into the community that exists here, where you can get help," Patrick said.
Fighting for Finance
VP (Operations and Finance) candidates Taimur Malik, Hasan Birer and Robyn Paches tried to impress an audience member who seemed disillusioned with the performance of Students' Union businesses.
Last year, Dewey's and Undergrind collectively lost about $134,500 in revenue.
As one audience member pointed out, the SU's struggling businesses, which are partially bankrolled by the $84 students are required to pay each year, seem to have contributed to low voter turnout at SU elections in past years.
The comment stumped Birer, who could not formulate an answer. For Paches, the key to increasing involvement in the SU lies in creating "tangible and unique solutions," mentioning the possibility of using Dewey's as a collaborative space for student groups on campus. For Malik, battling apathy lies in ensuring students know what services they are paying for.
"SU businesses are losing money, but at the same time, you're losing students' money as well," he said. "Running an SU business and having it lose money means students don't appreciate that service."
Another audience member remained unconvinced, and asked whether the candidates would be open to external management consulting in order to help the SU balance its finances.
According to Malik, external consultation may be necessary to help SU's businesses reach their full potential, noting that "L'Express looks like some place where you get food poisoning right now." Paches agreed with Malik, adding that SU services would benefit from the help of individuals who are experts in their field.
"A lot of services in the SU are specialized … so we should have specialized people to help with these services," Paches said.
Birer, whose platform is built around external consultation, strongly supported bringing new businesses to campus.
"(The VP (Ops Fi)) is responsible for operating businesses on campus, but at the same time we can bring other businesses on campus, we can create a website and advertise them to create revenues," Birer said. "We can consult businesses on-campus and off-campus, and I think that would be good for students."
BoG solo battle
The audience paid sparse attention to the Undergraduate Board of Governors Representative's sole contender Colin Champagne during the Myer Horowitz forum.
Champagne reiterated his familiar message of the lack of awareness surrounding the BoG rep, and explained that the Board of Governors is important because it decides on tuition and rent increases.
"If students aren't aware of what's going on, decisions would be made without us having a say in it," Champagne said.
Champagne was asked about his plans on including students in the Board of Governors and meetings. Champagne said the current system where council acts as the intermediary between the BoG rep and students is flawed. Champagne proposed monthly town hall meetings with students and video blogs as avenues of communication.
Champagne was also asked what steps he'd take to tackle voter apathy with "a cocktail of solutions," and reiterated that he would use town halls to expand consultations beyond council.
"It's really a question of being pro-active," Champagne said. "Also, listening to the ideas of students."
Gateway to a DFU renewal
Despite confusion amongst some audience members, Beth Mansell, the Executive Director of The Gateway, attempted to dispel misperceptions of the newspaper's plebiscite at Monday's Myer Horowitz election forum.
This year, in accordance with Students' Union regulations on dedicated fee units (DFUs), The Gateway is running a mandatory plebiscite asking students whether they wish to continue paying the $3.39 DFU for fall and winter semesters to help finance the student newspaper's operations.
After a student asked over Twitter why the publication "deserves more funding" despite discontinuing weekly papers in the upcoming year, Mansell reiterated The Gateway is not requesting any additional support from students.
"Yes, our printing costs will decrease next year, but what we're hoping to do from the same resources … is put that money into more adaptive media," she said.
"We aren't asking for a fee increase or anything like that — we're just trying to encourage you to vote yes to paying the fee that you currently are."