Ice Pandas crash and burn against Bisons in Can West semis
Zach Borutski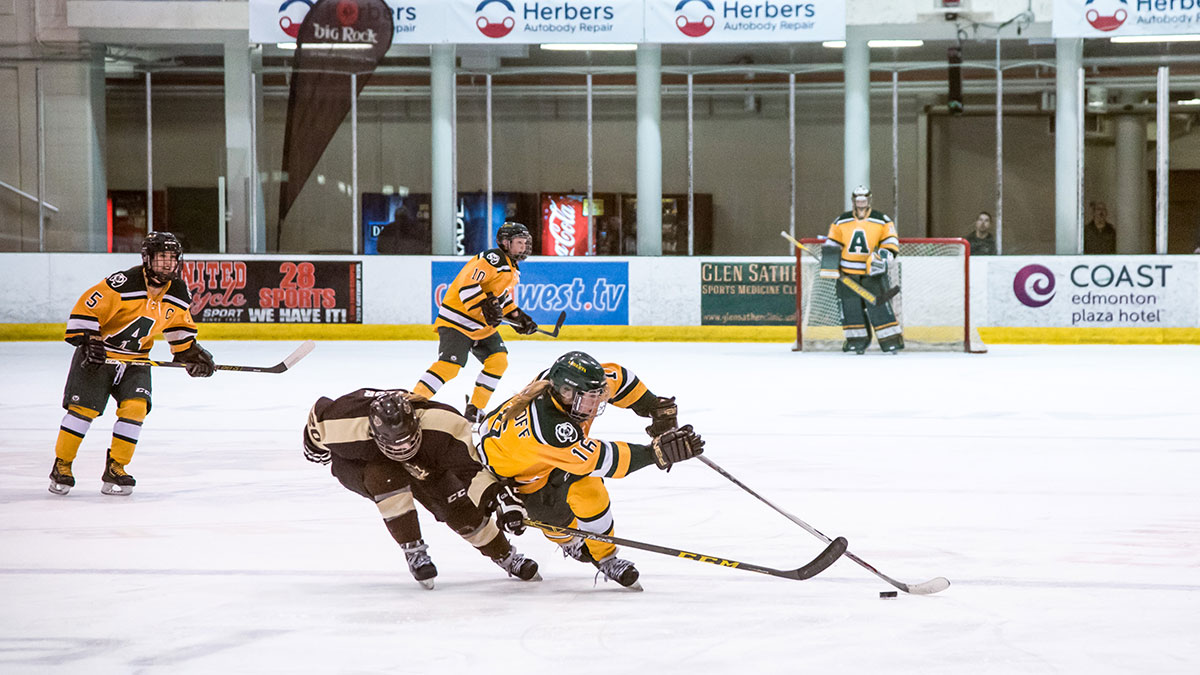 If the Manitoba Bisons women's hockey team was looking for vengeance, they certainly got it this past weekend. They were able to exercise their demons from last year's Canada West finals when the Pandas swept them, by winning a hard fought semifinals this past weekend.
The Bisons struck first in the series on Friday, winning 3-0 on the back of a strong performance from goaltender Amanda Schubert, who stopped all 25 shots directed her way for the shutout. The Pandas, however, were able to even the series on Saturday with a tightly contested 2-1 win.
This set up a winner-take-all matchup on Sunday afternoon. The Pandas looked to be in a good position early on to take the series as Megan Eady got the ball rolling for the green and gold just over six minutes into the first period, as her point shot took a bounce off a defender and found its way past Schubert, staking the Pandas to a 1-0 lead.
It wouldn't last long as the Bisons responded with two quick goals of their own. Kayleigh Weins and Karissa Kirkup both scored for the visitors before the first period ended, sending the Pandas into the locker room trailing 2-1.
After Cayle Dillion and Venla Hovi exchanged goals in the second period, the home team found themselves trailing 3-2 late in the third. Sasha Lutz wasn't ready to let her team go home just yet, as she was able to find the tying goal with only 13.9 seconds left on the clock, sending the game into overtime.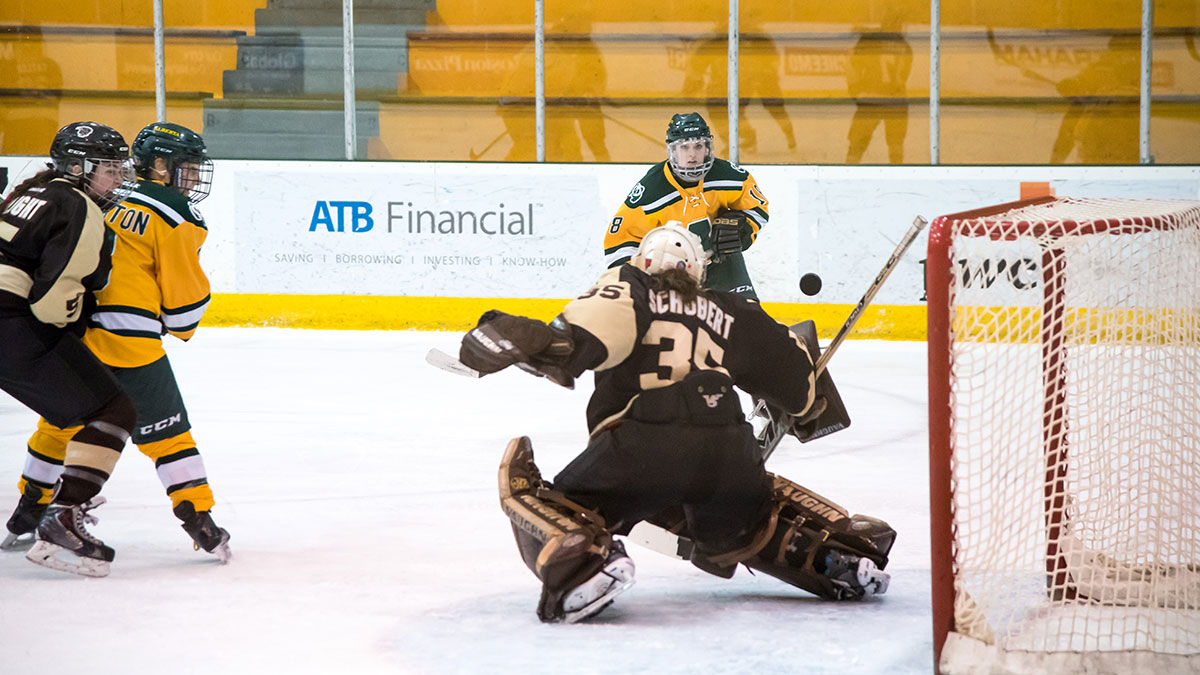 Unfortunately, the Pandas weren't able to pull any heroics out of their bag of tricks in overtime, as Alexandra Anderson scored for the Bisons on a power play just over four minutes into the extra frame, ending Alberta's bid for a second straight Canada West championship.
For Pandas head coach Howie Draper, the outcome of the series came down to one thing: preparedness.
"Ultimately, I think Manitoba was more prepared than we were," he said. "They were a team that had their back up against the wall a lot earlier than us, and they had to build that resolve earlier."
The series ran contrary to the two teams' matchups in the regular season, as this time, it was the Bisons dictating the pace of play, and smothering the Pandas defensively.
"From a defensive standpoint, Manitoba was able to outplay us, and we weren't able to do the same thing at the opposite end," Draper said. "There's a number of things we need to do better next year, such as how we can create more offence against a team that plays such a strong defensive system."
With the season now finished, the focus now shifts to preparation for next year. The Pandas will be getting significantly younger as a team, with six players graduating including defenceman Natasha Steblin, along with forwards Allison Campbell, Amy Helfrich, Lindsay Cunningham, Tess Houston, and Janelle Froehler, who also served as team captain this past season.
"Particularly on this weekend, we wanted to win it for the fifth-year players," Draper said. "We weren't able to do that, but it's the impact they've had on the players that will continue that's important."
Even though the Pandas are losing a large part of their veteran core, they still have some important pieces that will allow them to stay competitive next season. Star goalie Lindsay Post will be entering her fifth and final year of eligibility, while standout rookies Alex Poznikoff and Cayle Dillion will have a year of experience under their belts, and will look to fill the gap left by the departing fifth-years. Draper said he would try to turn the series loss into a learning experience for his younger players heading into next season.
"The lesson learned this year is that we've got to try harder to become more consistent next year," he said. "I don't know if we ever really got to the point this year where we were as consistent as we could've been."
While the Pandas are beginning their offseason, the Bisons will start their preparation for their Canada West finals matchup against the UBC Thunderbirds, set to take place this weekend in Vancouver.