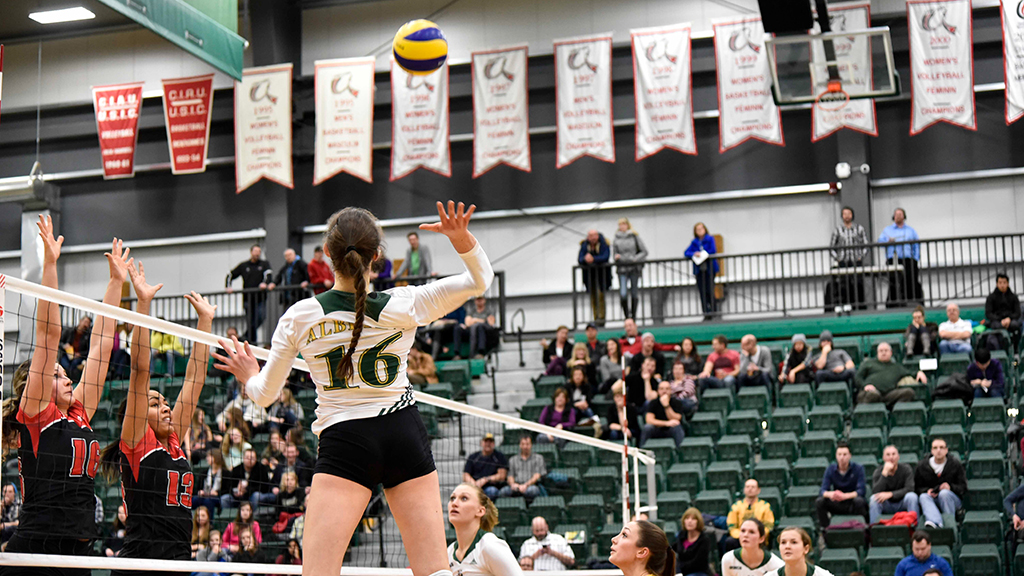 The 20-4 Pandas volleyball team will travel to Kelowna, B.C. this weekend to fight for the Canada West title.
Joining the Pandas in the Final Four will be the host UBC Okanagan Heat, the UBC Thunderbirds and the Trinity Western Spartans. The Pandas, who come in as the second seed, knocked off Mount Royal in their quarterfinal series last weekend. The Spartans downed the Thompson Rivers University Wolfpack, and UBC blew out the Brandon Bobcats.
All four of the Pandas' losses this season came against teams they will see this weekend, as they suffered two losses to UBCO, and UBC and Trinity Western each defeated them once. Despite this, head coach Laurie Eisler's team is coming in on a hot streak, and will look to bring that momentum to Kelowna this weekend.
In the semifinal match ups, look for UBCO to top UBC and move on to the final.
The match between Alberta and Trinity will be an absolute barnburner, as the squads are very evenly matched and matched up in last year's CIS and Canada West finals. Look for the Pandas to avenge last year's heartbreaking finals losses and earn a hard fought victory.
In the bronze medal match, look for Trinity's balanced attack will overpower UBC and give them the win.
In the gold medal match, UBCO might just prove to be too much for the Pandas, and should be the favourites to take home Canada West gold.
The top three teams from this weekend's tournament will move on to the CIS championships in Brandon next weekend.
Pandas All Over All-Star Teams
The Canada West All-Star teams were named Friday, and five Pandas made the cut.
Third-year outside hitter Meg Casault was named a first-team All Star for the second time in her career, as her 4.46 kills per set figure was second best in the CIS, as was her 5.0 points per set. Joining Casault on the first team was fifth-year libero Jessie Niles, whose 302 digs on the season were good for eighth in Canada.
Niles also received the Student-Athlete of the Year Award, as she is a four-time Academic All-Canadian, as well as president of the University Athletics Board.
Getting spots on the second team were third-year setter Mariah Walsh and fourth-year opposite Karly Janssen. Walsh averaged 10.14 assists per set, second in the nation, as well as maintaining a respectable .309 average on attack. Janssen's 3.2 points per set and .225 hitting percentage combined with solid defense to form a solid all-around court presence.
Lastly, first-year middle Jessica Hoskins was named to the Canada West All-Rookie team. Coming on in relief for the injury-riddled Pandas, she averaged a solid 1.1 points and 0.39 blocks per set in limited playing time.