Research sends shockwaves through spine care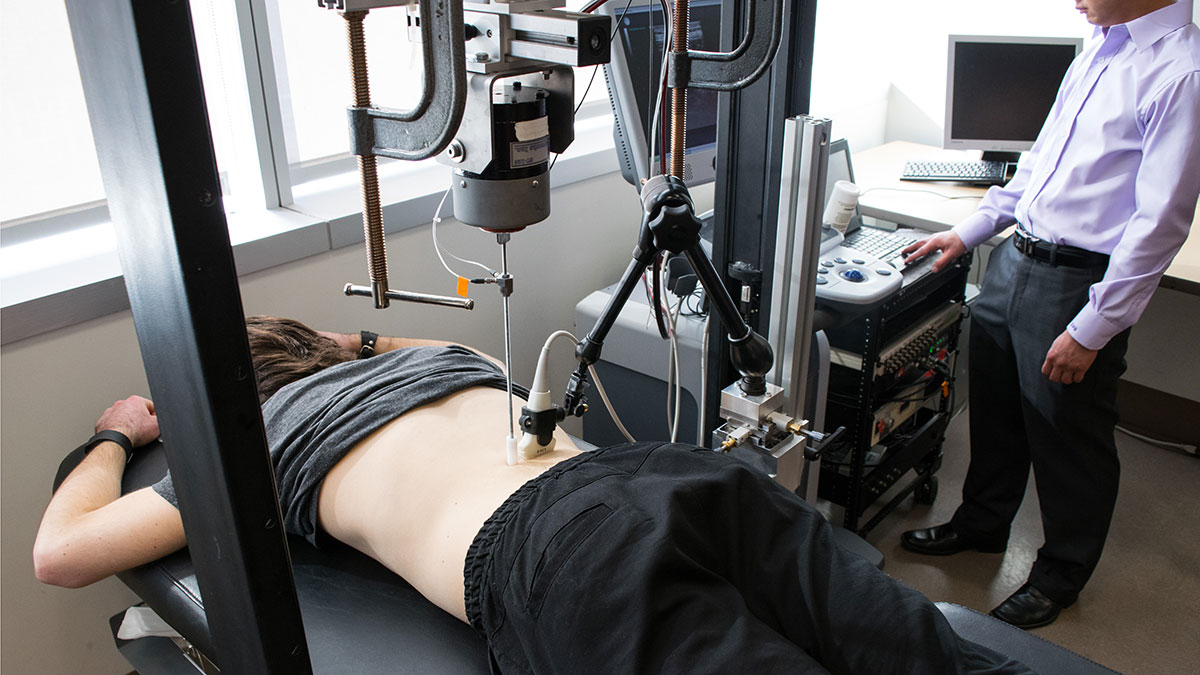 With non-urgent magnetic resonance imaging (MRI) wait times hovering around 30 weeks in Alberta, a team of researchers at the University of Alberta are innovating to take people out of the line.
Greg Kawchuk, professor of Physical Therapy at the Faculty of Rehabilitation Medicine, has been leading a team to use vibration imaging technology when assessing lower back pain in patients. Similar to the seismic imaging used in the petrochemical industry to detect pockets of oil deep below ground, a study has shown the new vibration imaging technology to be capable of pinpointing issues in the spine.
"For centuries, clinicians of all types have used their hands (to diagnose back pain), but there are limits to that," Kawchuk said. "(There are many) heart problems that you can hear with your ear, but at some point, a stethoscope is better."
Composed of an electrodynamic shaker that sends vibrations to the spine and an ultrasound scanner that captures real-time images,imaging technicians can examine how the spine is reacting to movement. Irregularities in that movement can mean something is wrong with the lower back.
The project's lead engineer, Anthony Au, compared the traditional MRI to fixing a car by looking at the engine, and vibration imaging with running diagnostics on the vehicle. Where an MRI can diagnose obvious issues such as fractures in vertebrae, the vibration allows technicians to examine sources of pain which are not so clear. Imaging the spine while it is moves with the vibration can allow researchers to detect problems that would not appear in a static MRI.
Au added that since the ultrasound does not utilize the radiation associated with x-rays and CT scans, the vibration imaging is less impactful on the patient.
After proving on cadavers that postmortem surgical alterations could be consistently detected by the vibration imaging, they moved on to studying identical twins. Studying identical twins allowed the researchers to effectively eliminate genetics as something that would skew the data. Developed in partnership with the University of Southern Denmark, Kawchuk said that because Denmark maintains the world's largest twin database, they were ideal to assist in the twin study component of the research.
Kawchuk said the technology gave similar readouts on twins with similar spinal health history, and appropriately different readings when histories were different. If one twin sustained a spinal injury, for example, the machine would provide a different readout compared to the uninjured twin.
"That gave us a proof of concept, that these vibration signals imprint a lot of information about the spine," Kawchuk said. "With that, we can go out and try to narrow down which vibrations mean what."
With the device holding significant potential, an Edmonton company took the opportunity to bring the vibration technology to market. Licensed from Kawchuk and branded as VibeDX, a local tech startup company called TEC Edmonton is assisting in getting the project off the ground. For Cameron Schuler, President and CEO of VibeDX, the advantages of the technology were obvious in a business sense.
With MRI suites costing anywhere from three to five million dollars to install, Schuler said the VibeDX would cost approximately ten per cent as much as a traditional MRI.
The technology can help reduce queues not only for MRI imaging, but surgery as well. Schuler said that there is a "high degree of art form" involved when a physician slates someone for surgery. With the more detailed image given by VibeDX, surgeons are able to choose candidates for procedures more accurately.
Schuler said VibeDX will allow surgeons to more accurately diagnose spinal problems, and thereby eliminate many patients from surgery waitlists.