U of A gender equity advisor is one-of-a-kind in Alberta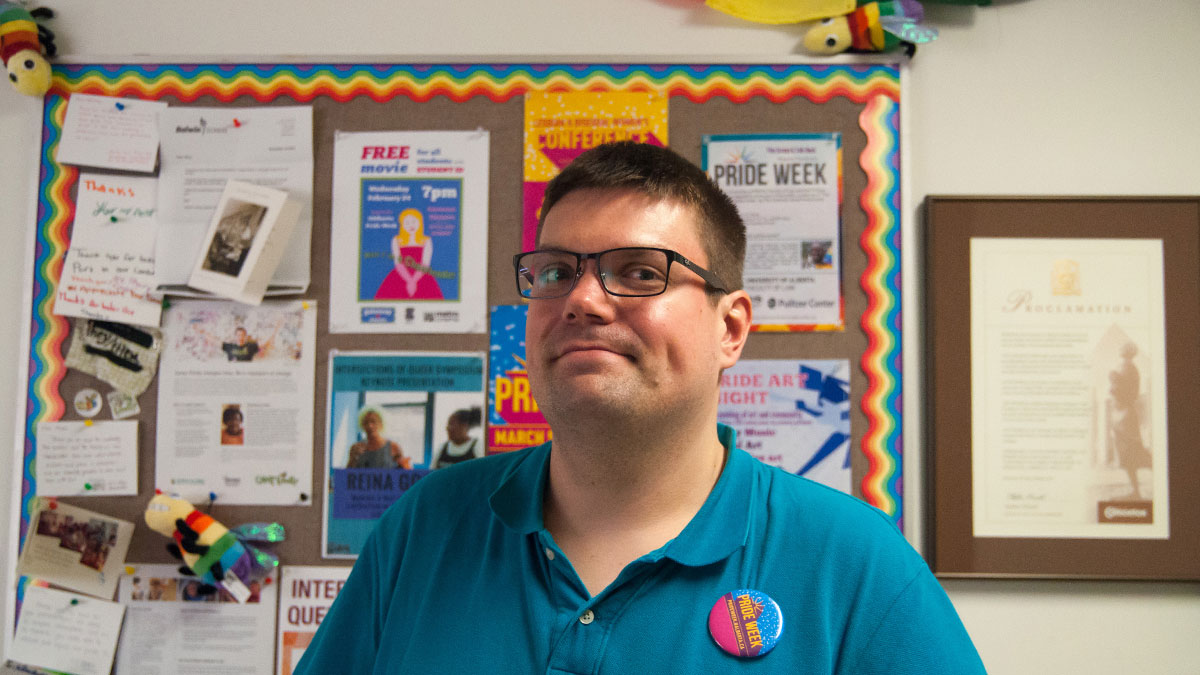 Pride has "thrown up" all over the office that seats Chris Daberer, the University of Alberta's gender equity advisor. Stored throughout the room are flags, boxes of memorabilia and even a large, plush rainbow firefly. Daberer's job is campus-wide, but his past couple weeks have been busy with coordinating Pride Week.
That means he's been reading a lot of emails.
"Basically, I'm getting about 100 a day lately," Daberer said. "It's all really cool stuff though."
The gender equity advisor, which is the only such position in the province, is a network builder — the role focuses on the student experience at the U of A. From his position in Institute for Sexual Minority Studies and Services (iSMSS), Daberer reaches out to gender and sexual minority students to increase their feelings of comfort and inclusivity.
Around 2008, Daberer began identifying as a gay man during his time at the U of A, feeling that the university was an inclusive enough environment to do so. For Dabbler, it felt great — and it also gave him a new opportunity to share more of his experience as a leader in the community.
He works with the Safe Spaces program, to train allies in how to be inclusive and supportive to sexual and gender minorities. Daberer is also one in a working group currently drafting a U of A human resources statement regarding employment and gender equity. Daberer has been involved in a number of gender-inclusive initiatives such as the inclusion of a third gender option for university applications and the ability for students to change their preferred name on BearTracks.
"I have much to learn," Daberer said. "And I don't profess to be the person who knows everything, so I gathered together a group on campus to say, 'Hey, we have a third option (for gender.) What do you think?'"
A lot of Daberer's job is to spark conversation. Figuring out the right wording for an application's third gender option, or the right signage for gender-neutral washrooms brings the campus community into a discussion about what attributes are important to know, and what the correct way of addressing gender should be. Working with university staff on these topics is easy, he said.
"So far I've not come across anyone being like, 'No we can't do that,' (when it comes to making change)" Daberer said. "It's usually met with people being at least excited about it."
Daberer has never left university life. In a way, he has been working at the U of A since 2005 as a residence coordinator. In his 10 years of supporting students in residence, he became sort of a mentor figure, where he carried on his ability to guide students financially and emotionally. As someone with a wide understanding of the network of support services on campus, he can point students to services that may help them through coming-out crises. Students may be directed to a number of resources through Daberer, such as being pointed towards the university pharmacy for hormone medication.
Facilitating students' movement into a positive life is one of the best parts of the job, Daberer said.
"I get to see a really cool progression," Daberer said. "Really shy to really involved, out there in public and stuff. It can take months."
Daberer is always working on understanding privilege — his understanding of campus life would be "deficient" if he didn't think about diversity: people of colour, trans people, people in different programs. He's found that it's very important for a diversity of students to share their stories — and it's his job to facilitate that dialogue.
"(Oppressed people) shouldn't be the teachers, because that's sort of perpetuating oppression," Daberer said. "But when people speak up and when they say oppose things or when they choose to help, that can be a really powerful thing."