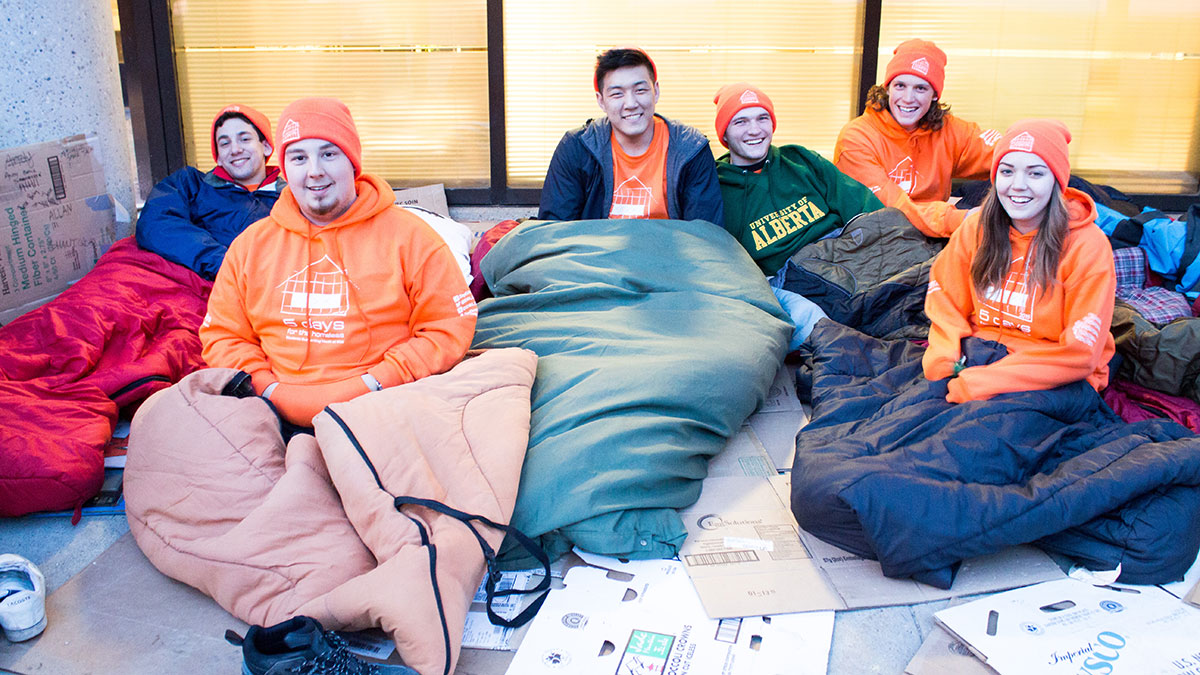 We at the University of Alberta's 5 Days for the Homeless (5D4H) campaign would like to respectfully respond to the opinion article titled "5 Days for the Homeless is just camping," written by staff member Kate McInnes on March 17, 2016. We understand that the article raised both discussion and controversy regarding our campaign, and we would like to take this opportunity to provide readers some more information about what 5 Days for the Homeless is and whom it benefits, as well as to reach out to fellow students and faculty members for suggestions on how we can make this campaign better moving forward.
Firstly, we would like to say that we are deeply saddened by the negative comments that Ms. McInnes received after issuing the article. We support the right of both the author and The Gateway to publish opinion pieces, and we in no way condone or stand behind the hostility some of the comments exhibited. We appreciate Ms. McInnes' dedication to providing the campus with thought-provoking articles, and wish her the best in her journalistic endeavours in the future.
With regards to 5 Days for the Homeless, we would like to express our sincere gratitude to all of those who contributed to this year's campaign, and to the countless volunteers who helped make it a success. For those readers who are not familiar with 5D4H, it is an annual student-run charity campaign whose aim is to raise awareness and funds to help provide support for marginalized youth in Edmonton. The campaign revolves around a weeklong event where a group of volunteers commit themselves to collecting donations and promoting the cause, as well as spending five nights sleeping outside on campus with no roof over their heads. These volunteers are each allowed only one pillow, one sleeping bag, and the clothes on their backs. They have no income, and can only receive food through direct donation. A full list of the campaign rules can be found online. The event and its participants are in no way trying to imitate homelessness, but instead are trying to raise awareness for a very serious issue facing hundreds of youth in the city. The act of sleeping outside is used as a medium to facilitate a conversation about these issues with fellow students and the community, and to motivate others to take action towards the cause.
During the week, volunteers wearing bright orange hoodies and toques visit classrooms (you might have seen them in your class recently) to collect small change donations and advertise the campaign. Various daily events such as a pancake breakfast and a BBQ are also held to help raise money. This year a speaker series was also organized to help educate the public about the cause. 100% of money raised during the campaign, along with food and clothing donations, are passed on to YESS (Youth Empowerment and Support Services of Edmonton), which provides foundational necessities to at-risk youth in our community.
The overarching goal of this campaign is to help address the distinct gap in social services for teenagers aged 16-18. At-risk youth in this age range are often neglected since they are too old to qualify for Child & Family Services, yet they are not old enough to use any of the adult support programs either. Many of these youth have been abused physically, sexually or emotionally, have been kicked out of or run away from their homes, and face a world that they know little about with next to no support. According to YESS there are nearly 500 of such youth living in Edmonton, kids from all economic backgrounds, races, and religions, and this number is expected to rise in the coming years. The YESS facility provides essential services such as overnight shelter, food, counselling, and education, but despite their best efforts they still lack the resources and funds necessary to help each person who knocks on their door. That's where 5D4H comes in. With the help of tireless volunteers and generous contributors, we do our best to give everything we've got to help this organization give to those who don't have much. The relationship between 5D4H and YESS is best described by Kristen Bond, Marketing and Promotions Specialist at YESS, who explains: "YESS is fortunate to have an amazing community of people who support us with events, campaigns, fundraisers, and awareness opportunities. We have seen remarkable results from creative and innovate initiatives that invite people to learn more and develop sympathy for youth who are in crisis and experiencing homelessness. We hope we empower our supportive community the way they empower us."
Since the inauguration of the campaign in 2005, 5 Days for the Homeless at the University of Alberta has raised nearly $200,000 for the YESS organization and the people it supports. That being said, the article written concerning our campaign does bring up some valid points about how our efforts may be misinterpreted and rightfully exposes some flaws that need mending. We realize that the 5D4H campaign is not perfect, but we are constantly striving to improve and are very interested in hearing from other students and faculty members who have ideas on what we can do. We gladly invite any suggestions, questions, or comments regarding 5D4H via Google Forms, or on our Facebook page.
Let's work together to end youth homelessness in Edmonton.