Campus area apartment residents given one week to move despite "no imminent danger in the structure"
Jamie Sarkonak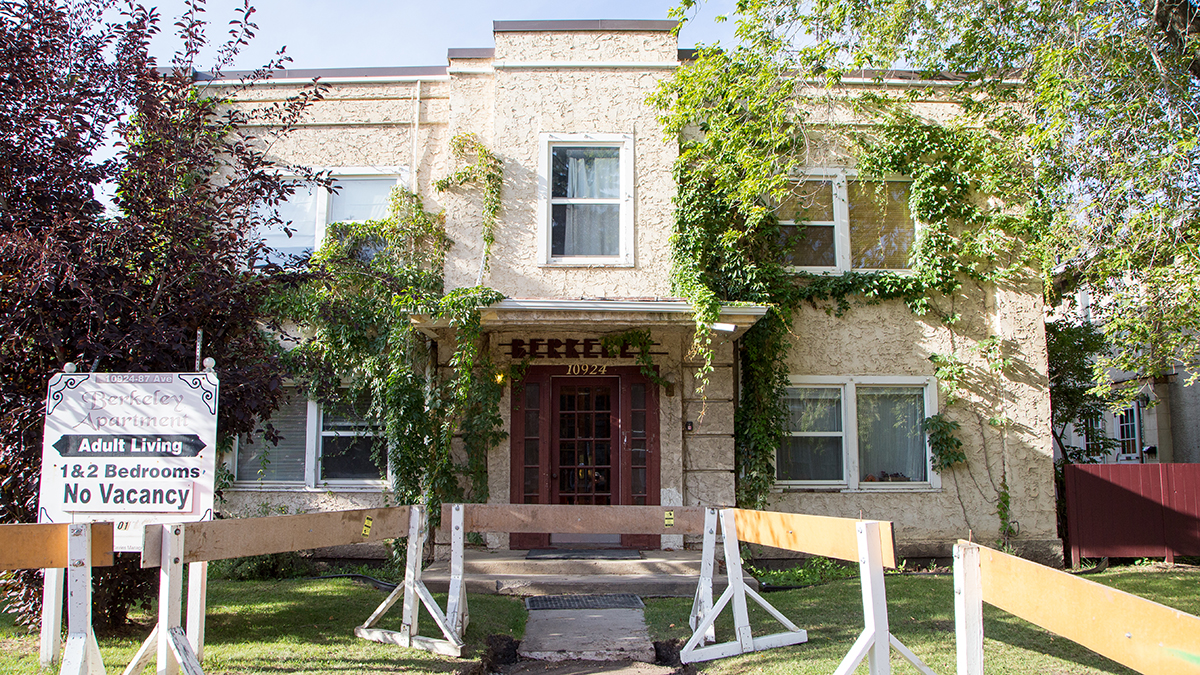 Master's student Suzanne Martin, who is currently finishing her degree in theatre directing, said she loves living in The Berkeley, the "bright and beautiful" apartment behind the Garneau Theatre — the location allows her to walk home from late-night rehearsals in five minutes. Now, after two years of living there, her landlord gave her and the apartment's other main floor tenants one week to move out by September 1.
"I was quite shocked … I processed it, had a cry, and got very panicked," Martin said.
On August 25, residents on the apartment's main floor each received a letter stating all main floor residents needed to move out in a week for repairs to damages caused by a flood that occurred July 27. The letter, from the property management company Quality Property Developments Inc., said repairs would take 60 to 90 days.
"Quality has exhausted every effort to keep our tenants in their homes during repairs," the letter said. "Our insurance company will not allow this as all flooring will be replaced and the units will be treated as a construction zones (sic). Our restoration company feels they can complete the work sooner on each unit if empty."
According to Dale Unrah, President & CEO of Quality Property Developments Inc., which owns and manages the building, the repairs will fix "water damage" from the flood. He added that there was "no imminent danger to the structure," and Alberta Health Services was not contacted to do an inspection.
According to Cheryl Tkalcic, Service Alberta communications officer, tenants can only receive a week's notice to move if there is a significant health risk identified by Alberta Health services.
"There's been no documentation provided that there's a health risk," Tkalcic said. "So according to the Residential Tenancies Act … they should have 365 days (of) notice."
Unrah said the building's insurance company still said it will not reimburse any claims if the past flooding causes future damages, which was determined after three weeks of testing for moisture.
"We had an insurance construction company come in … saying 'Look at all the moisture in the walls, look at all the moisture in the floor. This is going to turn mouldy, so tenants are going to have to go for 30 to 60 days,'" Unrah said. "Unfortunately that's the way it goes. This isn't some kind of conspiracy."
While Unrah said the repairs will give the tenants new flooring, Martin said moving out on a week's notice still doesn't work.
"(The building is) older," Martin said. "The fixtures in the bathrooms and the sinks are not great. I know the repairs they want to do will make it even more beautiful … That all sounds lovely, but the timing doesn't work — we can't just move out."
Martin and two other tenants say they're staying put. Resident Alexis Hillyard said three main floor tenants have found a lawyer work with them if their locks are changed on September 1.
While Hillyard said she is frustrated with her treatment from her rental company, she said she loves the place and doesn't want to move.
"The reason why we want to stay so much is it's beautiful," Hillyard said. "We've been here for a long time."